News
Doctor Who Christmas Special 2017: Trailer, Release Date, Story Details, Cast & More
Everything we know about the 2017 Doctor Who Christmas special, "Twice Upon a Time."
This year's Doctor Who Christmas Special will be the final episode for both showrunner Steven Moffat and incumbent Doctor Peter Capaldi, as they welcome a new era of the show under Chris Chibnall. We expect to see the Twelfth Doctor's regeneration during this time as well as some other surprises. Most importantly, we'll meet the Thirteenth Doctor, who will be played by Jodie Whittaker!
Here's everything else you need to know about the special…
Doctor Who Christmas Special 2017 Trailer
The BBC dropped a brand-new trailer for the Doctor Who Christmas special, featuring some Doctor/Doctor banter, more Bill Potts, and the "r" word (regeneration). Brace yourself…
We've got a new clip from the Doctor Who Christmas Special and it's positively delightful. In it, we see Peter Capaldi's Doctor leading David Bradley's First Doctor around his TARDIS. Mark Gatiss, as a completely confounded WWI soldier, is there, too. Check it out…
The first trailer for Doctor Who's 2017 Christmas Special, titled "Twice Upon A Time," debuted at SDCC 2017. Check it out below:
Doctor Who Christmas Special 2017 Release Date
Surprise! The Doctor Who Christmas Special will premiere on BBC America on December 25, 2017. The episode is called "Twice Upon a Time." We'll update this as soon as we know what time it'll premiere.
"Twice Upon a Time" will be playing in cinemas nationwide for one night on December 27 via Fathom Events.
The screenings will feature two exclusive bonus pieces, taking audiences behind the scenes to the filming of this holiday special and celebrating the tenures of Peter Capaldi as the Doctor and Steven Moffat as showrunner and lead writer.
Doctor Who Christmas Special 2017 New Doctor
Who will replace Peter Capaldi in the TARDIS? It's none other than Jodie Whittaker (Broadchurch), who will become the first female Doctor in the show's history. You can watch the reveal of the Thirteenth Doctor below:
— Doctor Who Official (@bbcdoctorwho)
July 16, 2017
Doctor Who Christmas Special 2017 Regeneration
Peter Capaldi will be leaving Doctor Who at the end of the year, and while there's always a chance he'll pop up in a future episode as previous Doctors have done, it's onwards and upwards as the Twelfth Doctor regenerates into Boardchurch's Jodie Whittaker during the upcoming Christmas special, "Twice Upon a Time."
The actor has been talking to Empire magazine (via Cult Box) about the filming of his regeneration scene, ahead of the conclusion to his run.
"I couldn't have wanted for a more moving and emotional end to my time as Doctor Who," he said, adding that it was a "strange" scene to shoot, "but in a way you've been practicing all your life to collapse on the floor of the TARDIS. Or whatever happens! And we had a whole day to do it, which was nice."
Meanwhile, the Thirteenth Doctor has been reacting to images of Whovians who have been eager to start cosplaying as her since the reveal, in an interview with BBC News.
You can watch that below…
Doctor Who Christmas Special 2017 Story
We finally have an official synopsis for "Twice Upon a Time." Check it out below:
The magical final chapter of the Twelfth Doctor's (Peter Capaldi) journey sees the Time Lord team up with his former self, the first ever Doctor (David Bradley – Harry Potter, Game of Thrones) and a returning Bill Potts (Pearl Mackie), for one last adventure.

Two Doctors stranded in an Arctic snowscape, refusing to face regeneration. Enchanted glass people, stealing their victims from frozen time. And a World War One captain destined to die on the battlefield, but taken from the trenches to play his part in the Doctor's story.

An uplifting new tale about the power of hope in humanity's darkest hours, Twice Upon A Time marks the end of an era. But as the Doctor must face his past to decide his future, his journey is only just beginning…
Doctor Who Christmas Special 2017 Cast
Peter Capaldi will return as the Doctor for the final time. Jodie Whittaker will take his place as the Thirteenth Doctor by the end of the episode.
David Bradley reprises his role as the First Doctor, whom he first portrayed in An Adventure in Space and Time. 
Pearl Mackie will also return as Bill for the Christmas special, as revealed at SDCC 2017. Mark Gatiss will also co-star in the episode. 
As spotted by Digital Spy, in the latest issue of Doctor Who Magazine, Hollyoaksactor Jared Garfield is listed as playing classic Who companion Ben Jackson in this year's Christmas special, "Twice Upon a Time."
Here's a picture of Garfield (not that one):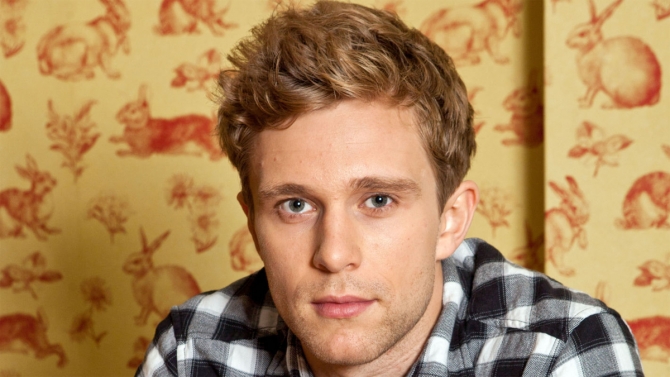 And here's a reminder of what Ben Jackson, as played by the late Michael Craze and in the company of Mr Troughton, looked like: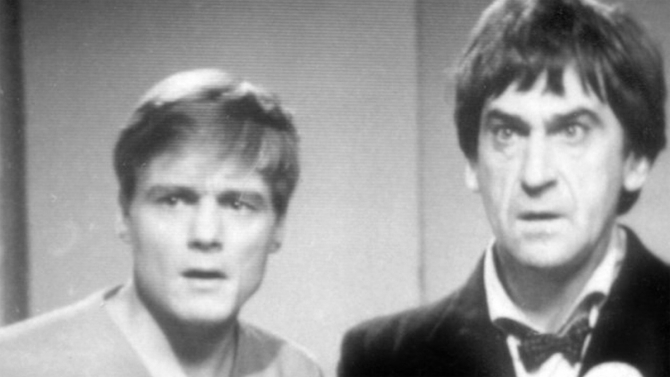 Not a bad resemblance we're sure you'll agree. Ben Jackson, to remind you, was a Cockney Navy seaman and companion of the First and Second Doctors, with whom he appeared in multiple stories. You can read all about him over at his Tardis.Wikia.com entry.
Lily Travers (Kingsman: The Secret Service) is also confirmed as playing classic character Polly Wright, originally portrayed by Anneke Wills, and married to Jackson on the show. Here's a snap of those two: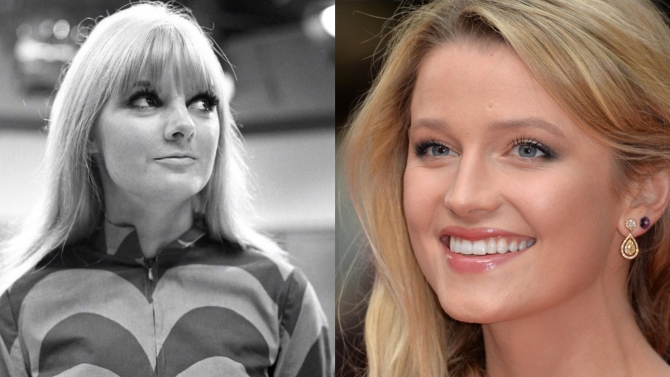 According to the Radio Times, the BBC has asked Jenna Coleman to reprise her role as former companion Clara one last time in "Twice Upon a Time." There's no confirmation as of yet that Coleman will appear as she's quite busy starring in Victoria at the moment. That said, Coleman's appearance would probably just be a cameo role as Peter Capaldi's Twelfth Doctor bids the TARDIS goodbye for the final time. Both Karen Gillan and Billie Piper, two beloved companions, made cameo roles as their respective Doctors exited the show. Coleman might simply show up to send off the Twelve. 
Either way, this isn't confirmed. We'll bring you more on this as we learn it!
And will Jenna Coleman return to say one last goodbye to the Doctor? We know that Coleman has filmed one last scene for the show, and it could very well be her goodbye to Twelve. This all remains to be seen. 
Doctor Who Christmas Special 2017 Details
Showrunner Steven Moffat has been talking to EW about his final episode and the lengths the show has gone to recreate the First Doctor, who will be played by David Bradley in the episode. 
"We've authentically re-created the First Doctor," said Moffat. "We could put it out in black-and-white, and you would think it was William Hartnell. There's new monsters, there's new jeopardy. But what's fascinating is the First Doctor confronting the superhero he's going to become, with his supersize TARDIS and all that."
Moffat will helm the episode up to the point when Capaldi regenerates into Jodie Whittaker, who will play the Thirteenth Doctor. 
"It's my show up to the point Mr. Capaldi regenerates," explains Moffat. "Then it passes to Chris, and he worries about the last section."
Doctor Who Christmas Special 2017 Photos
Here's a new image for "Twice Upon a Time"…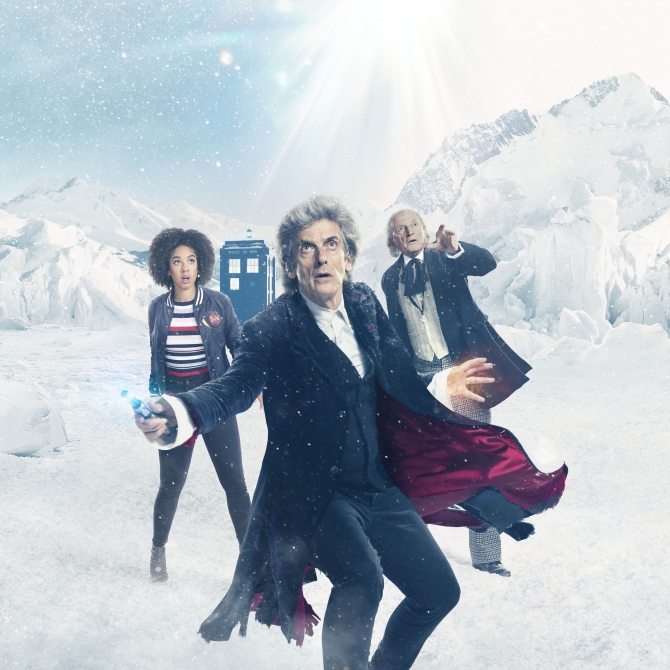 Here's another photo from the episode, courtesy of EW. Check it out below: