News
Doctor Who & Children In Need
Andrew checks out last Friday's Children in Need special Doctor Who episode, and looks at previous specials too. Charity and sci-fi really don't seem to mix...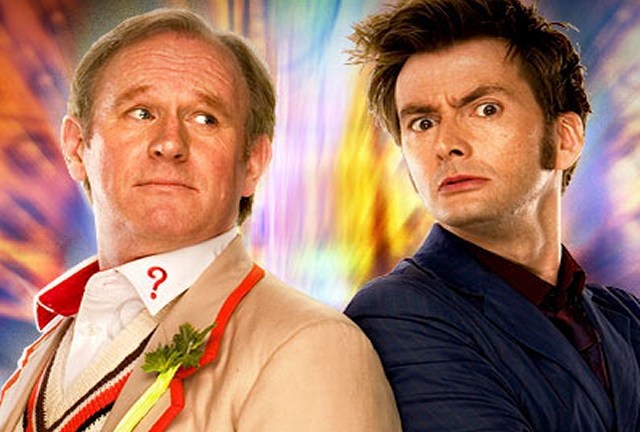 Sick children and doctors: they seem like an obvious match, but the result is always slightly more deadly than MRSA…Time Crash (2007)Passing the time until he bumps into Kylie on the Titanic, an increasingly sick-looking David Tennant has a chinwag with Peter Davison. Now, this is obviously going to be bumpf, but it's not without the odd positive point.
The fifth Doctor tells La Tennant to shut up, which I was itching for someone to do through the whole of the third series, so that's a plus. Actually, Peter Davison is much better than I remember him being in general, and that makes the tenth Doctor raise his game a bit. And talking about the Master, the "no, no beard this time. Well, he's got a wife" line was hilarious. But I don't want to give it too much credit, because that was one funny in-joke hidden amid a rather rotten pile of others that I can't be bothered trying to decode.
Still, all a bit of knock-about fun, eh? Shame no-one told that to the makers of the…
Mini-Episode (2005)…which was downright boring. The last time CiN tried to do a Who special cashed in on the fact that we were all a little over-excited about the programme after the cracking first series. For those of us who clasped onto it as a reason to sit throughFearne Cotton, we were in for a serious disappointment.
All we got was David Tennant flapping around a bit – admittedly back in the days when he hadn't worn that shtick out – while a bemused Rose half-heartedly quizzed him about where her Doctor was.
Now, we should probably give them the benefit of the doubt, and say that they filmed it on the cheap to save money for the charity (something they evidently haven't done this year, seeing as Pudsey has become a cartoon bear burns victim). But I don't like kids that much, so it's therefore rubbish.
Dimensions In Time (1993)Time Crash isn't the first time that CiN have called upon previous Doctors to get jumbled up together. However, this is definitely the first time that it has made sense, compared to the incredible EastEnders crossover, Dimensions in Time.
Shown in 1993, and totalling just 13 minutes, it still tried to squeeze in four Doctors and even more assistants in. That would just about be manageable, were they not getting chased by rubbish Time Hussy the Rani, and bumping into Walford's finest. Sanjay and Gita try to flog Ace some clothes, while Pat Butcher is saved by a Peter Davidson from a Cyberman and some other long-forgotten monsters. Those were both just unlikely; Bonnie Langford quizzing an elderly Pauline Fowler and Kathy Beale was outright get-behind-the-sofa scary.
The best, however, was reserved for salt-of-the-Earth lying thief Mandy Salter. Proving interactive television is no new thing, viewers voted her over Big Ron as the character who would save a Doctor from certain death. In reality, this involves jogging past them and yelling something away from the sound boom.
As a consequence, every child in need in 1993 died. Hopefully the writers will remember that next time they try and sign up for some charitable tomfoolery.Find the official page for the Children in Need appeal right here…