News
Doctor Who: Bradley Walsh on why he stopped watching in 1971
New Doctor Who companion Bradley Walsh hasn't watched the show since it stopped being in black and white…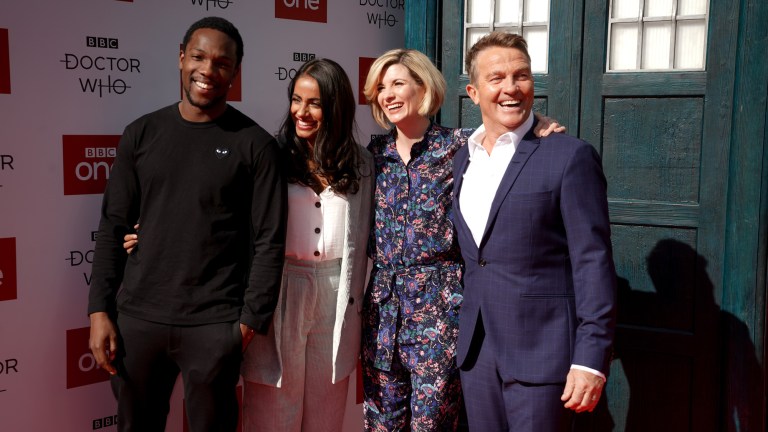 On Monday, in Sheffield, Bradley Walsh watched his first full episode of Doctor Who in over forty years. His reaction? Thrilled. "I'm blown away by it," he told the crowd at the official launch for The Woman Who Fell To Earth, "I didn't know what to expect."
Walsh knew a bit of what to expect, having starred in the episode in question, written by Chris Chibnall and directed by Jamie Childs. In series eleven, he plays Graham, the eldest of three new companions joining the Thirteenth Doctor on her adventures.
"My background on Doctor Who is watching William Hartnell and Pat Troughton," said Walsh at the Q&A. "As soon as it got to colour, I stopped watching it and the reason is because I was too busy playing football!" The Chase presenter, actor and singer had a spell playing professionally for Brentford in the late seventies.
"Every Saturday I was playing, so consequently now, all these years, that's a whole episode for the first time I've watched since about 1971. Whenever Pat Troughton finished, that's it!"
"There aren't that many people here now," he told the crowd, "that remember Bill Hartnell—there might be a couple of older people in here, wake them up! [laughs]—that remember Bill Hartnell and Pat Troughton when they were in it, and the black and white days, the glory days when it was really horrific for a young kid to watch it and very frightening. To be part of that now, forty-odd years later, I think, for me it's just mind-blowing."
Is he going to become an avid viewer from now on? "I will tune in! I definitely will, absolutely."
The Woman Who Fell To Earth airs at 6.45pm on Sunday the 7th of October on BBC One.