News
Doctor Who: 13th Doctor Merchandise Debuting at SDCC
There's some pretty sweet Thirteenth Doctor merchandise that will be debuting at Comic-Con. Here's a sneak peek...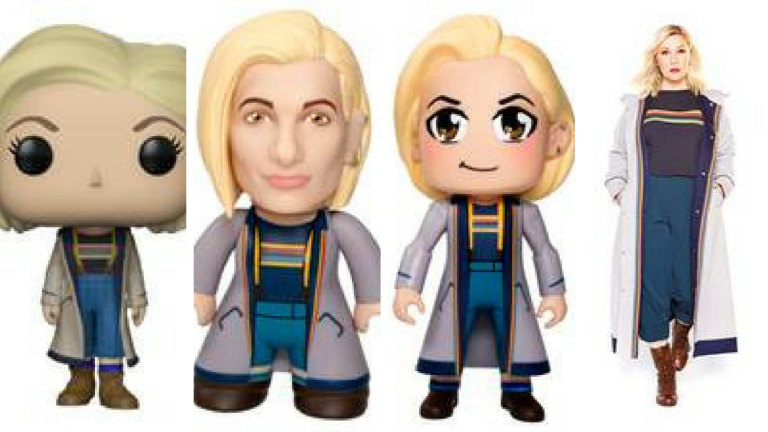 There are so many ways to experience San Diego Comic-Con and one of those ways is in securing some truly nerdy merch during the four days of the Con. This year (and every year), one of the hottest properties on the exhibit hall floor will be Doctor Who.
BBC Studios just announced some of the Doctor Who merchandise that will be available at this year's Comic-Con, and all of it is centered around the incoming Thirteenth Doctor (played by Jodie Whittaker). Check out this sneak peek…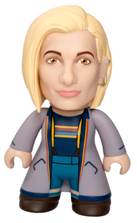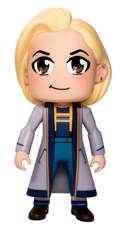 Titan has produced two new Doctor Who limited-edition 6.5" vinyl collectibles for the upcoming season: a Thirteenth Doctor TITAN and a Thirteenth Doctor Kawaii TITAN. Both figures will make their debut at SDCC 2018, and can be found in the BBC Shop at BBC AMERICA booth #4129 and at Titan Entertainment booth #5537. Following SDCC, any remaining figures will be available for purchase at Hot Topic and the BBC Shop, with pre-order opening on July 23rd.
Next up, we the Thirteenth Doctor Pop! figure from Funko. The doll will be available at the BBC AMERICA booth #4129 and at Funko booth #5341/5347. It will hit traditional retail outlets this fall, so there's a bit more of a wait for this one if you don't manage to snag one at SDCC. (So no pressure!)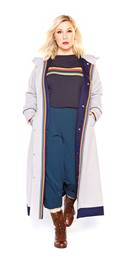 Finally, we have a sneak peek at some Thirteenth Doctor-inspired fashion. Her Universe is debuting a rainbow-striped top, long coat, and blue trousers, all inspired by the Thireenth Doctor's look. The merch will be available at the Her Universe booth #1321 and later in the fall at Hot Topic stores in the U.S. 
Per the usual, BBC America will have even more additional exclusive Doctor Who merchandise available at the BBC Shop at booth #4129, so, if you're lucky enough to be at Comic-Con, stop on by!
In addition to merch, Doctor Who will have a big presence at SDCC, with Whittaker and co-stars making their SDCC debut in Hall H on Thursday. The big panel will be taking place at 11:45am PT and will include Tosin Cole and Mandip Gill, who play Ryan and Yasmin respectively, as well as series showrunner Chris Chibnall (Broadchurch) and executive producer Matt Strevens (An Adventure In Space And Time).