News
D.J. Z, Moose Debut Highlights Newsworthy Impact Wrestling
D.J. Z gets taken to a new level on Impact while former ROH wrestler Moose debuts alongside Mike Bennett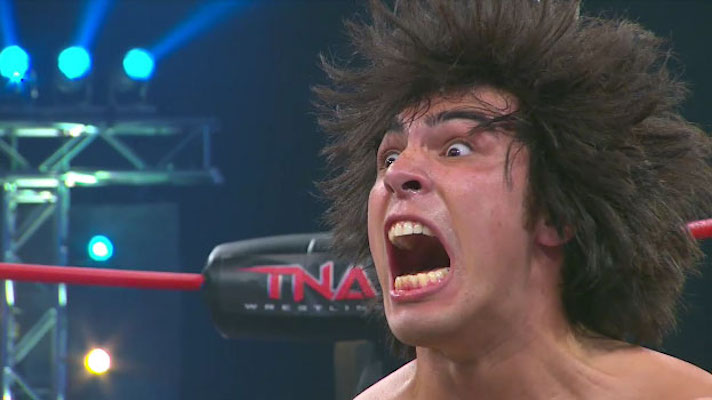 Well, this was a newsworthy episode of Impact Wrestlingon Tuesday night. The big story is the debut of Moose, one of the more coveted free agents who has been with Ring of Honor, but there were other big stories here including Davey Richards' return – and thankfully, he didn't turn heel on Eddie Edwards in the main event – as well as the emergence of D.J. Z, who had a breakout performance on this show.
The general reaction from ROH people is that TNA should be able to do something with Moose, instead of having him flutter around like he was doing in ROH. It's apropos that he's brought in by Mike Bennett, who you could argue has made a similar step since joining TNA in January, going from an upper-mid card player in ROH to someone who is one of the top players in TNA on a weekly basis.
Bennett brought in Moose to "destroy TNA" after Bennett felt he was screwed out of his Option C World Title shot last week when he lost the X Division Title.
Hopefully D.J. Z's night won't get lost with Moose's debut. This could be the night we look back on a year from now as the night D.J. Z really became a player for TNA. D.J. Z became the No. 1 contender for the X Title by winning a ladder match earlier in the night and then picked up a win over Bennett later in the show.
A year from now, at Destination X 2017 (assuming TNA makes it there), TNA could have D.J. Z ready for Option C. If they build him slowly, they could have him ready as a legitimate contender a year from now. That should be the goal, to elevate him beyond just that of an X Division wrestler. He has the ability, clearly, but there's a charisma and character there that has been hidden behind that D.J. gimmick for some time.
Meanwhile, Matt Hardy continues to hit home runs with his promos. The accents are tremendous and mentioning Vince was a nice use of passive-aggressiveness. It seems this story isn't yet over, and that's great because it's been highly entertaining. Tonight, Matt announced that Jeff would be his personal mule so he doesn't "go to New York under a pseudonym."
1. D.J. Z beat Trevor Lee, Mandrews, Rockstar Spud, Braxton Sutter & Andrew Everett in a ladder match to become the No. 1 contender for the X Division Title
This is absolutely the right move. D.J. Z has looked especially impressive within the X Division since TNA's debut on Pop earlier this year. He's become a more central part of the show, including being one of a few to get an entrance in this match. He's someone TNA can build around in that division, and is talented enough to work good wrestling matches, not just high-flying stunt showcases.
2. Bram beat Abyss
To say this is all strange would be putting it mildly. Decay seems to be getting mixed reviews, but generally they've been doing some good stuff the last six months. It's given Abyss new life and has given Crazzy Steve a second chance and has made him a legitimate character on Impact, not just some gimmicked enhancement talent. If this is leading to a breakup angle, it feels like it's too soon, so hopefully this is leading to the next evolution of Decay, and not the end of it.
3. Sienna beat Gail Kim, Jade and Marti Bell to retain the Knockouts Title
This could have been Sienna defending one-on-one and it would have been just as good. This felt a lot like the X-Division opener with so many people in the ring, but it was a good TV match.
4. D.J. Z beat Mike Bennett
What a night for D.J. Z. He's been getting some shine for a while, but TNA has used this semi-live episode of Impact to make him a focal point.
5. Eddie Edwards and Lashley fought to an apparent no contest
Lashley was really good on the mic in a promo earlier in the night. He struggles at times with his promos, but there are also times like this where it feels like he's finally getting into his groove. This felt a lot like the banter before a big UFC fight at a press conference or at a weigh-in. It was good hype for the main event and also re-introduced Richards, throwing a wrinkle and a wild card into the match.