News
Disenchantment Season 3 Confirmed by Netflix
Matt Groening's historical animated comedy Disenchantment will be back on Netflix for season 3.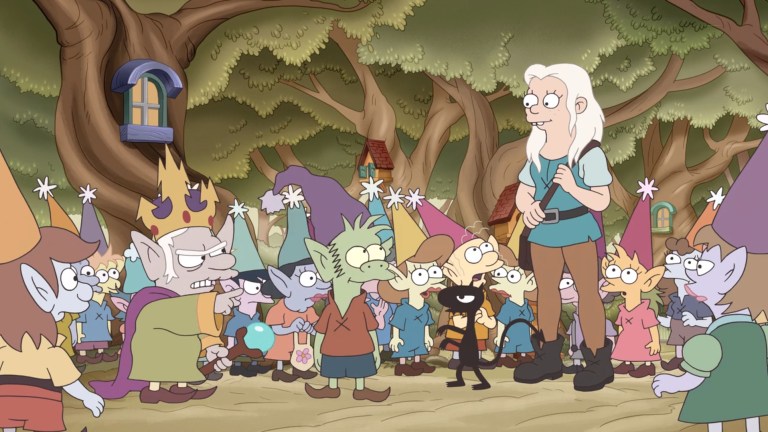 Did you really think a Matt Groening show would get canceled? Princess Bean, Luci, and Elfo will all be returning to Dreamland in 2020 after Netflix confirmed Disenchantment season 3 in an announcement on Twitter.
Disenchantment, a side passion project from The Simpsons creator Groening, debuted in August 2018. Season 2, dubbed "Part 2," released in September 2019. No specific release date has been set for Disenchantment season 3, but we'll keep you posted.
The medieval period comedy follows Princess Bean, an adventurous and outspoken heiress to Dreamland, voiced by Abbi Jacobson. Much of the series follows the follies of Bean, her person demon Luci (Eric Andre), and her buddy Elfo (Nat Faxon). Futurama alums Billy West and John DiMaggio also have prominent voice roles. While Groening's previous work, The Simpsons, remains contemporary yet still timeless, and Futurama was set 1,000 years in the future, Disenchantment draws heavily on the historical past.
The series was created by Groening and co-developed by Simpsons alum Josh Weinstein. The project was long in gestation. Before season 1 premiered, we spoke with Groening about how far back the seeds of the show went; some of the character designs were based on sketches the legendary animator made in in 5th grade. The development process of Disenchantment has been much slower than his work on the Simpsons due to the detailed artwork and animation involved with creating the look of Dreamland.
We'll update this post with more information on casting, trailers, and plot details for Disenchantment season 3 as we have it.
Chris Longo is the deputy editor and print edition editor of Den of Geek. Read more of his work here. Find him on Twitter @east_coastbias.