News
Disenchantment Release Date, Trailer, News, and More
Netflix fantasy animated series Disenchantment from The Simpsons and Futurama creator, Matt Groening, arrives this summer.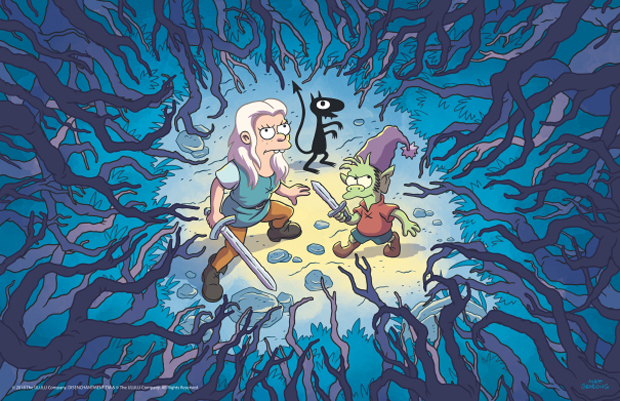 Disenchantment is set to arrive soon on Netflix, showcasing a fantasy-themed animated comedy series developed by The Simpsons and Futurama visionary, Matt Groening.
Netflix gave Groening's Disenchantment an initial 20-episode order, set to be released 10 episodes at a time (essentially a two-season order). While Groening animated shows have tackled the idiosyncrasies of a suburbia, as well as the galactic foibles of the far future, Disenchantment will put a fantastical medieval storybook-style world through his creative lens.
However, with a primary voice acting trio of Abbi Jacobson, Eric André and Nat Faxon, this Groening show will take advantage of its (non-network) Netflix platform with adult-oriented humor.
Disenchantment Release Date
Disenchantment will premiere its 10-episode inaugural season on August 17 on Netflix.
Disenchantment Trailer
Here is our first full-length look at Disenchantment, courtesy of the show's San Diego Comic-Con panel. It looks pretty solid! Hard-drinking princesses, an Iron Throne of sorts, and and elf going over a waterfall.
Netflix has offered up a short look at Disenchantment. The animation certainly looks familiar but with some added landscape depth.
Here's the first official crop of Disenchantment images from Netflix.
Disenchantment Story
The series takes place in a medieval kingdom called Dreamland, inhabited by all your favorite Dungeons & Dragons and Warcraft-type concepts such as ogres, sprites, harpies, imps, trolls, and even walruses. Of course, the place will also have its share of human fools. The main story will center on the young, hard-drinking Princess Bean (Broad City's Abbi Jacobson), who embarks on a series of (mis)adventures with her personal demon Luci (Man Seeking Woman's Eric André) and a "feisty" elf companion named Elfo (Friends from College's Nat Faxon). As Groening describes in a statement of the themes that Disenchantment plans to explore:
"Ultimately, Disenchantment will be about life and death, love and sex, and how to keep laughing in a world full of suffering and idiots, despite what the elders and wizards and other jerks tell you."
Joining Jacobson, Andre and Faxon in the voice cast of Disenchantment is an impressive collection of animated voice talent, consisting of John DiMaggio, Billy West, Maurice LaMarche, Tress MacNeille, David Herman, Matt Berry, Jeny Batten, Rich Fulcher, Noel Fielding, and Lucy Montgomery.
Disenchantment will see Matt Groening serving as an executive producer, with his repertory cohort Josh Weinstein also serving in that capacity. The series is produced by The ULULU Company for Netflix, with the animation implemented by Rough Draft Studios, who worked on Groening's Futurama, as well as Genndy Tartakovsky's original Star Wars: The Clone Wars microseries, Comedy Central's Drawn Together and MTV's serial adaptation of Sam Kieth's Image Comics series The Maxx.