News
Dirk Gently's Holistic Detective Agency Exclusive Clip: Friedkin Seeks Help From Ken
In this sneak peek from season 2 episode 2, Friedkin is desperate to find out where Dirk Gently went, and Ken makes an offer.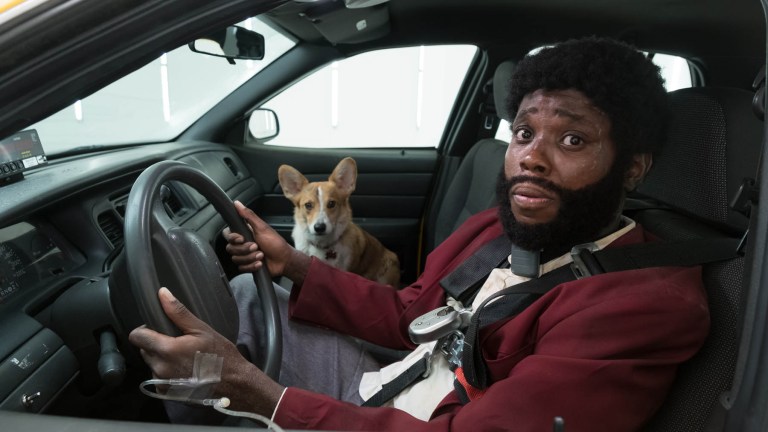 Maybe there are some viewers of Dirk Gently's Holistic Detective Agency who sympathize with Hugo Friedkin, the hapless leader of Blackwing. He's not the nicest guy (despite what Ken says somewhat insincerely in the clip below), but he's clearly out of his depth, especially when it comes to subjects disappearing from locked cells. Who else can he go to besides Ken, the one person in Blackwing who has no powers, the guy who's only there because he survived Project Marzana a.k.a. Bart?
Watch this exclusive clip of Dirk Gently's Holistic Detective Agency season 2 episode 2 to see for yourself what lengths Friedkin will go to for any amount of information and how far Ken might go to finally get out of the taxi cab he and Rapunzel have been trapped in for months! Can anyone blame him for looking past the jolts of electricity Friedkin threatens him with to offer a quid pro quo arrangement?
Curious fans will have to wait until the episode airs on Saturday night to see how this deal turns out, but smart money's on it being nothing like what we would expect. Elsewhere in the episode, Dirk, Todd, and Farah are happily reunited and begin to investigate what Dirk believes is the case he's meant to solve. They follow strange clues and discover the body in the car that fell out of the tree connects to one of Sheriff Hobbs' cold cases, which concerns a couple and their son who went missing.
The adventure continues when Dirk Gently's Holistic Detective Agency airs on BBC America October 21, 2017 at 9/8c.
____