News
Dirk Gently Season 2 is Even Weirder Than Season 1
Get ready for pink-haired princes, scissor-swords, and shapeshifters in Season 2 of Dirk Gently's Holistic Detective Agency.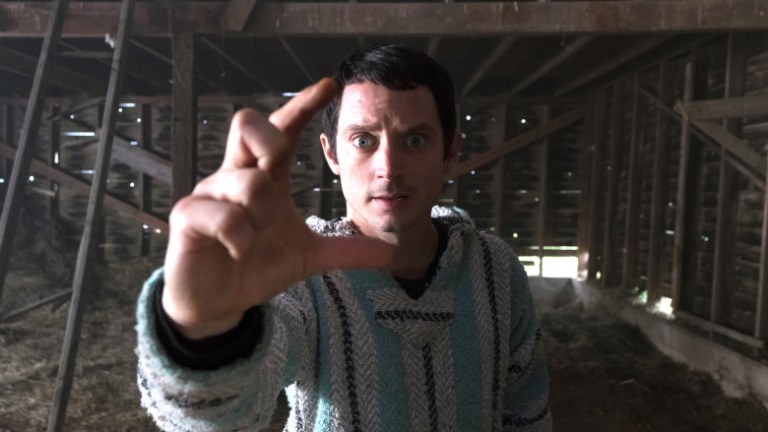 There are not a lot of shows on television that are truly weird. Not really. This is even more true when you narrow it down to live-action drama. Dirk Gently's Holistic Detective Agency, which launches its second season on BBC America this Saturday, is a shining example of TV weirdness fully embraced.
"I do think we are the weirdest show on television, especially second season," Hannah Marks (Amanda) told Den of Geek at San Diego Comic Con. "So if you want to watch something that's different and original and subverting all the tropes that you would normally see, then this is the show."
I can vouch for Marks' declaration. If you've yet to see the first season of Dirk Gently, know that it includes body-swapping, time travel, death by shark-kitten, and a whole gaggle of secret government experiments escaped into the world in the form of main characters. It's also currently available to binge watch on Hulu, so start making better life choices and check it out.
The second season premiere, which was screened at last week's New York Comic Con, includes a gay pink-haired prince from the fantasy realm of Wendimore battling knights with scissor-swords, a magic wand with serious firepower, and a shape-shifting character who makes whimsically vague declarations like "find the boy" before splashing people in the face with water. 
"Season 2 goes into this high-fantasy genre with magical worlds and magic and knights and magical creatures and whatnot," teased Samuel Barnett (Dirk).
"It's basically Dirk Gently's Narnia," explained Marks. "Totally magical land with fantasy creatures, which is not something we had last year."
When asked about the weirdest thing she had to do this year as Amanda, Marks said: "I have a scene partner who also has an actress who plays her hands. And one of the actresses who plays one of her hands missed her flight, so I've been shooting with a character who has one hand. Just an example of the type of world we've been working in. Super unique and always with a new kind of creature or character."
Speaking of new characters, Dirk Gently Season 2 adds four major new ones: John Hannah will play the Mage, "a powerful wizard who takes great pleasure in doing evil and is seeking to conquer a world not his own." Alan Tudyk will appear as Mr. Priest, "a ruthless, dangerous, and violent bounty hunter working for Blackwing."
Tudyk's Tucker & Dale vs. Evil co-star Tyler Labine will also be on hand as Sherlock Hobbs, "an under-stimulated, but overly enthusiastic small town sheriff who is eager to help Dirk and crew solve a new mystery." Hobbs shows up in the season's first episode.
Rounding out the new cast members is Aleks Paunovic playing Wygar Oak, "a dominating enforcer for the Dengdamor royal family" and Amanda Walsh playing Suzie Boreton, "an unassuming, insecure, depressed soccer mom who is selected for an unexpected role by the Mage."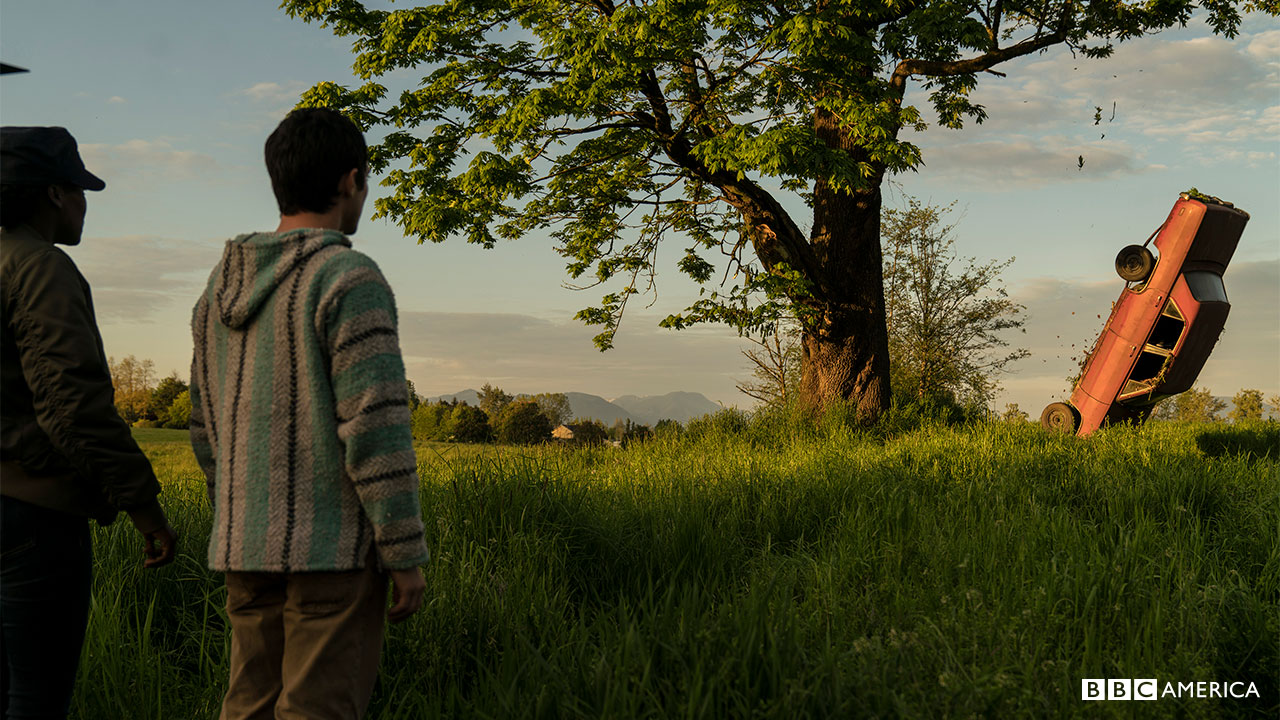 Despite the addition of all of these new characters and elements, Barnett points to the emotional groundedness of the story as the most important hold-over from Season 1.
"What anchors [Dirk Gently] is the emotional lives of these characters and the struggles that they have," Barnett said. "You know, diversity is about everything. It's also about emotional diversity, about people recognizing themselves in characters on TV, going, 'Ah! They're not perfect, and I'm not perfect. Oh great, it's ok to be me.'"
Speaking specifically about his character's journey in Season 2, Barnett teased:
I think with Dirk, what affects him, is that once you've got friends, the possibility is that you might lose them. Or they might get hurt. Every choice he makes seems to make seems to land him or his friends in mortal danger. So it gives him a real existential crisis about even working the way he was. He desperately wants to just become a normal, boring detective, and the universe is not going to allow him do that.
What's Dirk's not-Watson up to in Season 2? Elijah Wood said Todd will be "trying to get Dirk to not always just accept what's happening in front of him, but take a little bit more action and control of his life and his choices."
---
Interview with Samuel Barnett on the October 2017 Sci Fi Fidelity podcast (at 49:02):
Subscribe: Apple Podcasts | Stitcher | Soundcloud
---
Of course, Todd will continue to go on his own personal journey of trying not to be such a shitty person.
Dirk has opened Todd's life up, but also the emotional truth of Todd … which are these choices, these horrendous choices he's made as a young person, that has put him in a terrible relationship with his sister, and has put him in the worst possible place of his life.
"[Todd's] trying to atone for his own choices and be a better person," continued Wood. "And he has given him the opportunity for that, and to a certain degree, he's the first person that has seen him as, seen Todd as a vulnerable human, and that's definitely there."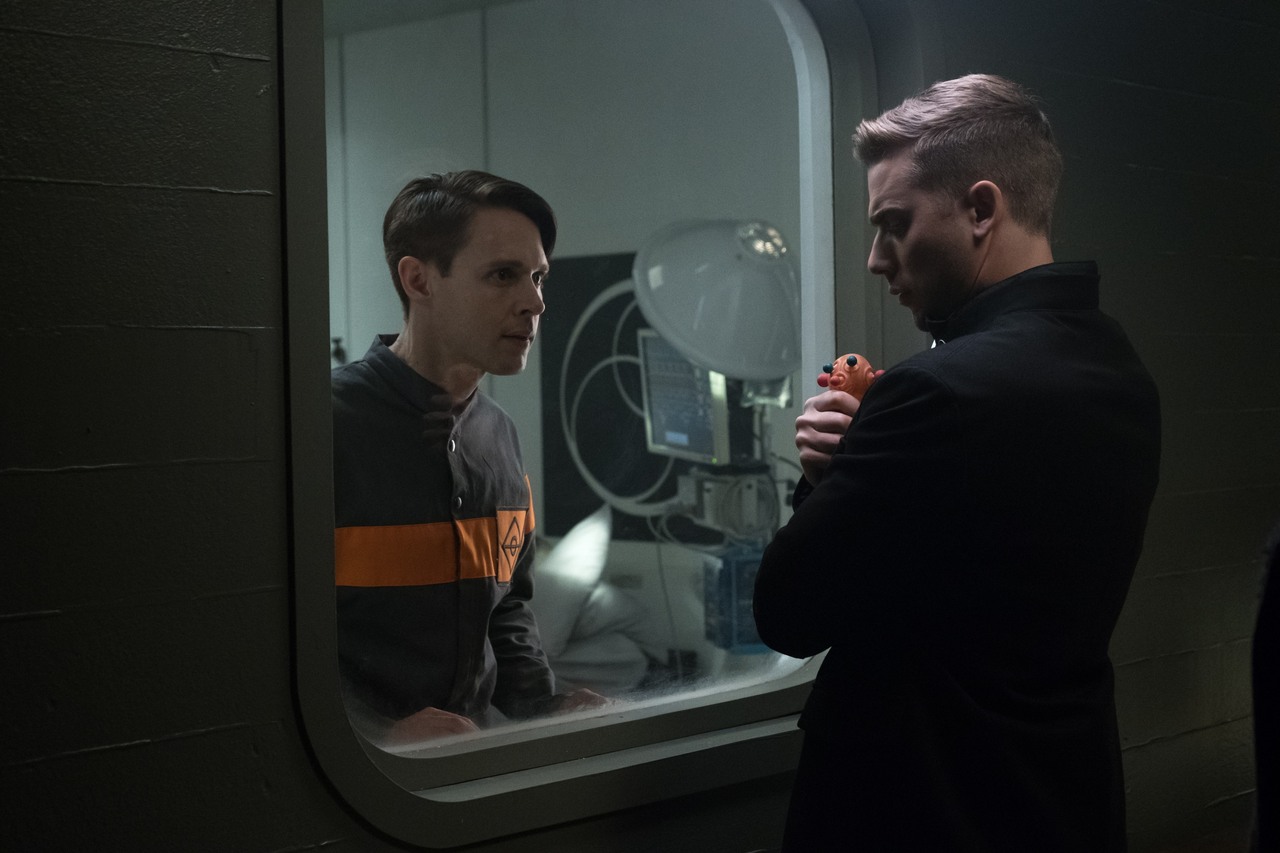 "They really see each other," said Barnett of Todd and Dirk's relationship. "And they both feel heard and seen by each other for who they are. And in Season 2, it's great, because they have a kind of role reversal where Todd is utterly onboard with Dirk's way of thinking, and Dirk is having a total crisis about the way his life works."
Ultimately, these questions of relationship and identity are the point of the show, creator Max Landis told Den of Geek at NYCC.
"The shark-in-the-kitten and the mystery room and fantasy land and all this stuff are just fun toys to play with to explore relationships between flawed and broken people," said Landis. "Everyone has a question about their identity that they're still working on and is looking for answers from the people around them."
Dirk Gently Season 1 is now available to binge on Hulu. Season 2 premieres this Saturday at 9 p.m. ET on BBC America.
Read the full Den of Geek NYCC Special Edition Magazine right here!