News
Detectorists series 3: air date announced
Mackenzie Crook and Toby Jones are back for a third series of Detectorists, which starts in just a few weeks...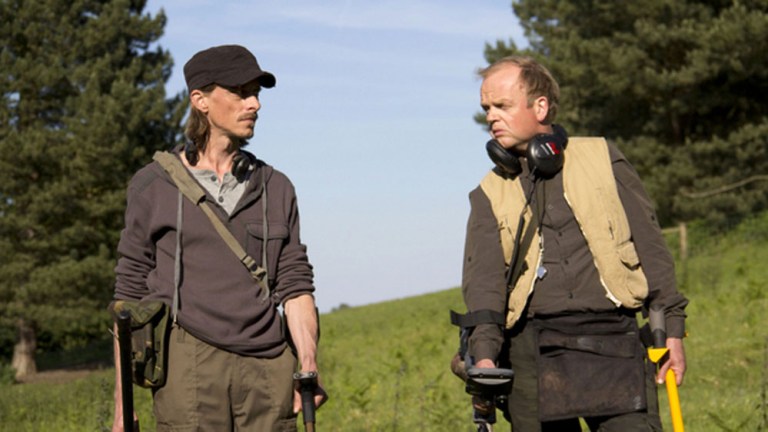 For everyone waiting for the third, and sadly final, series of Detectorists, we can now confirm that Andy and Lance will be back on BBCFour on Wednesday 8th November at 10pm in a brand new set of episodes.
Here's the announcement from the Beeb…
Detectorists season 3 production
Good news for fans of BBC's Detectorists, as it was recently confirmed that production had officially begun on the third and final series.
The show, which stars Mackenzie Crook and Toby Jones, has won plenty of hearts in the last few years, with many ranking it up there with their 'must-watch' TV.
Rest assured, Andy and Lance will be back on screens soon – armed with their trusty metal detectors – in one last bid to strike gold.
The wonderful gold-detecting comedy series Detectorists was previously renewed for its third series. Yay!
CultBox reported that six new half-hour episodes would be filmed this summer, before being broadcast on BBC Four. They've also got some quotes from the people involved.
Mackenzie Crook, who stars in the show as well as writing and directing it, had this to say:
"After a year away I decided I missed my friends in Danebury so much that I had to go back to the world of Detectorists one more time to see what Andy and Lance could dig up. The prospect of filming another summer in the beautiful English countryside is a good one, and I'm very proud that the third series will premiere on BBC Four where it all started."
BBC Four's controller Cassian Harrison added this:
"Detectorists has been one of my personal TV highlights of the last few years, and I'm simply delighted to welcome Mackenzie, Toby [Jones], Rachel [Stirling], and all the detecting team back to the BBC Four abode once again – but could they just hang on while I pop out for a quick carry-out of best Somerset cider?"
And BBC Four's comedy commissioning head honcho, Shane Allen, chimed in with this:
"Mackenzie has created and beautifully crafted a modern masterpiece, bursting with warm-hearted comic joy. It deserves its place in that rare sweet spot of record-breaking channel audiences and huge global critical acclaim. How can I possibly resist jumping on the bandwagon of all those who said the show has unearthed comedy gold? There. I did it."
Damn. He beat us to the pun.