Features
Designing the Doctor Who: Regeneration DVD set
We interview Stuart Crouch, the man responsible for overseeing the incoming Doctor Who Regeneration DVD set...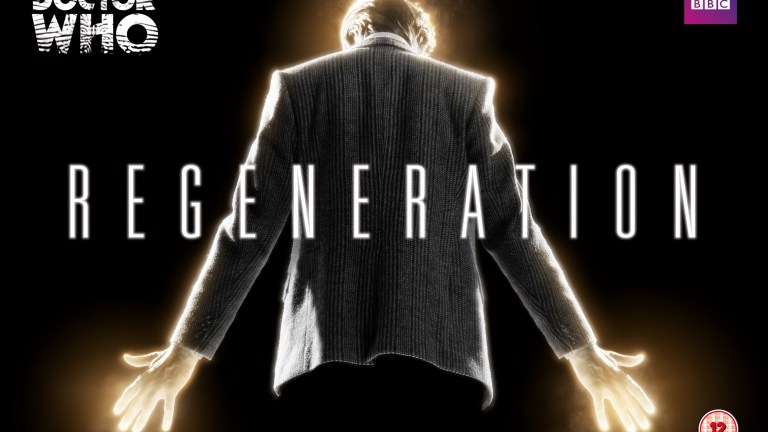 London-based design and TV production house Peacock is a firm that provides creative services to the music and entertainment industries. And as part and parcel of that, it's had a long association with Doctor Who, and the DVD releases over the past few years. We chatted to creative director Stuart Crouch about his work, and the Doctor Who: Regeneration boxset… 
Can you take us back right to the beginning. What Doctor Who projects have you worked on before, and how did this one come about? 
We've been designing the new series DVD stuff since Tennant's first year and we've also done a number of Doctor Who packages for BBC America. In 2011 we did The Complete David Tennant Years set for the U.S. which was a coffee table DVD book with similar packaging to this. 
How far back do you start talking about the Regenerations set in particular? 
I had a meeting at the BBC back in January to talk about a number of Doctor Who projects for the 50th Anniversary year and this was just one of the items so it was a very brief brief. It needed to be special and something the fans would love and treasure. 
What kind of brief were you given? 
The packaging had already been decided so that was helpful. I think those Royal Mail stamp images had just been released online so the idea of all 11 Doctors on the cover was talked about, other than that it was free reign. I'm a big fan of the show so they trust me to get the details right.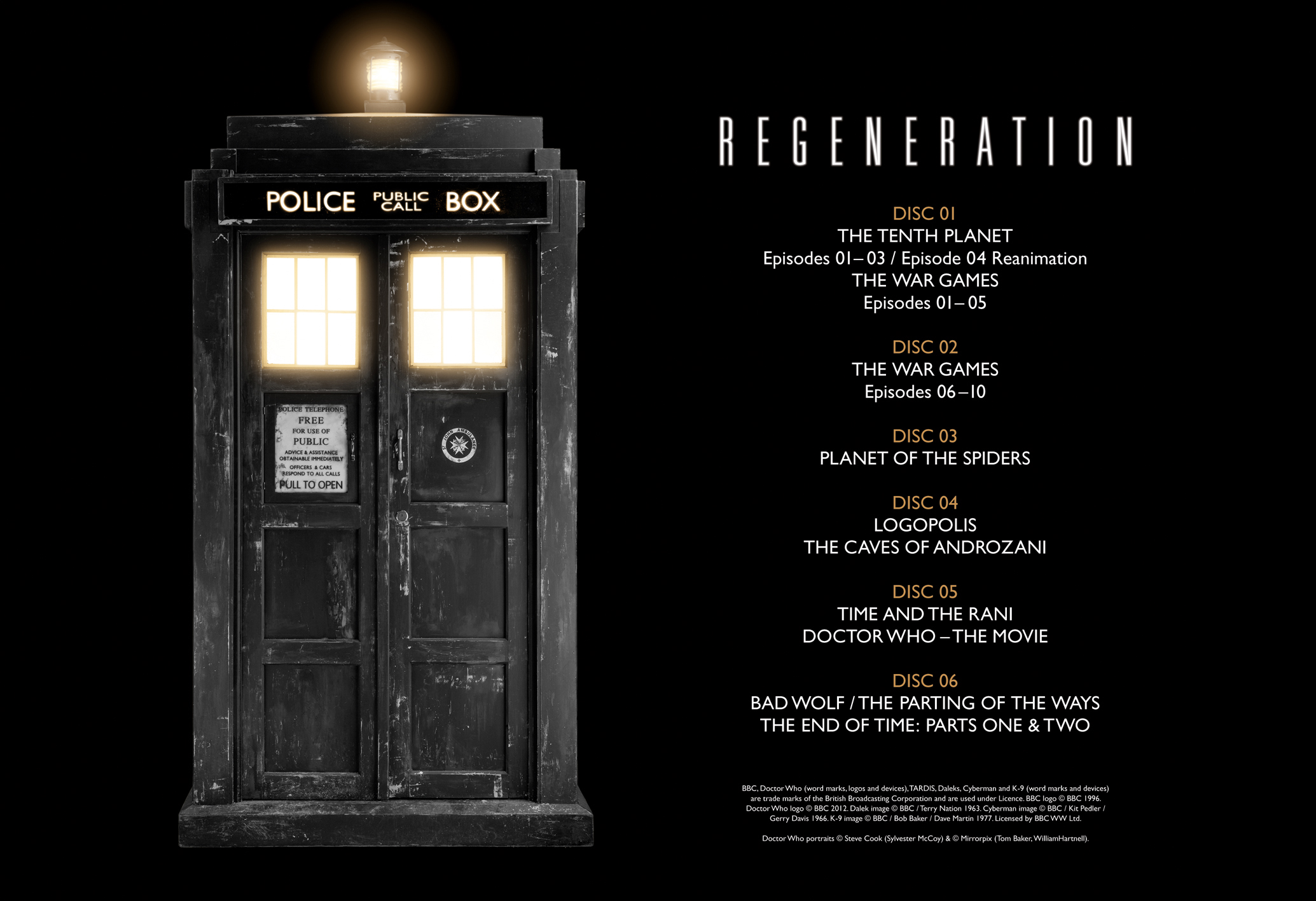 Can you give us a flavour of some of the ideas that you rejected? What kind of things couldn't you do too for rights reasons, or material not being available? 
I did wonder if we could have a lenticular cover of all 11 Doctors changing into one another or a row of half-faces like Queen's The Miracle album cover. But it needed to be simple, the opposite of the usual covers we do which are all about colour and impact. 
Having just one Doctor on the cover is a little controversial I suppose and raises the question of if just one, which one. To my mind it would have to be the first or the latest and I recalled a photo session of Matt from series 6 where he's photographed from the back – sonic in hand – that was used for the BBC America idents. Luckily there were a few frames of him with outstretched arms, which has now become the standard regeneration pose – and with a little jiggery-pokery that became the cover. 
Do jobs like this ever go smoothly? What are the things that proved to be the most challenging, that perhaps didn't look so at first? 
The cover was surprisingly straightforward – there's a long chain of people that need to approve these things but the first idea I put forward was accepted. It's a big book and the images are full-page so the challenge was to find photos that were good enough quality for each Doctor but also rare enough to be of interest to us fans. 
Ideally I would have preferred no Photoshop compositions – I wanted them to be untampered with. That proved impossible but I hope the results look natural. Anything from Eccleston onwards was fine as it's all digital but some of the early Doctors proved tricky and I wanted each spread to look epic. Making everything black and white helped and Vicky Abery at the BBC came up with the great idea of adding a different flick of colour to each spread so each Doctor has his own palette which is then reflected in the disc art.
The Regeneration set seems like, ironically, a great starting point for those new to Doctor Who, and of course it mixes in lots of eras of the show. How did you get the balance there? 
We originally spoke about the book going from black and white to colour in tandem with the show but it not only restricted what pictures we used, as there was still a lot of black and white photography in the 70s, but it also started to look garish when we hit those colourful 80s. And although that's representative of the show's history I wanted the book to look contemporary. 
You also have to factor in that this one's going to be particularly collectable, presumably? 
Of course, and that had to be reflected not only in the packaging but also in the choice of pictures – meaning I was allowed to go outside of the BBC stuff and I wasn't refused anything. We bought in a number of shots from photographers and photo libraries that weren't BBC owned. The discs will have new menus too and there's an illustration from Anthony Dry of all 11 Doctors.

How controlling are you of the actual manufacturing process? 
I always ask to see PDFs after we've supplied open files and before a job goes to print and most clients are happy for us to do this – it's an extra pair of eyes. Some jobs are proofed if it's being printed on unusual material like mirrorboard but in most cases the PDF is last you'll see of it until it hits the shops. 
What's the highlight of the set for you? 
The Colin Baker spread was my biggest concern. It's a seriously bizarre outfit and his hair was completely wild by his second season, so to find the right look there was really only his first series to draw from, and I couldn't find anything I loved that had the same gravitas as the other Doctors. 
Then I came across a pic I'd never seen before on the Tragical History Tour website and assumed it was a screenshot but Peter Ware at Doctor Who Magazine came up trumps with the photo. I wanted to put him in a snow scene like in Revelation Of The Daleks but it was tricky to add him in realistically as he was against a dark background and was now going to go against pure white – so it was pretty fiddly. Justin Richards has written all the text for this book and Colin's leaving isn't skimmed over. I think it came out well and I like that it's a little poignant as he's walking away from the TARDIS and from the show. 
What collectors' DVD sets, for other shows, have really impressed you? And what is it about them that's made them special? 
The Harry Potter Wizard's Collection Boxset is the most beautiful thing ever! One of our Peacock team brought one in and we all gathered round to marvel at it. Such attention to detail – award winning stuff!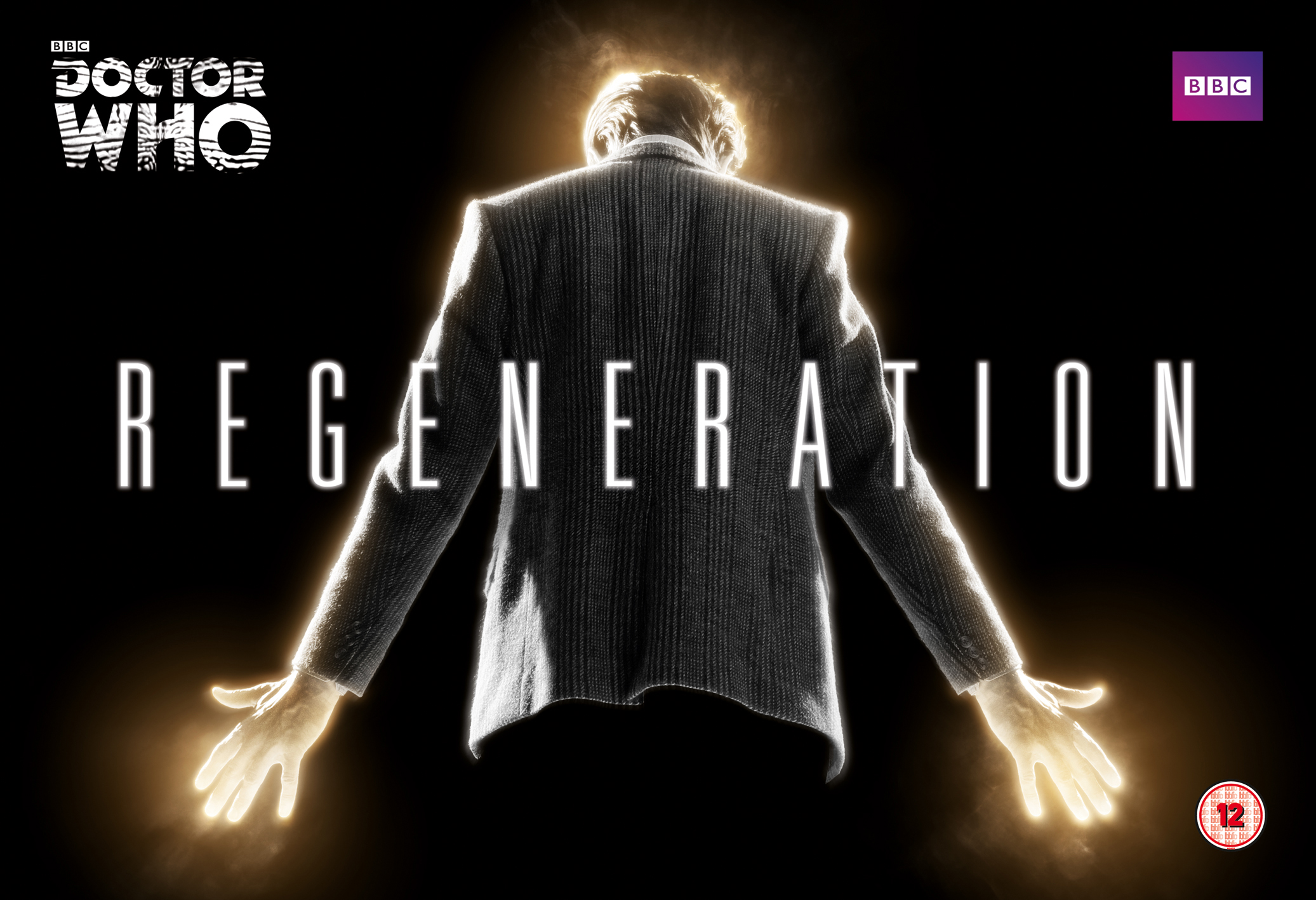 We have to ask of course, is that Matt Smith regenerating on the front of the box? 
Well… It is and it isn't. It's meant to represent the scene from The Impossible Astronaut on the beach but no it's not a teaser of things to come [although since this interview was conducted, the news of Matt Smith leaving has broken]. Besides – he has his series 6 jacket on! 
What are you working on now? 
This Regeneration set is only one of a number of Who projects we've been working on for the 50th – but I'm sworn to secrecy… for now!
Read our review of The Regeneration Collection's discs here. The full set will be released on the 24th of June only in the UK and is available to pre-order at the BBC shop, now.
Follow our Twitter feed for faster news and bad jokes right here. And be our Facebook chum here.