News
Designated Survivor Canceled By ABC
ABC has canceled the Kiefer Sutherland starring vehicle Designated Survivor amid behind the scenes turnover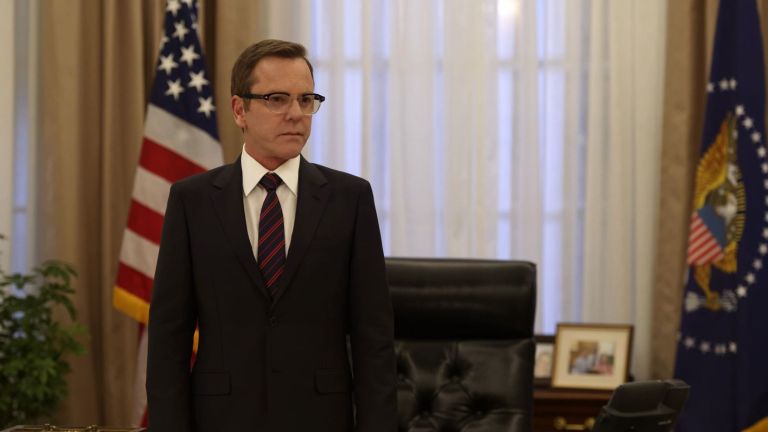 The TV landscape is once again a sadly Kiefer Sutherland-less place as ABC has canceled political drama Designated Survivor after two seasons.
Designated Survivor was Kiefer Sutherland's welcome return to network television after embodying the iconic Jack Bauer on Fox's 24 for nine seasons. The show was a unicorn among network television shows: combining a legitimate major TV star in Sutherland with an interesting novel concept. 
The concept of Designated Survivor derives from the real world concept of the "designated survivor" in American politics. Whenever there is an event like the State of the Union address of a presidential inauguration, a "designated survivor" is selected from deep within the executive branch (usually from the President's cabinet) so in the unlikely event that something catastrophic happens and all of the U.S. government's chief executives are killed or assassinated, there is a "designated survivor" to leapfrog straight to president in the line of succession.
That's cool! And it's no wonder they built a show around it. Sutherland starred as Secretary of Housing and Urban Development (Ben Carson's current job) Thomas Kirkman who is suddenly elevated to the role of President of the United States after an explosion destroys the United States Capitol Building during the State of the Union.
It was an excellent concept that the show more or less made work for two seasons and now it's canceled. This is a somewhat unexpected move as the show has always brought in respectable ratings (more than 10 million per episode in season one and a still useful 8.6 million in season two). Variety, however, tells an interesting story of how behind the scenes turbulence ultimately sunk the show.
There were some non-creative, all-business elements working against a Designated Survivor Season 3. 
For starters the show had gone through several showrunners, which made for a chaotic creative environment. Neal Baer was lined up to take over as showrunner for a potential season three, making him the show's fifth showrunner in less than three years. Everyone was on board with Baer's new direction but the constant shifting of creative directions and priority's reportedly and understandably frustrated Sutherland.
Then there was the issue of an interesting clause in Sutherland's contract. The clause called for the production's relocation from Toronto to the more expensive Los Angeles. 
Apparently the new costs were enough to scuttle any potential season three. 
Kiefer Sutherland survived six (of nine total) seasons in one the most dangerous fictional Los Angeles's ever on 24. So it's only fitting that a potential move to Los Angeles would take down his next show.