Features
Den Of Geek's top 15 TV episodes of 2018
Better Call Saul, Killing Eve, Inside No. 9… Here are the individual TV episodes that our writers picked for special mention in 2018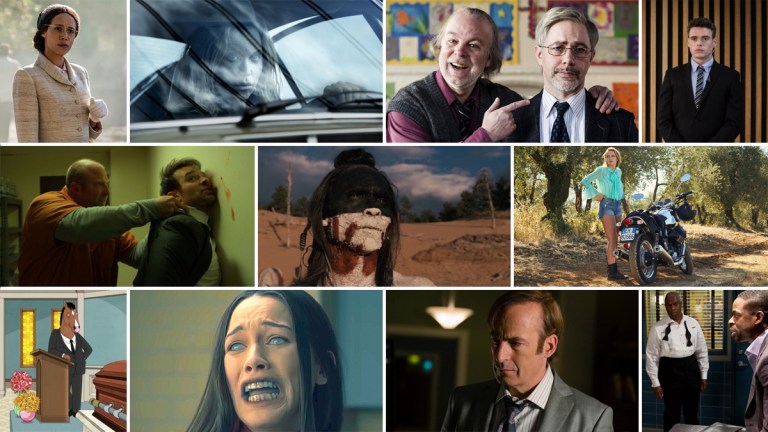 Imagine a field of cattle. Multiple fields filled with many cattle. One field might be better than another. Lusher grass, a more pleasing variety of beasts, perhaps. It wins an award, ends up on the 'Best fields of cattle of the year' lists. That's all very well, but what of the individual cows? They too deserve their moment in the sun.
That's why Den Of Geek polls not only its writers' favourite TV shows of the year, but also their favourite individual episodes of the year. It's a way to salute moments of excellence not just from the new and celebrated, but also from the long-running and beloved. That's our philosophy: no cow left behind.
[Have a lie-down. I'm taking you off this next year – Ed]
15. Brooklyn Nine-Nine season five – The Box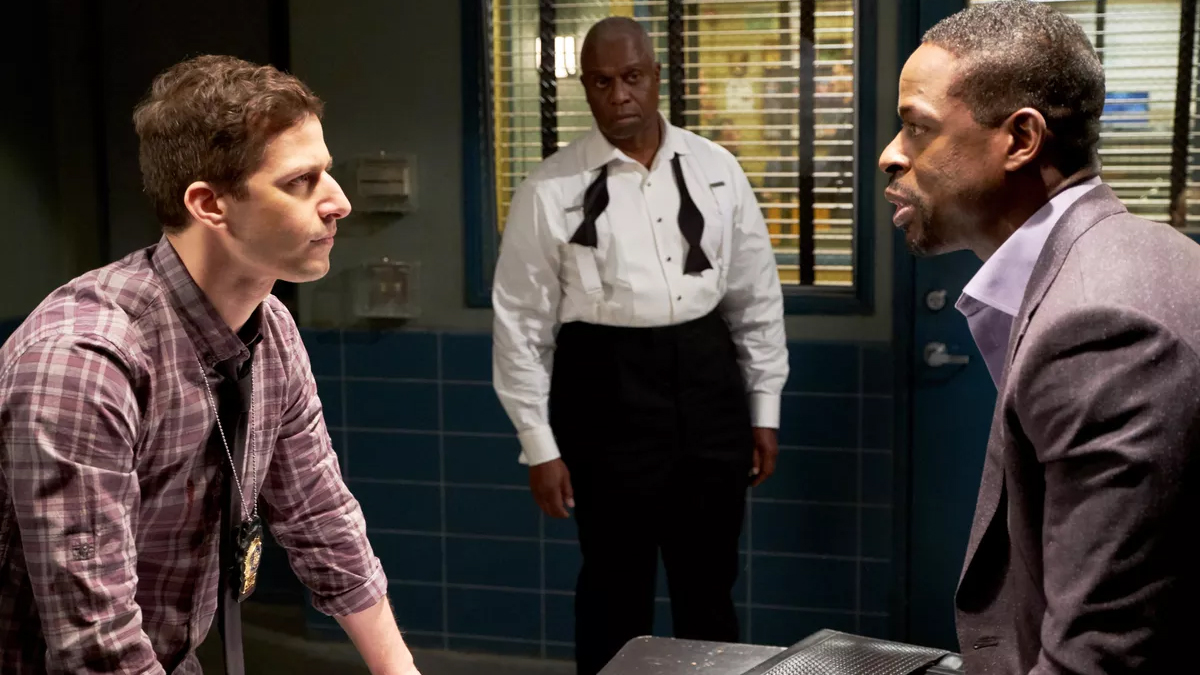 While Brooklyn Nine-Nine is usually at its best when incorporating every piece in its massive, talented cast, sometimes it pays to go small. The Box is essentially just Jake, Holt, and a potential murderer (Sterling K. Brown). Brown's character, Philip Davidson, is brought in for interrogation as the police have reason to believe he's murdered his partner at their dental practice. Jake is determined to wrestle the truth out of Davidson but Holt disagrees with his tactics.
Andy Samberg's Jake Peralta is a classic comedy protagonist with arrested development. He will always have a certain level of childlike glee with his job to keep the show fun. Episodes like The Box, however, are crucial to establishing him as a capable professional even if he's working hard only in part to receive the ever-elusive praise from his mentor.
Alec Bojalad
14. Lovesick series three – Evie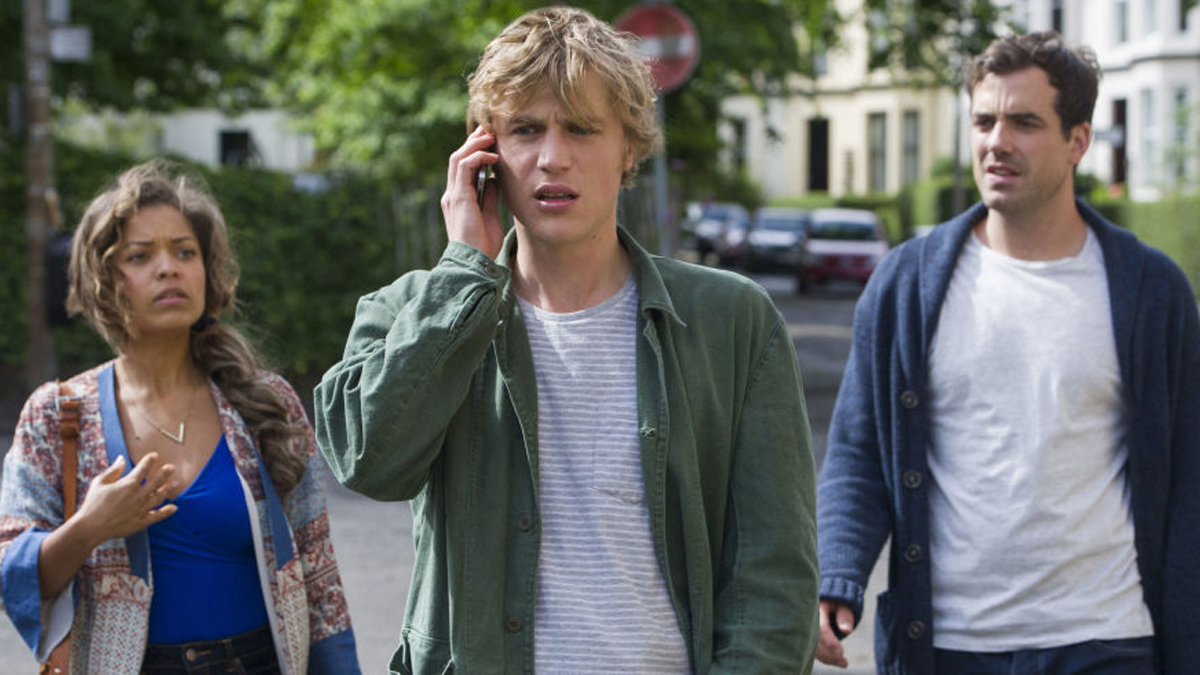 Like so many romantic comedies, Lovesick is largely about a will-they-won't-they relationship – in this case between protagonist Dylan and his best friend Evie. But where Lovesick differs from just about every similar story is in its unflinching willingness to depict how one person's happily ever after is another's shattered heart.
In the aftermath of Dylan breaking up with major love interest Abigail in order to finally be with Evie, Lovesick spends a whole episode moving between two bedrooms; in one Dylan and Evie celebrate their new relationship, while in the other Abigail tries to put her life back together. In treating her pain with respect the show forces us – and Dylan – to contend with just how happy we should be about the culmination of the show's major arc. The final scenes, in which Dylan visits Abigail to get his stuff before returning to Evie and breaking down on what should be the happiest day of his life, are far more poignant and real than any show originally titled "Scrotal Recall" has any right being. In its recognisably complex messiness it's as raw and painful as Lovesick ever was -which is to say, very.
Gabriel Bergmoser
13. Supernatural season 13 – Scoobynatural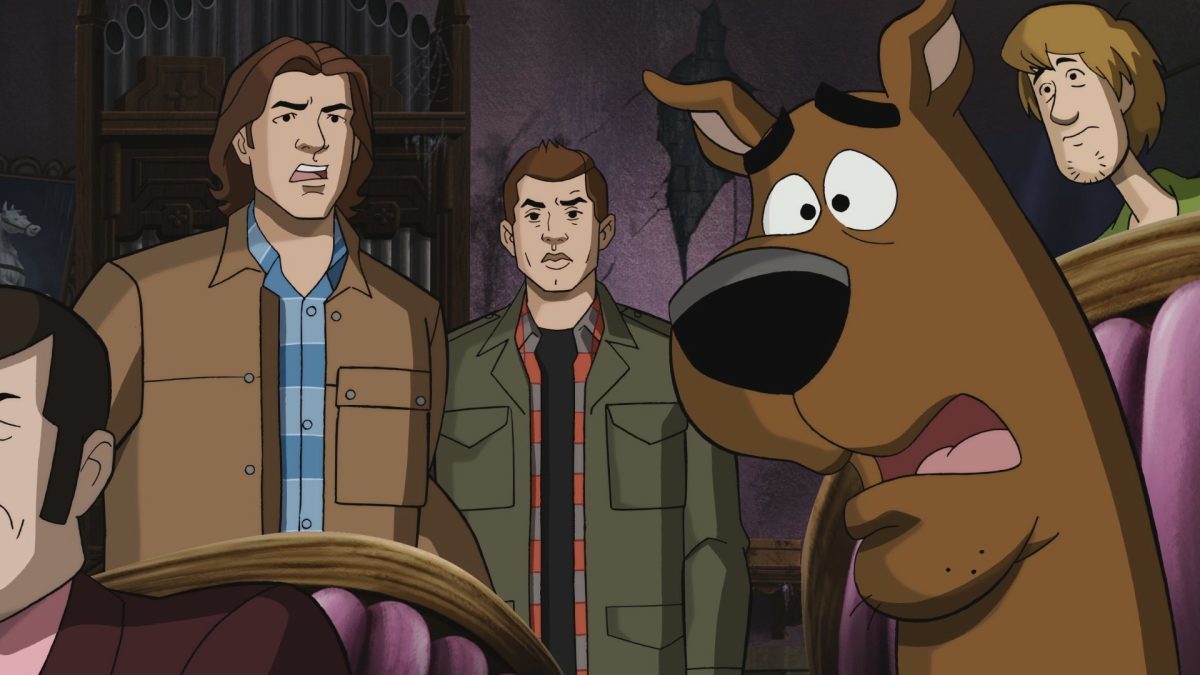 In this milestone episode, Supernatural did what only fanfics dared – cross over with Scooby Doo. And they did it well. Did it advance the season arc? Heck no. But what we got was an enjoyable popcorn romp through nostalgia, done in a distinctively Supernatural style.
Seeing a classic Scooby Doo animated story told through the Supernatural lens, packed with lovingly rendered call-backs to the original cartoon, provided a shameless dose of humour and nostalgia that found a way to blend two tonally different series. 
Bridget LaMonica
12. Bodyguard – Episode Two
This episode's extreme tension made Bodyguard feel faintly silly in the way that being terrified always makes you want to laugh. That didn't detract from the show's power to grip. If the next episode had seen Sgt Budd crash through a glass window on a zip line, it wouldn't have felt wrong. Honestly, Budd could have somersaulted in to the London Aquarium to save Julia from an explosive-vest-wearing shark in the finale, and the nation's fingernails would still have been bitten to the quick. 
This was Homeland before it went wonky. It was 24 before it went… wonkier. It was the kind of drama people without imaginations call 'high-octane', as if hydrocarbons have anything to do with it. It was expertly designed to thrill, by experts. (Michael Gove is wrong—a perennial truth. People in this country have not had enough of experts, especially when they are making TV this exciting). 
Also nominated: Episode One.
Louisa Mellor
11. The Bridge season four – Episode Eight
Sofia Helin and Thure Lindhardt, not content with portraying one of the most profoundly moving small-screen love stories of all time, excelled themselves in the season four finale's final, perfect scene.
And so, Saga stood on the bridge, at the central point where it all began. Back to the beginning, or to a beginning, at least. She's handed in her notice, thrown her police badge into the dark waters. The most important case, the one she's been trying to solve all her life, has been closed. Who is she, really, without those words 'Länskrim Malmö', appended to her name like a mantra? She picks up her mobile, and tells us the answer. It was so simple, all along.
"Saga Norén."
Gem Wheeler
10. Westworld season two – Kiksuya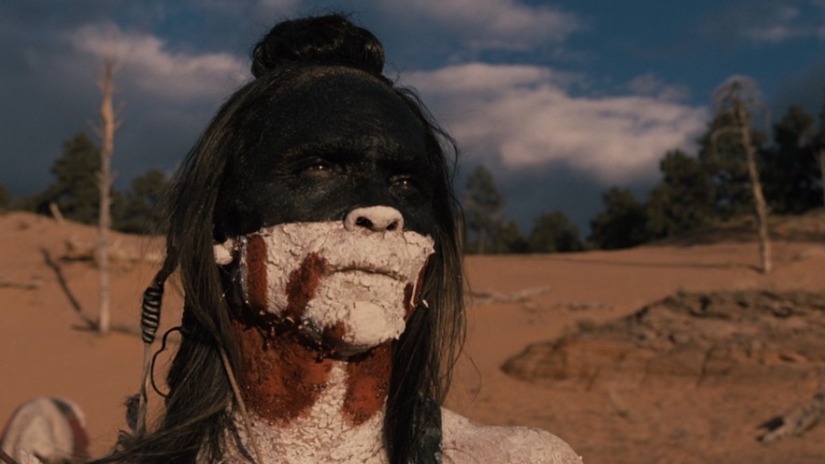 Kiksuya, by any metric of writing, performance, directing, or cinematography, was a singular thing of beauty. It was one of the most limited stories Westworld has told, and despite that, it looks and feels like one of the most expansive. The focus is on one character – Zahn McClarnon's Akecheta – but that character's journey is an epic in the hands of director Uta Briesewitz. The shots of him riding across sand dunes or walking slowly through the decaying remains of Ford's new narrative launch party were stunningly beautiful, and Briesewitz really played with the park and its surroundings to create exquisite, emotionally resonant images.
Also nominated: Riddle Of The Sphinx, The Passenger
Ron Hogan
9. BoJack Horseman season five – Free Churro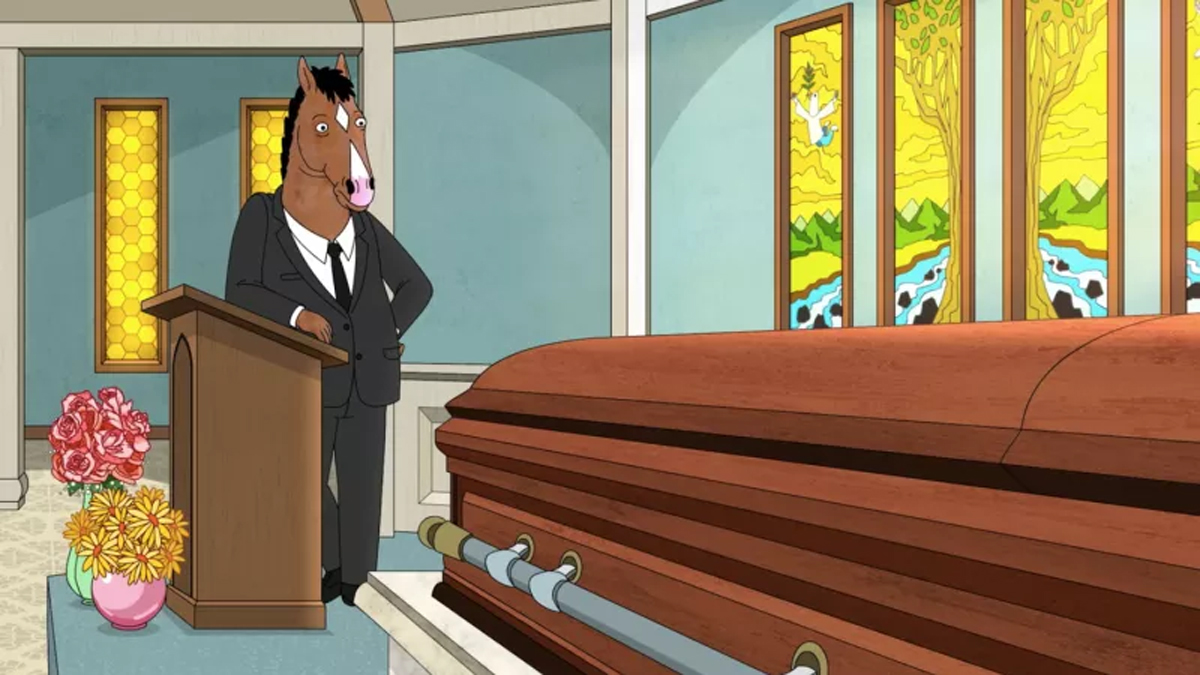 BoJack Horseman has received high praise for its high concept episodes in the past, with season three's silent underwater episode a prime example of a wacky concept earning wild acclaim. This year, however, the standout instalment was a back-to-basics reminder of how smart this show can be without the bells and whistles. In Free Churro, Will Arnett's eponymous equine actor spends the entire 26-minute episode eulogising his mother at her funeral. 
It's a masterclass in writing and delivery, with the continuous monologue highlighting the skills of both Arnett and his showrunner, Raphael Bob-Waksberg: their skills combine perfectly here, finding the funny (and a huge amount of props, ideas and sound gags) in one of life's saddest traditions. If you haven't already watched it, do yourself a favour and load up Netflix tonight. We're sure you'll love the episode, and its eventual punchline.
Also nominated: Mr Peanut Butter's Boos
Rob Leane
8. Daredevil season three – Blindsided
This was the obligatory Netflix Impressive Fight Scene, as pioneered by the original series of Daredevil. In this case, however, it was attached to perhaps one of the most tense and engaging stories yet as Matt infiltrated a prison only to find it overrun with the Kingpin's men, then had to survive long enough to get out.
Of course, the 10-minute one-take sequence was breath-taking on a technical level, but what made it work is that we cared whether Matt succeeded, and knew what was at stake if he didn't. It was exciting and chaotic and completely successful on every level, and the sort of thing that these Netflix shows benefit from: the ability to be a little more ambitious than your standard network show. 
James Hunt
7. Succession – Nobody Is Ever Missing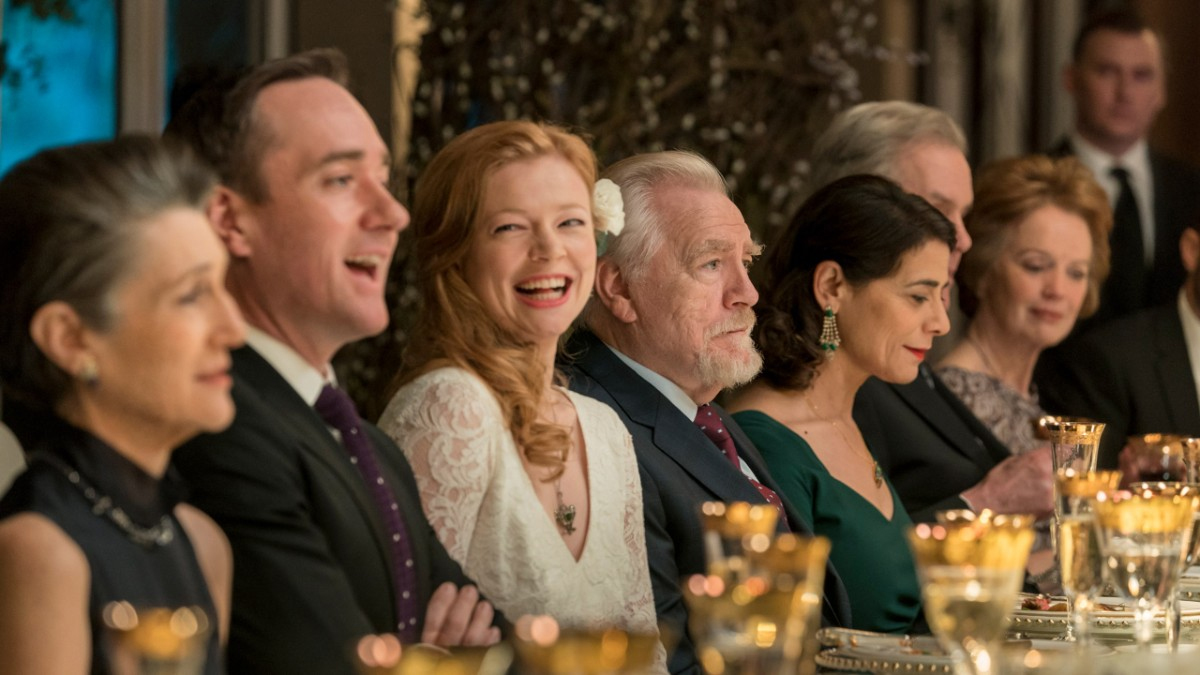 I'm not sure I can praise Succession enough. From the brilliant minds of Jesse Armstrong (Peep Show, The Thick of it) and Adam McKay (The Big Short, Vice) came this intergenerational family dramedy about the struggle for control of their own corporation. While beginning as a simple satire, within a few episodes it had most assuredly found its feet, with the monsters on display becoming utterly compelling, whether it was Brian Cox's raging patriarch, Kieron Culkin's contemptible yet delightful youngest son, and Sarah Snook's seemingly above the fray but might the worst of them all daughter.
It was the finale that truly cemented Succession's place as the debut of the year. In it, Jeremy Strong's heir apparent, who had acted as the protagonist, prodigal son, wannabe power player, and drug addict failure, was finally revealed for his true self; a scared little boy who was nothing but a tool for his father to use, break, and then put back together to be used again by. Bring on season two.
Nick Horton
6. Riverdale season three – The Midnight Club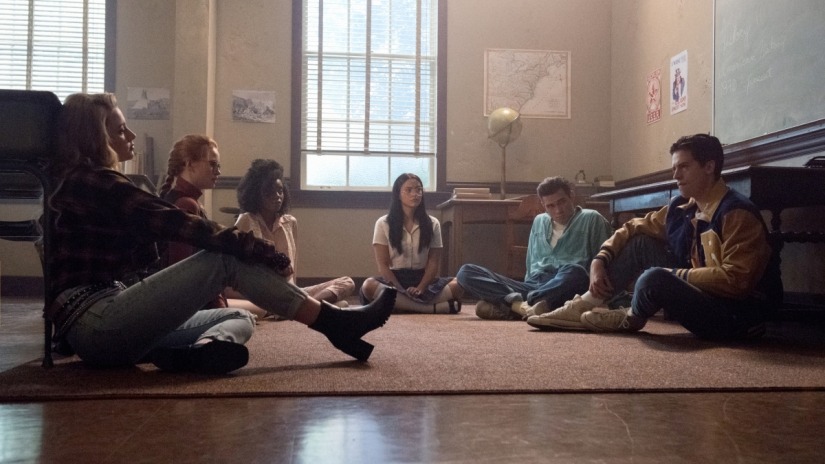 This was the most ridiculous episode of the series to date. From the hugely over-the-top bathroom fight sequence with Alice and Penelope to the Dokken singalong – easily the most subversive moment on what is ostensibly a teen drama in the past decade – everything that happened in it was bonkers. The show has never been trashier or more entertaining as a result.
What The Midnight Club did so well is follow Riverdale's mission statement of blending existing pop culture with over seventy-five years of Archie Comics lore to create a show that is its own funhouse mirror version of teen dramas.
Chris Cummins
5. Better Call Saul season four – Winner
With Winner and its quieter, subtler fourth season, Better Call Saul has consolidated itself as a more moving and powerful tragedy than its predecessor ever was, capping it off with an episode that shows us just how far Jimmy McGill has fallen while in the process reminding us of all the things that brought him to this point.
It was a masterful conclusion to a strong season that was a thrill to watch. Episode after episode the show continues to deliver clockwork plotting, exemplary character work, and a steady unpredictability that managed to always leave you feeling like there was only one way things could turn despite being unable to anticipate it.
Also nominated: Coushatta
Gabriel Bergmoser
4. Doctor Who series 11 – Rosa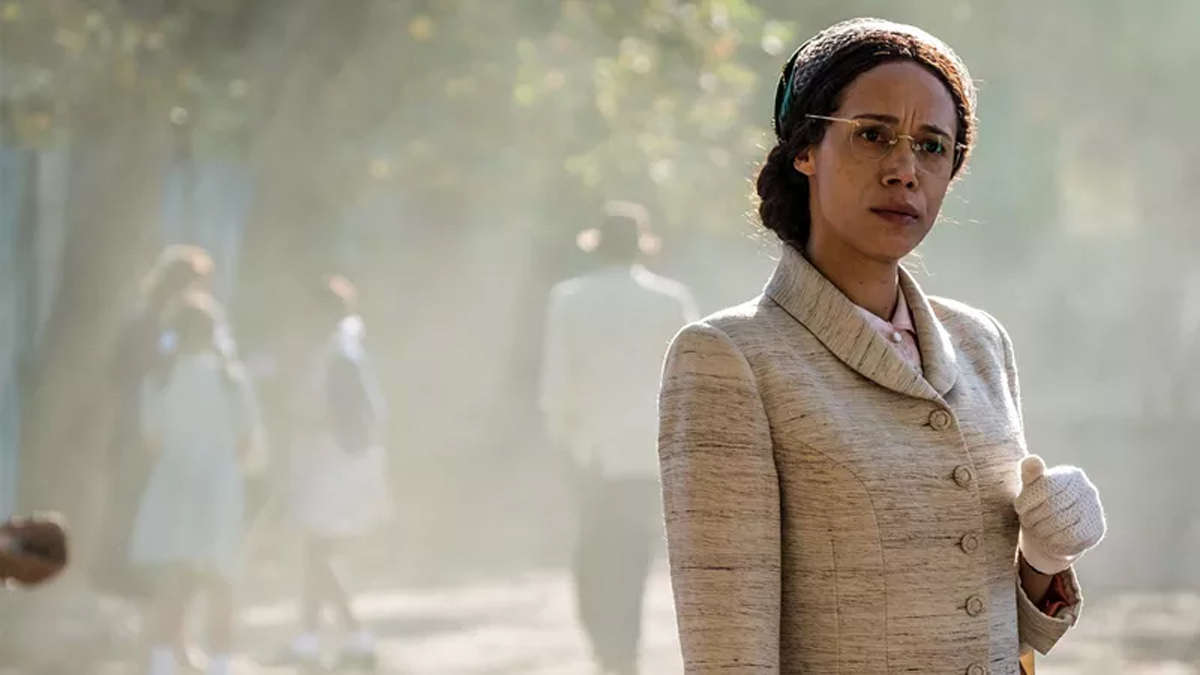 When it was revealed that the third episode of this year's Doctor Who run would feature the story of Rosa Parks, you could hear the collective clenching from the other side of the internet. After all, there were so many ways in which this could go horribly, horribly wrong. More than any historical figure the Doctor has met on their travels, Parks is such an important figure to so many people, and her fight such an emotive one. The good news is that 'Rosa' absolutely does justice to the events that took place on that evening in 1955. […]
Rosa is not a typical Doctor Who episode. The subject matter is heavy, the pace is slower than usual – presumably to allow the full horror of the setting to sink in – and the sci-fi elements are sorely lacking. But as a one-off it's a powerful piece of drama, and one which is sure to have families talking to one another about it long after the end credits have rolled.
Pete Dillon-Trenchard
3. Killing Eve – Nice Face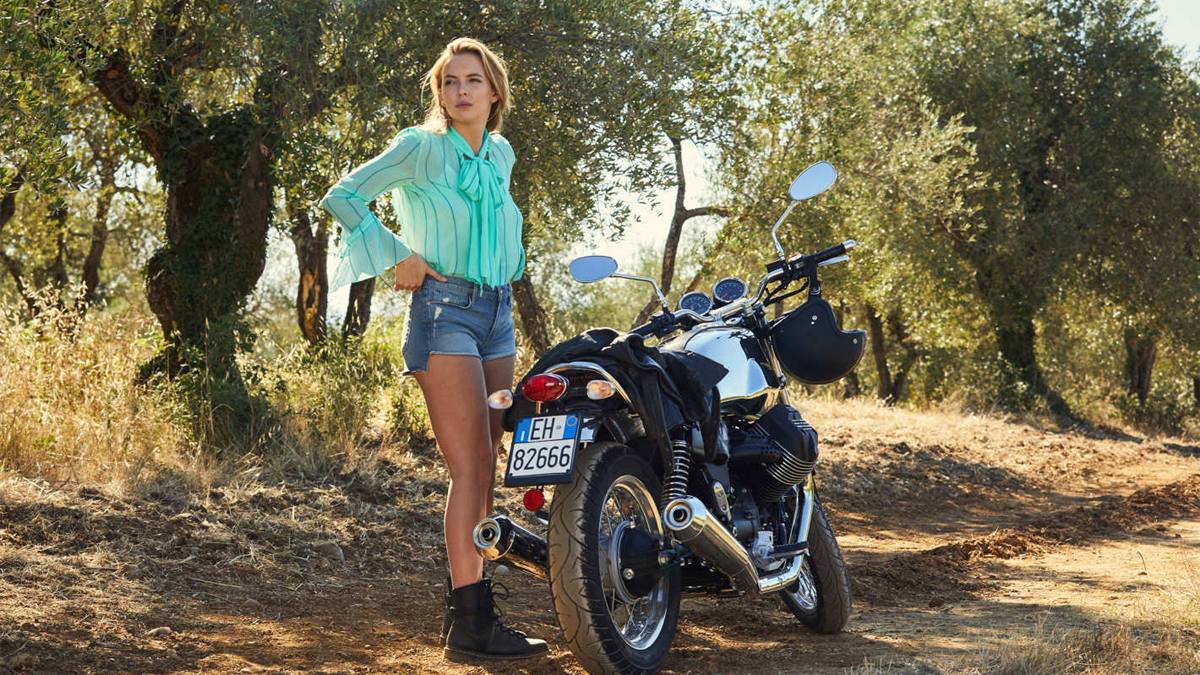 Killing Eve series one had plenty of high points – hence the multiple nominations for various episodes by our writers – but as the one that introduced us to euro-assassin Villanelle (Jodie Comer) and intelligence agent Eve (Sandra Oh), Nice Face takes the biscuit. Then it grinds up the biscuit, adds some broken glass and feeds it, laughing, to a high-ranking mafioso.
From the opening scene in a Viennese ice-cream parlour (that kid deserved it) to Eve's serial killer obsession, to Villanelle's Italian jaunt (always pick up home decorating tips from the scene of a murder), episode one was a witty, shocking and fun ride and set the scene for what was to come. Brava.
Also nominated: God I'm Tired, Take Me To The Hole!
Louisa Mellor
2. Inside No. 9 series 4 – Bernie Clifton's Dressing Room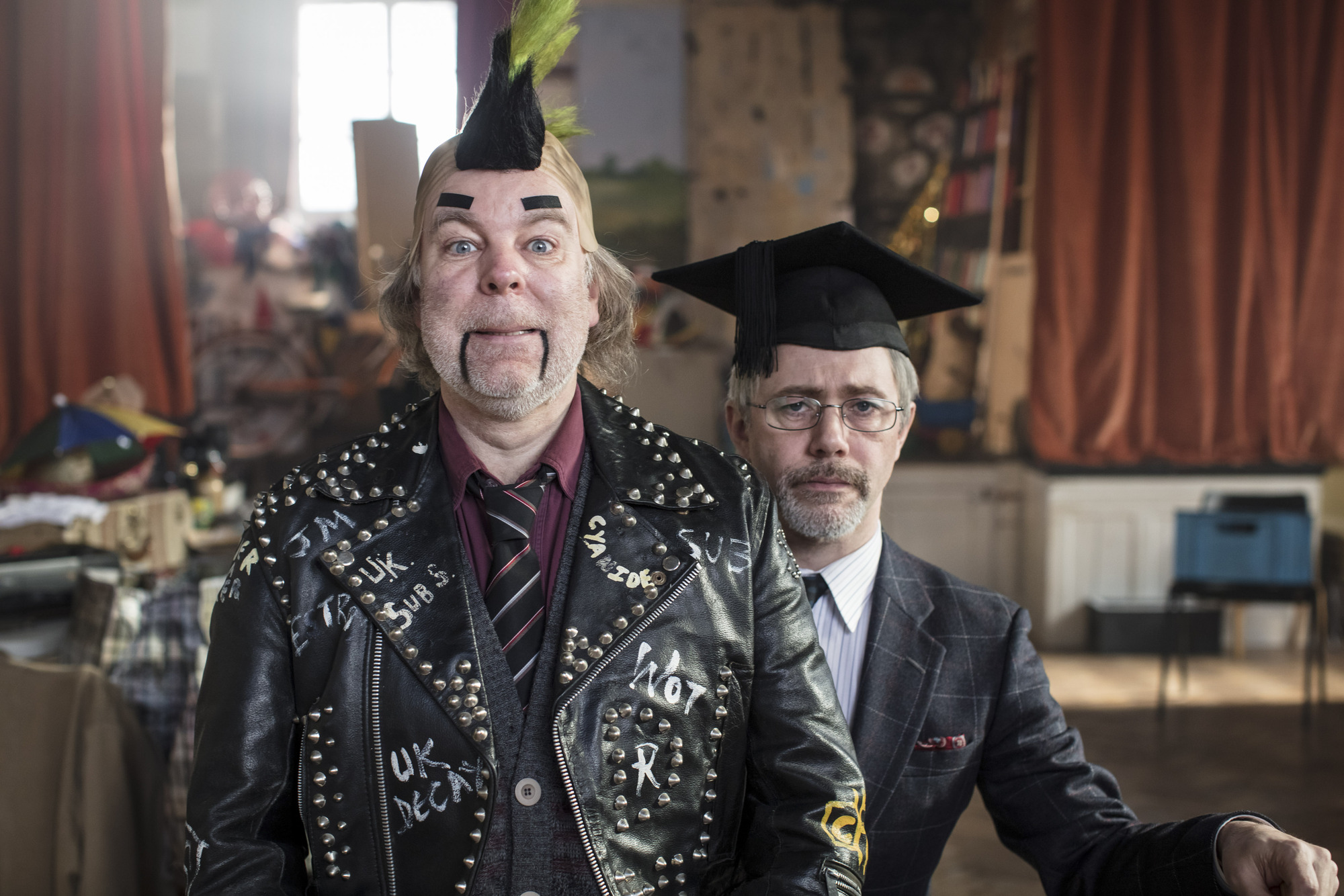 If the nifty writing was the star of previous episode Zanzibar, this one was a showcase for performance. Not just from Steve Pemberton, who gave us all manner of vintage comedy 'bits', but also from Reece Shearsmith. […]
This terrific episode was empathetic, moving, and entertaining throughout. The mystery over just what occurred in Bernie Clifton's dressing room gently pulled us through the first half, while the emotion took over in the second. Topping it all off with that glorious Morecambe and Wise-style song and dance number ("Misery might let you win a Bafta…" touché) was an additional treat. The previous episode had a large cast and dialogue going a mile a minute, but this two-hander felt no less full.
Also nominated: Dead Line
Louisa Mellor
1. The Haunting Of Hill House – Two Storms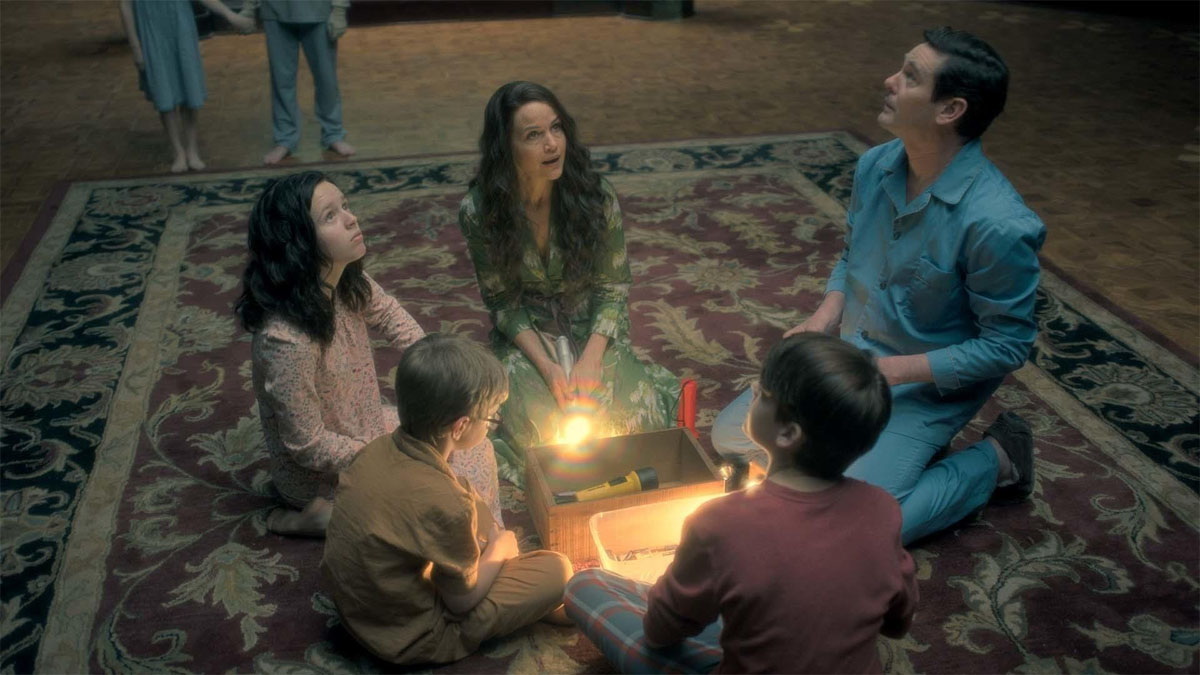 Shooting one eighteen-page scene without any cuts is rare enough in TV drama, but doing it in an episode comprising fifty-one minutes made up of just five shots is surely, like Hill House itself, not sane.
Sane or no, director Mike Flanagan and his team on The Haunting Of Hill House did it for episode six of their acclaimed horror series. Two Storms, in which the Crain family gathers at Shirley's funeral home, was a technical marvel in a horror rich in emotion and humanity.
Whatever the difficulties involved, it was worth the hard work. The episode is a real televisual achievement that stood apart in an already strong series.
Louisa Mellor
Other episodes nominated (but not by quite enough people to make the top 15)!
A Series Of Unfortunate Events: The Carnivorous Carnival, A Very English Scandal: Episode 3, American Crime Story: The Man Who Would Be Vogue, American Horror Story: Return To Murder House, Arrow: Docket No. 11-19-41-73, Atlanta: Teddy Perkins, Barry: Loud, Fast & Keep Going, Better Call Saul: Coushatta, BoJack Horseman: Mr Peanut Butter's Boos, Borotu Naruto Next Generations: Father And Child, Castle Rock: The Queen, Chilling Adventures Of Sabrina: Feast Of Feasts, Counterpart: The Sincerest Form Of Flattery, Disenchantment: The Princess Of Darkness, Dynasties: Chimpanzee, GLOW: The Good Twin, Humans: Episode 6, Inside No. 9: Dead Line, Killing Eve: God I'm Tired, Take Me To The Hole!, Louis Theroux's Altered States: Choosing Death, Mrs Wilson: Episode 1, Mum: November, One Day At A Time: Not Yet, Patrick Melrose: Bad News, Sharp Objects: Closer, Vanish, Star Trek: Discovery: Vaulting Ambition, Despite Yourself, Stewart Lee: Content Provider, Succession: Nobody Is Ever Missing, Ten Days In The Valley: Fade Out, The Americans: Episode 10, The Flash: Enter Flashtime, The Handmaid's Tale: Women's Work, The Walking Dead: What Comes After, The X-Files Rm9sbG93ZXJz, Unbreakable Kimmy Schmidt: Party Monster, Westworld: Riddle Of The Sphinx, The Passenger, Who Is America: Episode 1.