Features
Den Of Geek's Christmas viewing traditions!
Which TV episode or film do you have a date with every December? Our writers share their Xmas viewing traditions…
This updated article was first posted in December 2017.
Push through all the shopping and boozing and tinselly over-indulgence, and deep down, everybody knows the true meaning of Christmas.
It's television.
Our viewing traditions are what makes Christmas special. For you, that might mean chortling your way through whatever festive tyre-fire is playing out on Albert Square, or rewatching for the millionth time that snowy episode of Buffy where Sarah Michelle-Gellar had her fringe cut weirdly short.
Perhaps you and yours never miss It's A Wonderful Life. Maybe you set record for the You've Been Framed Santa Special (nothing feels more festive than a solid hour of cats destroying Christmas trees). Whatever it is, it's yours, to enjoy solo or with loved ones, and it means Christmas has arrived.
Below, our writers share their festive viewing traditions with you, please feel free to share yours right back at them in the comments.
Every Christmas Eve, the household gets a visit from Bill Goldberg in the perennially underrated Santa's Slay. Although it's a horror-comedy with a murderous Santa as its premise, the movie is inventive, hilarious, surreal and constantly surprising. It goes to a lot of weird places (including a delightful stop-motion interlude!) and, unlike almost any other Christmas horror movie, is unironically festive. It's a feelgood feast. Just with the added bonus of Goldberg sticking sharpened candy canes in people's eyes…
Craig Lines
My family have but one festive viewing tradition and it's one that we've been forced into, rather than a ritual performed out of festive cheer. Every evening on Christmas Day, my Father and I (both huge Doctor Who fans) skulk off to a dark corner of the house to watch that year's Christmas Special episode on either a small television or laptop while the rest of our family sit and watch the relentless procession of hour-long soap instalments on "the big telly." Indeed, it seems that not even the mighty Time Lord himself can fend off the holy trifecta of Emmerdale, EastEnders and Coronation Street. Happily, advances in technology and the advent of BBC iPlayer have made this experience easier over the years but nevertheless, the two of us have had to witness huge moments such as Rassilon's return and Matt Smith's regeneration with a dodgy screen and the dulcet tones of Ken Barlow echoing in the background. It's not ideal, but it's Christmas… and we're always outvoted.
Craig Elvy
It should have come with a health warning. Instead, we were caught off guard in the middle of a collective family breakdown. Aged 13, Christmas Day 1985 – I'll be honest, all I really wanted was Banarama's Greatest Hits album. What I – plus the parental unit – got was Noel's Christmas Presents. That first episode was a two hour long selection box of sugar, heart-wrenching sadness, excess and probably the odd three-legged donkey. I can't quite remember. I do remember the snot. And Lo! A family tradition of weeping into a tin of Quality Street every subsequent Christmas morning was born. Joyous Noel! 
Jane Roberts-Morpeth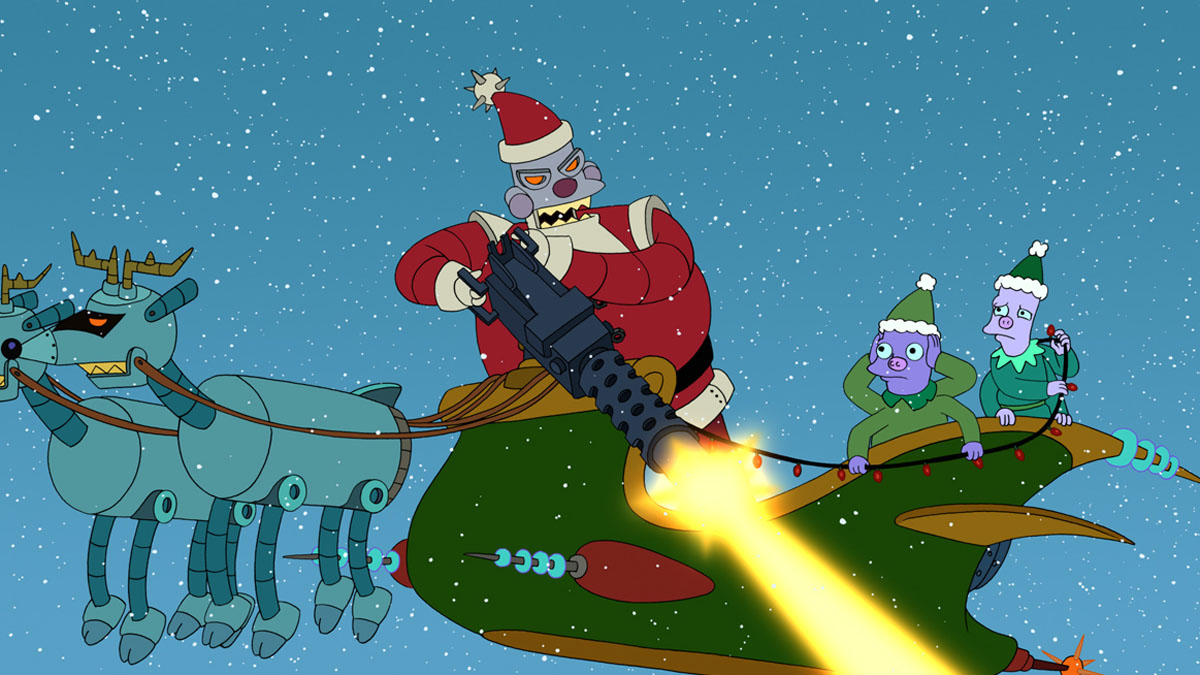 As kids, my younger sister and I were a right pair of little scamps. Even though our parents rather generously allowed us to wake them at 6am on Christmas Day, by 4 or 5am we could usually no longer contain ourselves, token attempts to fall back to sleep quickly acknowledged as a pointless charade. We'd sneakily, excitedly empty out our freshly-filled stockings, comparing and guessing what Father Christmas may have delivered, before packing them all back into the large red socks – never quite as space-efficiently as our parents had managed – and settling down to some quiet festive TV. In our younger years, it was Rugrats' Santa Experience, on video; by the time the tween years beckoned, it was Futurama's Xmas Story and A Tale of Two Santas, on DVD. As we grew older, we'd wake up early especially to watch them, allowing our parents to hide away until a little later (though our giggles likely woke them anyway). These days, it's quite a challenge for either of us to be up before 9am on Christmas, but my wife and I still bring the Futurama DVDs to my parents' house on the big day, finding time to settle down with my sister and recreate our youth. To most, there's nothing particularly festive about a violent Robot Santa who deems everyone naughty, abused and overworked elves, and the festive roundelay of "Santa Claus is Gunning You Down". But I can't imagine Christmas without them.
Wesley Mead
I've embraced my misanthropic tendencies so completely and for so long that it's easy for me to forget that at my core is a molten ball of joy and optimism. After all, what's a cynic if not a jaded romantic? Becoming a father has re-exposed that core to the world, and transformed me back into a kid, possibly an even bigger kid than I was when I was actually a kid. I've gone full-blown, family-fun-time Robin Williams – doing everything expect dressing up like an old woman, which I absolutely refuse to rule out. Out of habit I'll still occasionally sneer something like 'Christmas is a bloody commercialist sham,', but usually whilst sitting on the couch with my kids and partner, draped in tinsel, baubles bobbing from my ears like ear-rings, all of us bathed in the light from the gently winking tree, watching The Muppets Christmas Carol, Home Alones 1 & 2, all of the Doctor Who Christmas specials, and in fact every Christmas movie ever made, even the straight-to-DVD ones starring Thora Hird as a kung-fu Santa. I'll then run through the entire house shouting 'MERRY CHRISTMAS, BUILDING AND LOAN!'. This year I also hope to get the chance to snuggle up with my partner to watch Bad Santa again, for the fifth year running, as we quietly pretend that Bad Santa 2 never happened.
Jamie Andrew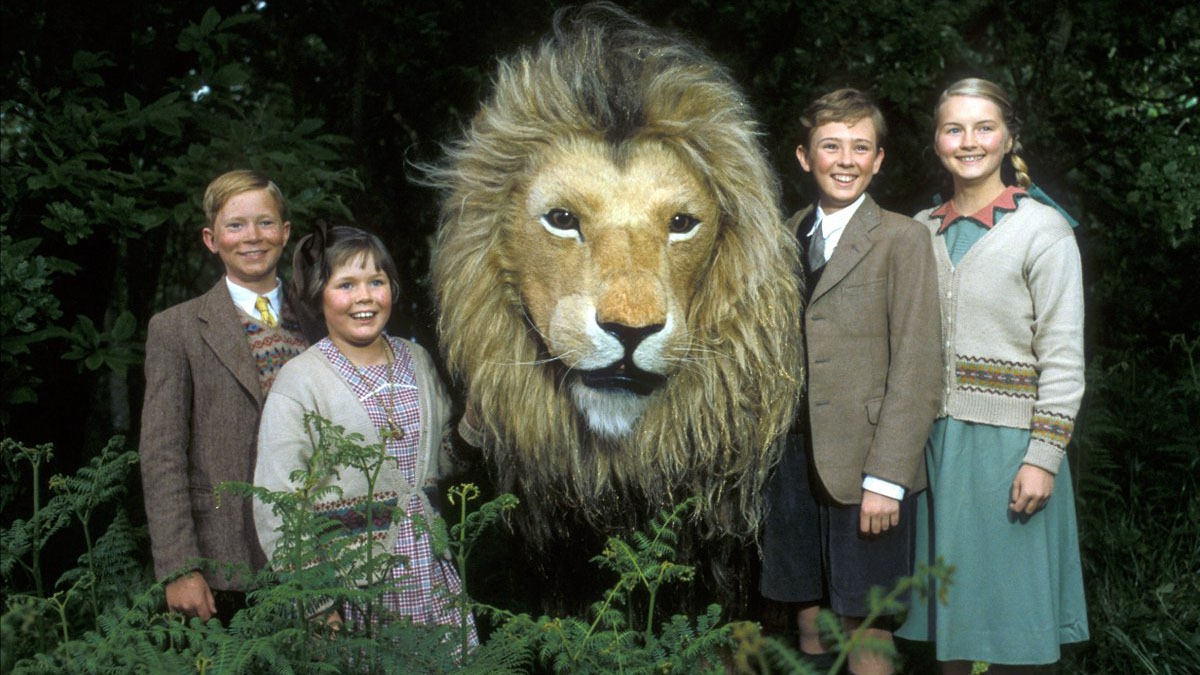 I have some fairly standard Christmas viewing traditions; Love Actually at some point during the build-up, The Muppets' Christmas Carol (the best Christmas film ever made) on Christmas Eve. But perhaps a bit more unusual is that most years, I also try to fit in the 1988 BBC adaptation of The Lion, The Witch And The Wardrobe. If I'm really lucky, I'll follow this with all the BBC Narnia adaptations (Prince Caspian/The Voyager Of The Dawn Treader and The Silver Chair), but the first one is the most important.
The reasons for watching an adaptation of The Lion, The Witch And The Wardrobe at Christmas are probably fairly obvious – it's full of snow and magic, and it's got Father Christmas in it. But for me, it really has to be the BBC version to feel properly Christmassy. This version gets a lot of flack for its BBC budget late-80s special effects, but I find the hand-drawn animations and simple sets very endearing. The film version is newer and glossier (and The Lion, The Witch And The Wardrobe is the best by far of the three recent film adaptations) but the BBC version is the one I saw at five years old that made me fall in love with Narnia, and with fantasy fiction more generally. I try to watch it when I'm at home with family, forcing my parents to sit through it for the thousandth time like I did when I was little, taking all of us back to family evenings at home when we were children without the really depressing ending of The Snowman. The opening sequence, doing a sweeping shot over a fantasy map years before The Lord Of The Rings or Game Of Thrones, is a real thing of beauty, and it's not really Christmas until I've heard the strains of the incredible music that took me far away to a magical land I never wanted to leave.
Juliette Harrisson
Christmas With The Joker is a classic episode of Batman: The Animated Series, and a must-watch for me every year. The story revolves around the Clown Prince of Crime escaping from Arkham Asylum (on a rocket-propelled Christmas tree, no less) before unleashing a series of fiendish attacks on Gotham.
Of course, he embraces the season fully and broadcasts his trouble-making for all of the city to see in the form of a traditional Christmas television special. It's great – he relaxes by a roaring fire, he wears a colourful jumper. Heck, he even has canned laughter too
The usual thrills and spills ensue as Batman tries to bring the Joker down, but we also get to see the Dark Knight discuss his reasons for never having watched the immortal It's A Wonderful Life (apparently, he could never 'get past the title').
Christmas With The Joker is as exciting and funny as the best Batman: The Animated Series episodes usually are – and it shows that even a super-disciplined, avenging force of justice like Batman can enjoy the festive season too.
Kyle McManus
Written by Matt Berry and Richard Ayoade not long after Garth Marenghi's Darkplace came to an end, AD/BC: A Rock Opera is a fun spoof of groovy, melodramatic rock operas from the 1970s like Jesus Christ Superstar. Telling "the greatest story never told" about the Bethlehem innkeeper who let Mary and Joseph into his stable, the one-off half-hour special aired on BBC Three in December 2004 and for some reason hasn't been repeated since, even though the cast are all significantly more well-known now than they were back then. Berry and Ayoade play the innkeeper and Joseph respectively, with Julia Davis as the innkeeper's wife and Julian Barratt as Tony Iscariot, the villain. There are also appearances from Noel Fielding, Matt Lucas, Graham Linehan and other familiar British comedy faces. This underrated gem is essential Christmas viewing for me each year and really deserves to be seen by more people.
Sophie Davies
We'll always have The Nightmare Before Christmas on the telly while we're decorating the Christmas tree. The Die Hard DVD always emerges at some point during the festive break.
Ryan Lambie
On Christmas Eve, after we've dropped off the last of the presents and my Uncle Colin (not my real Uncle, Dad's best mate) has popped in for his annual glass of whiskey and a catch up, we get a takeaway (because sod it, it's Christmas) and put on the 1999 made-for-TV movie adaptation of A Christmas Carol starring Patrick Stewart. I think this version was shown on telly for 4 or 5 successive Christmases, we tuned in for it every year and then the one year it wasn't on we were so beside ourselves I had to buy a copy on DVD so we'd never have to be without it. It's not the best known adaptation of this oft-told story which is a shame because the cast are fab and it's really faithful to the source novel. What I love is how it feels like a buffer between the pre-Christmas chaos and the day itself; when all the faff is done only then do we watch it and from that point on I can put on my Christmas Eve pyjamas (yes, that's a thing) relax and enjoy my favourite time of year.
Rachel Meaden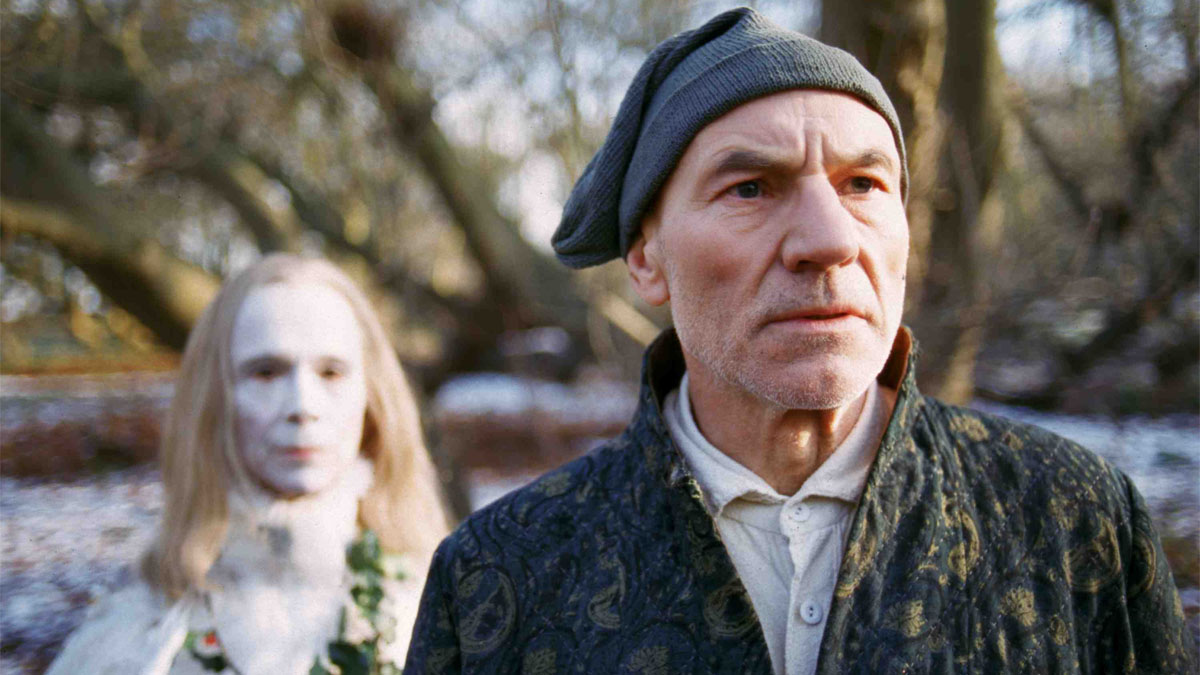 I love watching the Christmas special of The Good Life, It's Silly But It's Fun, on Christmas Eve. In a very kind, very gentle way, it reminds you of the value of Christmas: a time for getting together, sharing whatever you have and making your own fun. The episode is a gem with the inclusion of Margo's desire for a hat not made from a tabloid newspaper and the best cracker joke ever: "the Ooh-ah bird is so called as it lays square eggs". 
Vanessa Thompsett
It was only when breaking down the core components to the house Christmas viewings, that I realised that there were no traditions until I met my wife – having lived through some Grinch-esque wilderness years, it was only her love of the season that eventually won me back and now the film and TV choices are less traditions and more household law.
On the 1st of December the decorations go up and while that's happening, the Gavin & Stacey Christmas Special has to be played, more from Rachel's side than mine, but it remains a classic despite an over-saturation of James Corden (he's inescapable, even on CBeebies!) and encounters with a less-jovial-than-on-screen Mr Brydon. She's also keen on Love Actually at this time of year, but watching a British Rick Grimes and a sad Liam Neeson make that a very tricky prospect for me.
However, when it comes to joint choices, it's only really Christmas proper when John McClane has eradicated pesky terrorists from Nakatomi Plaza, with the words 'Yippee Ki-Yay' holding more seasonal sway than a dozen Christmas Carols (apart from the Muppets version, as that's also a regular feature).
The crown jewel though, the event that's become more important than any birthday, or wedding anniversary, is the annual Harry Potter party. It started as a happy accident, using up Marks and Sparks vouchers from our wedding to buy party food, while binging on Potter to get up to speed for the end of the franchise, but has since escalated. Nothing comes close to getting me into the Christmas spirit like some existential upset and a chance for us to crack out the Harry Potter t-shirts, Triwizard cup, assorted wands, figures, Top Trumps, alongside the bubbles and M&S delights. This year my son is finally old enough to be bestowed with his own fancy dress outfit and I just can't wait for it to come around. Thank you, Ms Rowling.
One thing that became tragically apparent last year though, was that the main actor who permeates our festive season is Alan Rickman, who will be forever missed, but whose legacy will always remain as unique, as it was brilliant. May you rest in peace always, sir.
Duncan Bowles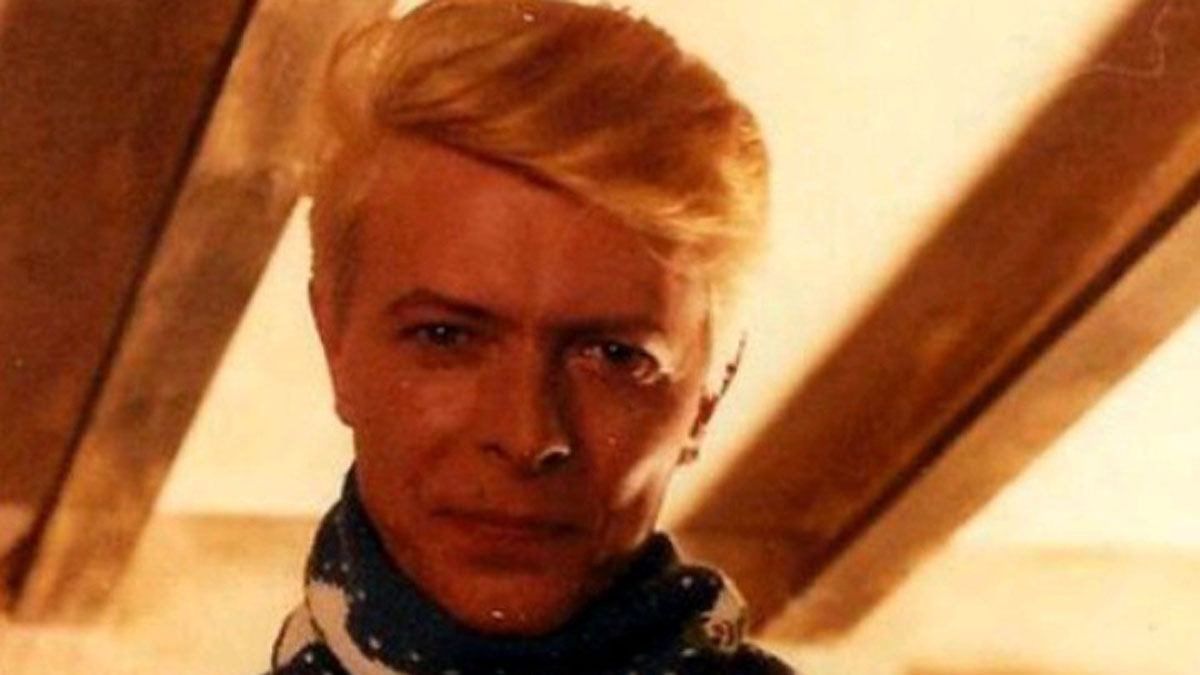 "You see, he was a real Snowman." My festive viewing tradition isn't so much a film as the introduction to one. The VHS version of Raymond Briggs' The Snowman my mum gave my brother and me for Christmas 1986 came with David Bowie's intro. Despite being a late addition to the film, replacing Briggs' own appearance (read Jude Rogers' terrific account of how it all came about here), it feels to me as much a part of The Snowman as the theme song or melancholic ending.
Christmas hasn't arrived until I've forced whichever siblings and kids are roaming around the house to sit down quietly for half an hour, watch it… and then spend the rest of the night basking in the glory of my pitch-perfect Bowie impression.
Louisa Mellor
My girlfriend isn't really a 
Doctor Who
 fan. Maybe it didn't help that last Christmas, the first ever episode I got her to watch was 2007's 
Voyage Of The Damned
. To me, the genius of Russell T. Davies' third festive episode is that after doing two pretty successful
Doctor Who
Christmas specials in a row, the writer took inspiration from the not necessarily Christmassy movies that always pop up in the telly schedules around this time of year. Similarly to how last year's 
The Return Of Doctor Mysterio
 took its lead from Richard Donner's 
Superman
, 
Voyage Of The Damned
 is 
The Poseidon Adventure
, with David Tennant's Doctor leading Kylie Minogue and a motley crew of aliens, millionaires and Richard Bucket across an immobilised outer space recreation of the Titanic. It's cheesy as heck and not exactly a fan favourite, but it's an absolute blast, and ten years on, it's still my own personal tradition to watch it at least once in the run up to the 25th. My missus quite liked 
Blink
, when we tried that, but I don't think she'll be joining me in this particular custom.
There are so many 'must' views I have over the Christmas period film-wise, A Muppet Christmas Carol, Scrooged and of course Santa Claus The Movie, but there is one odd little TV episode that is also high on my must-see list and it never feels truly like Christmas until I have watched it.
Mark Harrison
In the early 90s I was a huge fan of Beverly Hills 90210. I loved everything about it and it never once bothered me they were 25-year-olds in high school and during its second season (when the show was at its peak) they had a Christmas episode which was pretty soppy and melodramatic but ticked all of the boxes in regards what you hope to see in a Christmas-themed episode. 
Included in a very festive 40 minutes is Steve, the rich arrogant TV star's son, going to New Mexico to find his birth mother; Dylan, the tortured soul, reconnecting with his father in prison and the Walshes having everybody to their 'modest*' house to show them the true meaning of Christmas away from the trappings of Beverly Hills. There is also Santa and snow.
It was never going to change the world but it also never fails to make me feel festive and bonus point of letting me relive the pop culture and fashion of the early 90s on a yearly basis.
*modest means smaller than a mansion but larger than most houses pretty much anywhere. 
Carley Tauchert-Hutchins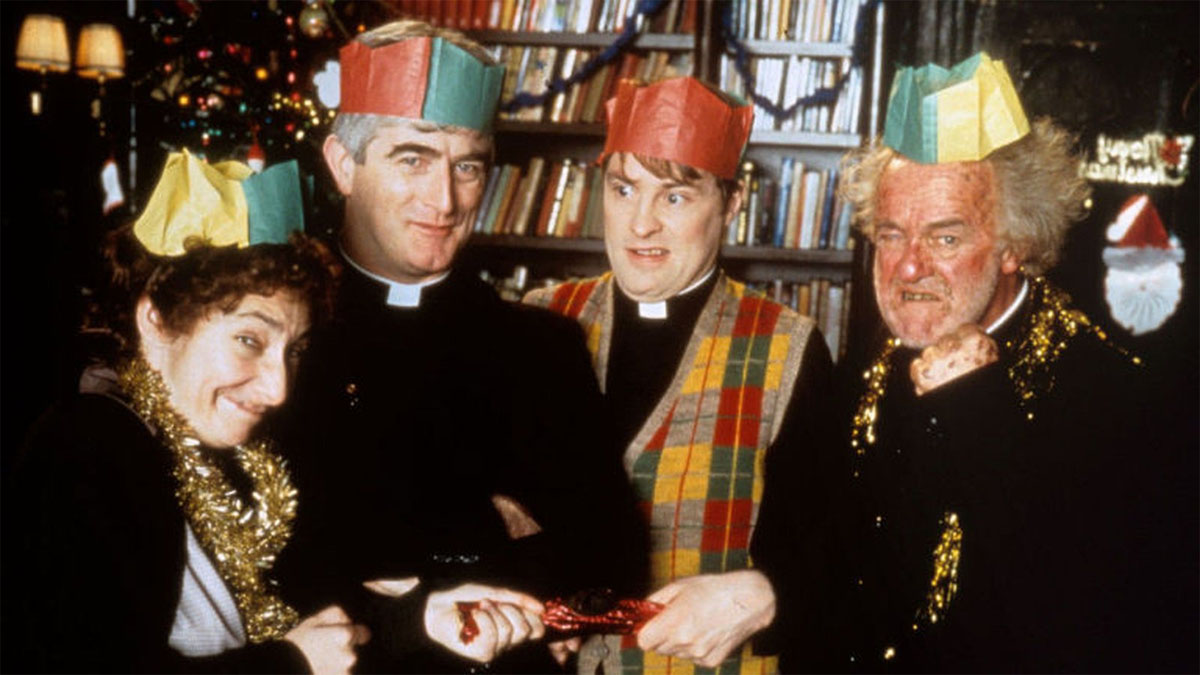 For a show that finished almost 20 years ago, Father Ted is a gem in Channel 4's repertoire of British comedies. Centred on a group of priests on the isolated Craggy Island, the chaotic lifestyle of the parochial house never fails to raise a smile – and their Christmas Special, A Christmassy Ted is no exception. 
From the priests' hilarious homage to the Great Escape out of Ireland's largest lingerie department to Mrs Doyle's commitment to 'Guess the name of the unknown priest', Graham Linehan and Arthur Matthew's witty script is complemented by the combined comedic genius and expert timing of its ensemble cast.
While it may not be the traditional family fare expected at Christmas, Father Ted's seasonal misadventure is quintessential watching over Christmas… preferably over a nice cup of tea.
Katie Smith-Wong
Festive viewing is big in my family. And by family, I mean my dad and me, whilst my mum avoids us like the plague. But we have one particular tradition on which the very success of our Christmas period rests, for if it doesn't occur we become very sad elves. Christmas is big for us, we love it. Every first weekend of December, I go to my parents' house, evict my mum (she lacks the requisite tinsel-love) and me and my dad decorate for the festivities. There is much singing, lighting and general merriment. Once the grotto, ahem, house is finished, we sit down and watch A Muppet Christmas Carol. It's the first Christmas film that I fell in love with, and I love it still. It's wholesome, musical and you don't get much more festive than ice-skating penguins. It was also the beginning of the mutual Christmas love that I share with my dad, and for that I will be forever grateful.
Lindsey O'Brien