News
Den of Geek loves Peter Krause
Peter Krause might just be the most charismatic leading man of all time. There is nothing this man could not make watchable.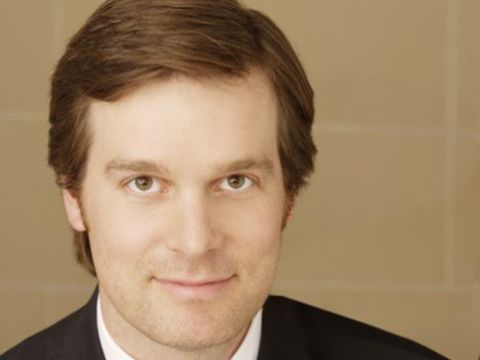 Peter Krause has slowly but surely been worming his way into my brain. He's been in virtually every TV show I've ever watched, at least since I was old enough to sit and appreciate Channel 4's Friday night 9pm-onwards comedy output. (Or, rather, America's comedy output, as shown by Channel 4 on Friday nights.) Peter Krause appeared in Seinfeld, Ellen, Caroline in the City, Cybill, Party of Five, 3rd Rock From The Sun, Spin City, and Sports Night. But it wasn't until he became Nate Fisher in Six Feet Under that he really became a household name.
Actually, he's not really a household name, is he? "Nate from Six Feet Under" might well be, but if I'm honest, until just now I didn't know what Krause's name was. I just knew he was Nate from Six Feet Under. But every time I see him on TV, he brightens up the screen and makes whatever it is I'm watching about a million times more watchable. I'm not sure how he does it.
He's one of those leading men that is somehow a little too wholesome and capable-looking for me to develop a proper crush on. But I imagine lots of people did. He's clean-cut and strong-looking. But it's not the sex appeal that does it for me. (Honestly – that's what Mark Ruffalo and Paul Rudd are for.) It's… I'm not sure what, but I kind of want to say it's intelligence. I think it's just charisma, but he has this way of projecting intelligence, and there aren't many TV actors nowadays that I could credit with that. At least not with a straight face.
Peter Krause has won my undying loyalty largely by appearing in a little-known geeky sci-fi TV show entitled The Lost Room. A 2006 Lionsgate TV production, it ran for 6 episodes and was possibly the most perfect thing ever to appear on television, an accolade I'm withholding merely because Firefly exists in the world. But The Lost Room is probably as good as Firefly, if not better, particularly because it fits so perfectly into its 6 episodes. It would easily be possible to make another season of The Lost Room, or indeed several more seasons, but I'm not sure I want anyone to. I just want it to exist as it is. Peter Krause plays a single father who discovers a magical key – stay with me, I know how it sounds – that will allow any door to open to a mysterious motel room. Before long, he encounters all sorts of odd people who also possess seemingly normal objects that actually have special powers. It turns out that there was some sort of cosmic event that lead to a normal motel room becoming oddly charged, so that all sorts of odd phenomena occur there…
Without going too deeply into the mystery, I'll just say that a sense of urgency is added when Krause's daughter enters the room and closes the door behind her, becoming locked in some unreachable other dimension. The Lost Room is immaculately written, creepy and tense and intense and wonderful and I wish everyone had watched it so they, too, would know how brilliant it is. And a hell of a lot of that is down to Krause, too, because on a lesser actor that perfect script would have been thrown away.
How do I know it's because of him? Well, check out Dirty Sexy Money, a new TV show about a lawyer who works for the most rich, famous, and difficult family in America. He should probably quit his job, but the family pays him millions of dollars to give to charitable projects, and also there's a mystery regarding the murder of his father going on… The premise feels, at first, worryingly like Arrested Development, only in this case the protagonist actually has a legitimate reason to stick around with the monsters that make up the rest of the cast (other than some ridiculously misplaced sense of "family", that is) and it's also nowhere near as irritating as Arrested Development. Thus far, there isn't anyone I want to slap till their teeth rattle. And, with all due respect to Jason Bateman, who is not in any way bad, he's not Peter Krause.
If he had been, maybe Arrested Development would be worth the insane amount of praise everyone heaps onto it. But it's not, so I reckon everyone should give Dirty Sexy Money a shot, instead. The Krause factor wins the argument for me.
Previous Den of Geek love letters: Hayden Panettiere, Rick Hoffman, Nick Frost, Morgan Webb, Illeana Douglas, Bruce Campbell, Ryan Reynolds, David R. Ellis..