News
Den of Geek loves … Morgan Webb
We've come over all warm and fuzzy again here at Den of Geek. In our latest love letter to the rich and famous people who don't know we exist, Ron sings the praises of Morgan Webb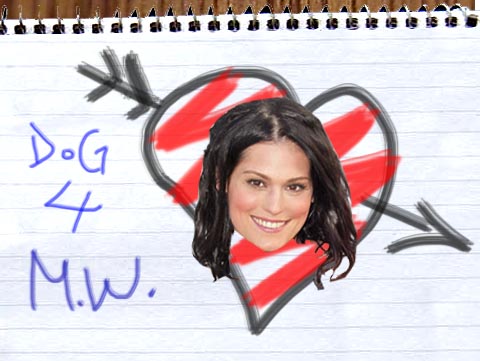 I'm not going to argue with Hayden Panettiere as the first selection of the gals we here at Den of Geek love. What's not to love about a cute blonde girl who wears a cheerleading uniform all the time on the best original science-fiction television show to hit network airwaves since, well… I can't think of the last great sci-fi TV show that wasn't based off of a movie, older TV show, or a spin-off of another show, so we'll just finish that sentence with 'ever.'
But is Hayden herself a geek? I couldn't tell you that, so for my inaugural selection for our ongoing love affair with various figures from geek culture, I decided to go with a dyed in the wool geek who you may or may not be familiar with. I won't beat around the bush anymore; I love Morgan Webb.
Now I know what you're saying: "Who in the hell is Morgan Webb?" Allow me to explain and by the time I'm done, I have no doubts you'll love her, too.
American TV presenter Morgan Webb is unusual. Not only is this former Gerber Baby and child actressthe default representative of G4 TV (TV for Gamers, as they call themselves), she's not just another talking head full of air. She's smart, funny, and a hardcore gamer with a degree from UC Berkley in rhetoric and a minor in Italian.
Self-taught, Morgan Webb worked as a web administrator for a dot com company prior to the bubble bursting in 2000, and in 2001 joined Tech TV as an associate producer and web researcher for the technology show "The Screen Savers." Using her knowledge of both Microsoft Windows and Linux-based operating systems, Webb moved from occasional appearances to a full-fledged guest host on the televised tech support call-in show "Call For Help" until she landed her big gig shortly after Tech TV was purchased by G4, a gamer-centric television network.
The centerpiece of G4 TV rapidly became Ms. Webb and the snarky, sarcastic gaming review program known as X-Play. A pull-no-punches program that is beholden to no sponsors and is willing to completely destroy lousy games, Morgan has proven herself to be as funny (maybe more funny) than she is good-looking, and her encyclopedic knowledge of genre games is astounding. As a child, Webb was not allowed to watch television, so she filled her hours with video games, starting with the Atari and working her way up to classics like The Legend of Zelda and Phantasy Star.
So not only is she a babe, she also plays RPGs. Not only is she a television presenter, she was a columnist for the American version of FHM, where she wrote "Tips From the Gaming Goddess," and spent most of 2004 posing in bikinis for the US Maxim and dorm rooms throughout MIT are much more tolerable for it. Also, when she's not being gorgeous and hosting the top TV program on a network designed around gamers and geek culture, she also hosts The Webb Alert, a podcast series highlighting the newest and biggest tech news of the day.
So, there's the case for why I love, and why I think Den of Geek would love, Morgan Webb. There's nothing sexier than a woman who can dual-boot her computer with Vista and Linux while fragging the competition in a rousing game of Halo 2 while trash-talking opponents in Italian.
Previous Den of Geek love letters: Hayden Panettiere, Nick Frost. If you'd like to write a love letter to someone, the address, as always, is geekcontent@gmail.com.