News
Den of Geek loves… Brian Posehn
"None more geek". Matt inducts Brian Posehn into the Den of Geek Hall of Fame...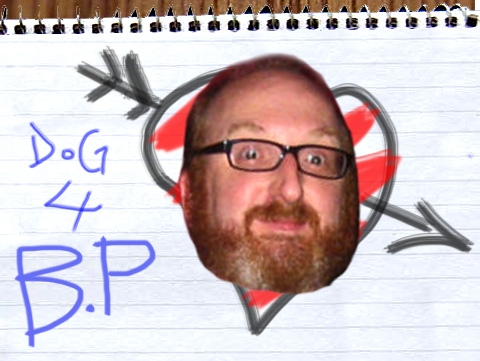 To simply inform people that we at Den Of Geek love Brian Posehn would be pointless. Of course we do. Brian Posehn isn't just an icon to geeks all over the world; he's actually one of us. Consider this article, then, more a celebration of his career and his achievements. Or consider it one nerd nerding out over another in a geeky appreciation of their level of success whilst still standing for everything the pale and pasty have ever stood for; truth, justice and wanting to be left alone when we feel the need to read comics indoors regardless of how nice the weather is.
The self-professed nerd of 30 years (he doesn't count the first eight as he doesn't believe a baby can be considered a nerd) received his first taste of mainstream recognition as a cast member on the hit sitcom Just Shoot Me. However, it's more likely you'll know him from his recent roles acting with American comedy star Sarah Silverman in her stand-up feature film Jesus Is Magic and the recent sitcom The Sarah Silverman Program, where he plays one of her "big, orange and gay" neighbours. TSSP is not only incredibly funny but also features a fantastic martial arts battle between Posehn and a psychopathic homeless man.
Asides from being in a couple of hit sitcoms, you may have caught him in the indie comedy Sleeping Dogs (also known as Stay and the more appropriate Sleeping Dogs Lie). Whilst it wasn't a major role, he was one of the funniest parts of a funny movie. Directed by Bob Goldthwait of Police Academy fame (he was the one with the silly voice), it's a solid comedy that would certainly shock the audience who found American Pie edgy.
To head a little deeper into geek territory, Brian Posehn has lived the dream of an army of geeks by being killed in a nasty way in a major horror film. As if this wasn't enough, it's actually one of the few recent horror movies that can be fairly described as 'good', being Rob Zombie's The Devil's Rejects. Posehn is continuing his working relationship with Zombie by voicing a character in the up-coming cartoon The Haunted World Of El-Superbeasto.
That Posehn has worked with a rock-star-turned-director is no coincidence, as you'll discover not far into his stand-up comedy CD Live In: Nerd Rage. Relating stories of when he would interview metal bands like WASP for his school paper as a teenager, even if you can't relate to the love of metal specifically, it's clear that we're hearing from one of our own. It'll certainly be clear by the time he's telling you the perfect way to anger other nerds is to get their obsession wrong (shouting at the people queuing for The Phantom Menace that "Star Trek sucks!"). Posehn is currently touring as part of the collective Comedians Of Comedy, about whom a great documentary was made a couple of years ago and is available on DVD in America.
Having checked the geek boxes for sitcom, stand-up comedy, feature film and music (Posehn's CD even contains some metal parody songs), it seems we have only comics left to address. For comic book movies, Posehn appeared briefly in the recent Fantastic Four sequel. For writing, he authored the comic The Last Christmas, the story of a post apocalyptic battle between Santa Claus and and an army of zombies. Rumours be true, there could be a feature film adaptation in the works.
To truly do Brian Posehn justice this would have to be a full book rather than one article. Posehn has also been involved in the hit US shows Mr. Show, Reno 911, Everybody Loves Raymond, Clerks:The Animated Series and more. But to explain why we love Brian Posehn you need only ask one question; How much more geek could he be?
None more geek.