News
Degrassi: Next Class Season 3 Trailer and Release Date
Whatever it takes, Degrassi is back on Netflix in 2017.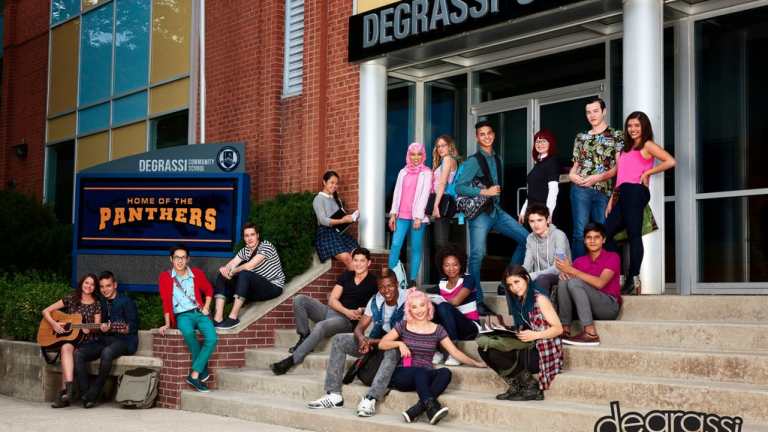 Degrassi: Next Class was confirmed to be getting two more seasons earlier this year, but now we've got trailers that tie directly into the cliffhanger ending of season two.
Degrassi: Next Class Season 3 Trailers
This trailer contains a HUGE Spoiler Warning because it resolves the cliffhanger at the end of season two. If you haven't seen that episode yet or want to go into the new season spoiler free, skip to the next trailer.
If you're reading you're ready for a few spoilers, right? Okay, so it looks like everyone survived the bus crash. It looks like Tristan is in critical condition and Miles, being the flirty guy he is, instantly goes right for Lola. Is this Miles way of dealing with the possibility of losing Tristan? The trailer seems to indicate Tristan will be okay. That finger moving at the end has got to be him, right?
Another big issue is Goldi trying to fit and possibly removing her hijab. It's good to see the show is focusing more on our new cast members.
The trailer is filled to the brim with that classic Degrassi drama we've all come to know and love.
-Here ends the spoiler warning-
While the first released trailer below didn't give us much, this trailer has a few more clues as to what's coming. Lola has a new hairstyle, of course. Miles is ripping down a safe space poster. Why would he be doing that? Hunter has a new angsttastic hair cut. Zoe is texting and driving?! Didn't they learn anything from Adam's death in previous seasons? Lola is trying to kiss Miles?! This is the most Degrassi promo of all time and it provides just enough of a tease for fans to get excited for the series return in just a few days.
This trailer doesn't give us much information about what happened, but for those that survive this will be a defining moment in their lives. Will any of them be dead by the seasons start? The trailer mentions at least one of them is in critical condition. Degrassi recently had a character death in the form of a suicide, but it's been awhile since a character died unexpecetedly in the series. 
With the trailer squarely centered on the bus crash, can we assume the season will be dominated by this event? What about the other plotlines left hanging at the end of last season? Will Zoe come out to her other friends? Will Zig still be adorable? Will Hunter and Yael stay together? Will Lola get more pizza?! Will the season feature another "it goes there" topic like season two did with racism? Well the new characters announced confirm it will do just that.
Degrassi: Next Class Season 3 New Characters
As confirmed in Entertainment Weekly, two Syrian refugee characters will be added to the cast this season. Parham Rownaghi as Saad Al'Maliki and Dalia Yegavian as Rasha Zuabi, will be transferring to Degrassi. This is Degrassi's newest "it goes there" moment. Incorpoarting refugee teenage characters into its ongoing plotline is the perfect ripped from the headlines kind of story Degrassi is famous for.
Degrassi: Next Class Season 3 Release Date
The show will drop on Netflix on January 3rd. The new season will consist of ten episodes and was filmed back to back with season four.
Shamus Kelley wonders if a new season of Degrassi Talks could also come to Netflix. Anything is possible! Follow him on Twitter!