News
Defiance's Trenna Keating To Guest on 12 Monkeys
Monday's episode of 12 Monkeys will have the Doc Yewll actor looking quite different out of alien make-up.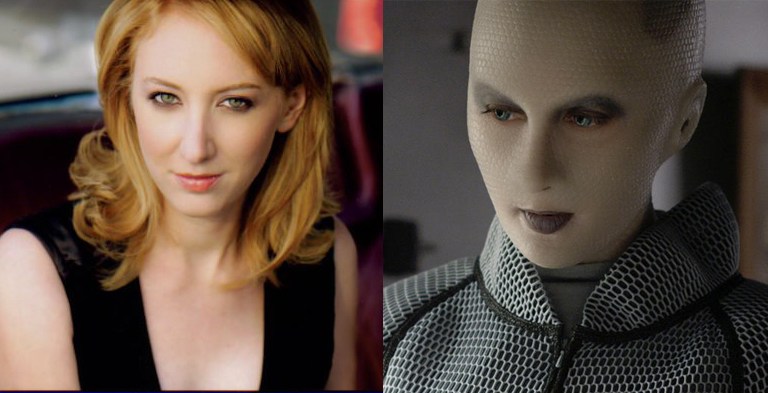 Fans of the dear, departed Syfy series, Defiance, will be happy to see a familiar face on the next episode of 12 Monkeys – only her actual face might not be that familiar. Trenna Keating, who is known for her role as the fan favorite Indogene, Doc Yewll, will be free of the alien prosthetics but still playing a medical professional of sorts as she does her guest turn as a 1940's nurse in Monday's episode entitled, "Emergence."
"It was a blast for me to get to be a part of 12 Monkeys even in just a small way," Keating says, joking: "If only they had delved into the nurse's backstory. I had wicked ideas! But alas… My plan is to get into as many Syfy shows as possible!"
Although Keating would be tough to spot even for a dedicated Defiance fan, there's no mistaking that voice, especially when she's using it to cajole a patient back into bed as she will in the upcoming 12 Monkeys installment. Doc Yewll would be proud! Who her character is exercising her bedside manner on or why is not something that can be revealed here, but the wink-and-nod of the doctor-nurse connection will be appreciated by savvy viewers.
Monday's 12 Monkeys finds Cole and Cassie trapped in 1944 with no tethers to return them to the future after their failed mission last week. Will Keating's nurse character be treating the wounds these lead characters may have received during the paradox blast, or will she be administering to someone else entirely? Only time will tell.
Keating's guest role follows an episode in which another star from a canceled Syfy series made a tongue-in-cheek appearance for those in the know. Erik Knudsen played a "Primary," someone connected to time, in last week's 12 Monkeys, and his character in Continuum, Alec Sadler, was a time traveler himself. This self-referential casting is the kind of stuff hardcore sci-fi fans eat up with a spoon!
Fans of Defiance and 12 Monkeys alike should tune in to Syfy at 9pm ET both to enjoy the cameo and to immerse themselves in another amazing adventure through time as the series continues its stellar second season.