Features
Defiance Cast: Behind the Makeup
Now that Defiance Season 1 has wrapped up, we take a look at some of the incredible makeup that helps bring the world to life!
Season 2 of Defiance doesn't come back to Syfy until June 2014, so what do we do with ourselves during this lengthy wait? Why don't we take a look behind the makeup of the show's most interesting characters and get to know the actors who play them?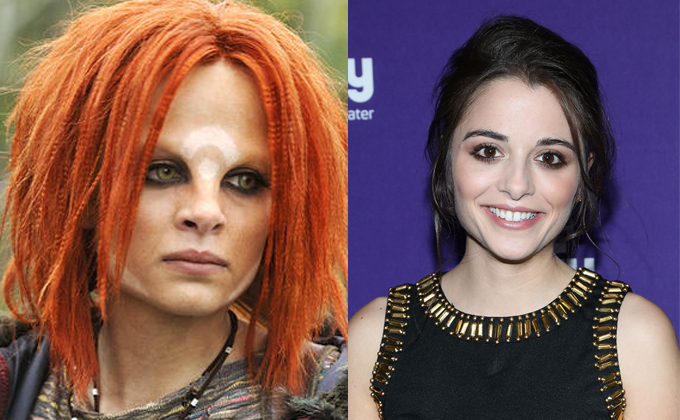 1. Irisa Nolan, played by Stephanie Leonidas.
Irisa is a young Irathient woman who was rescued from a brutal Votan ritual as a child and raised by ark hunter turned lawkeeper Joshua Nolan. Her personality is like her hair: Fiery, unruly, and somewhat unmanageable. Like the others of her race, she's a warrior with a deep connection to nature and the Irath god Irzu. As a friend, she is fiercely loyal; as an enemy…well, if you made her your enemy you would probably be dead by now.
Stephanie Leonidas is a London native whose siblings are also actors. She has been in the business since signing with an agent at the age of nine, and her performance in the film MirrorMask caught the attention of Defiance's creators. Talking to Collider.com, she says, "With Irisa, I loved the fact that there was just so much going on inside of this girl that's a feral animal-like creature." Leonidas was drawn not only to the character but to the paths she can take, exploring both her past and future but never quite seeming to find her place, even in Defiance, where humans and aliens coexist. And what does she think about the makeup? After one and a half to nearly two hours of application, Leonidas feels "like a different person." Hard to believe this doe-eyed brunette can turn into a fierce Irath warrior!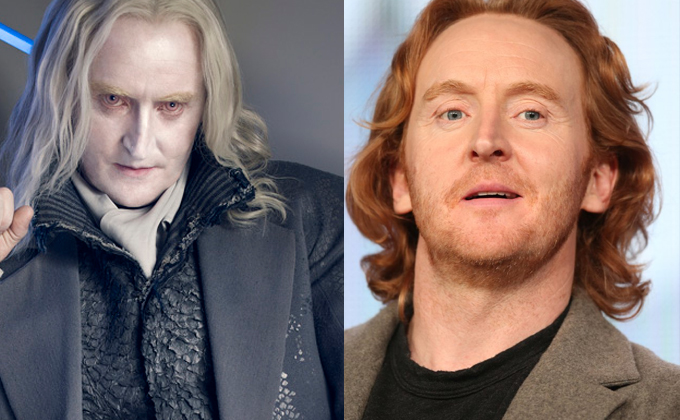 2. Datak Tarr, played by Tony Curran.
Datak is a Castithan man who married into a higher caste (liro), and has carved out a place as the black market and organized crime leader in Defiance. He's haughty, cruel, violent, impulsive, and ruthless, using any means necessary to raise his status, even if it means getting family members to do his dirty work. He also has a pretty strong sex drive, which prompts him to make frequent visits to the Need Want to satisfy his urges with owner Kenya Rosewater.
Tony Curran hails from Glasgow, Scotland, and is a graduate of the Royal Scottish Academy of Music and Drama. His acting career spans over twenty years, with roles in the BBC series This Life, Being Human, Numb3rs, Medium, and 24. Movie roles include Gladiator, The Adventures of Tintin, and The League of Extraordinary Gentlemen, as well as voiceovers in Call of Duty: Modern Warfare 3. In an interview with Crave Online, he describes Datak as "a bit of an alien gangster…He's a bad guy, but he's also a victim." Curran notes that the problems faced by the alien races are the same as human issues, and that Datak has had to claw his way to the top after coming from a hard situation on his home planet. And the bath scenes with Jaime Murray? Curran says they "get on very well" together, although one of his most favorite and challenging scenes had him fist fighting Joshua Nolan. Datak, so agile? Who knew?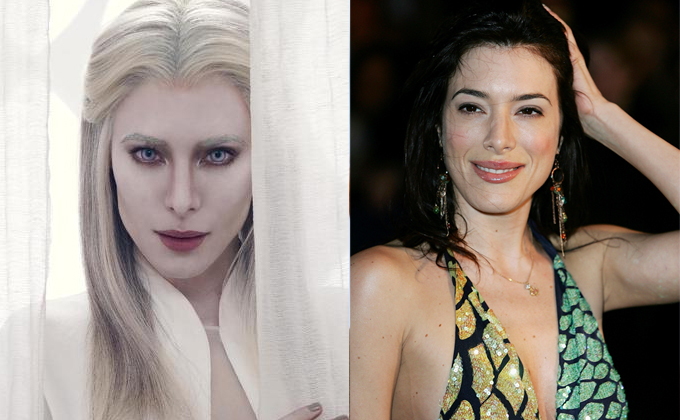 3. Stahma Tarr, played by Jaime Murray.
Stahma is Datak's wife, and where he is explosive and uncontrollable, she is the perfect counterpart: Level headed, calculating, quietly deceptive and subtly manipulative, she is loyal to her husband and just as willing as he is to gain power in the town. Where Datak is roughing up citizens to collect overdue funds, Stahma is planning a wedding between her son, Alak, and rival family daughter, Christie McCawley, in order to get control of the mines.
Jaime Murray was born in England and graduated from the Drama London Centre in 2000. She's been working double duty on SyFy with not only Defiance but also Warehouse 13, and has made appearances in the BBC television series Hustle, Showtime's Dexter, and The Mentalist. Murray recognizes the fact that Stahma's intentions are never really clear; she acts subservient, being a Castithan woman, but is able to pull some serious strings to advance her husband's political career."I don't think Stahma is close to anybody," Murray told Yahoo! TV, but admits she's a "really fun" part to play. Hardest hitting scene? The last few moments of the finale, when Stahma returns to find that Datak has killed Colonel Marsh like a "stupid little baby" who couldn't control himself without his wife there to smooth things over.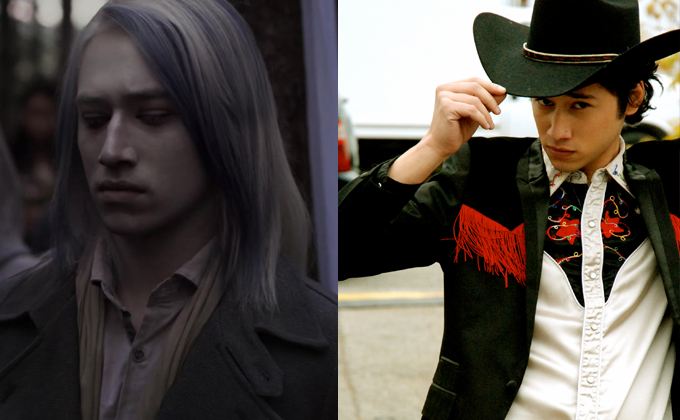 4. Alak Tarr, played by Jesse Rath.
Alak is the teenage son of Datak and Stahma and the first Castithan in town to marry a human being. Although he questions his parents and the old ways of his home planet, he still wants to please them, along with his new wife's family. Like most of the alien residents of Defiance, he is caught between two worlds and still trying to find his way…and finding a lot of trouble in the meantime.
Jesse Rath is from Montreal and is as obsessed with comic books as Alak is with music. He is best known for his role as Carter Boyd in the CBC series 18 to Life, and has appeared alongside his sister in the SyFy show Being Human. He feels that Alak "just wants to be a rock star," and acknowledges the teen's desire to break away from the confines of his culture by forming a union with Christie, which is normally taboo. He describes Alak as "headstrong and extremely confident to a fault" with a "smart mouth that gets him into a lot of trouble." I would have to say, though, that after he tried to pull a prank on the mayor, lost his friend, and then got beaten down by his father in law, Alak may have to rein it in a bit.
5. Doc Yewll, played by Trenna Keating.
Doc Yewll is an Indogene. She has extensive knowledge of alien technology, but falls flat in the human emotion department. That doesn't stop her from delivering some of the best and most pointed one liners in the show, however, and her involvement with some sketchy scientific programs has thrust her right into the thick of things by the season finale. Yewll eliminates former mayor Nicolette Riordan and discovers the meaning of some pretty powerful artifacts.
Trenna Keating is a Canadian actress; she has to undergo two to three hours of makeup application before transforming into the "sarcastic and to the point" Doc Yewll, in her own words. Yours truly got to ask some questions for the Den of Geek interview. I was curious to know what drew Keating to the character; she replied, "She's a bit of a misfit and I love that." She also admits that both she and the doc have a "dry, deadpan sense of humor," and that Yewll gets to say a lot of things people think but are afraid to say out loud. Keating also thinks Doc has "a wicked office." Perhaps…but it's not as clean and shiny as the Tarr household. Keating also gets a kick out of the fact that no one recognizes her when she's out in public without her makeup.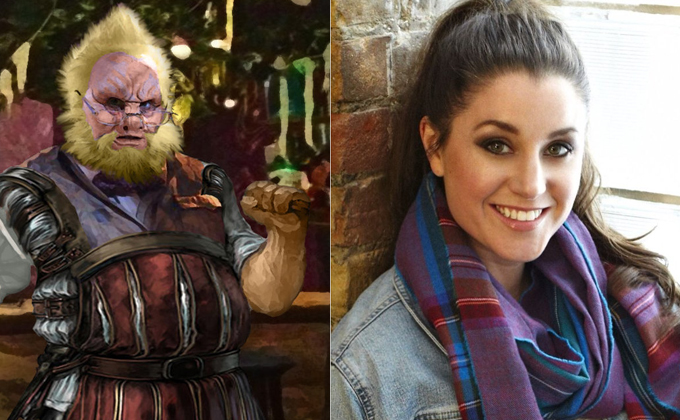 6. Jered Kikema, played by Jessica Nichols and voiced by Stan Sellers.
Jered is a Liberata and bartender at the Need Want, and is often pulled into the middle of the unsavory business that happens there. After witnessing the murder of original owner Hunter Bell, he keeps quiet for seven years, only to be murdered by Mayor Nicky in an attempt to frame Datak Tarr, who has no qualms about killing pretty much anyone.
At a mere five feet tall, Jessica Nichols plays not just Jered but all the Liberata in the series (including servant Bertie at the McCawley house). She is from Toronto and grew up as a professional athlete, graduating from Queen's University with a degree in film studies. Unfortunately, since Jered and Bertie are peripheral characters, we don't have much on Nichols (I thought maybe she was related to Rachel Nichols of Continuum, but no…although her brother Cameron is an actor). Stan Sellers is most known for his voice work and as "miscellaneous crew," with roles in Bunheads, Dr. Dolittle, The West Wing, and CSI: Miami.
Like us on Facebook and follow us on Twitter for all news updates related to the world of geek. And Google+, if that's your thing!