News
Deep State Season 2 Trailer, Release Date and More
Deep State, the Epix action/spy series, returns for Season 2, this time with Walton Goggins as its star.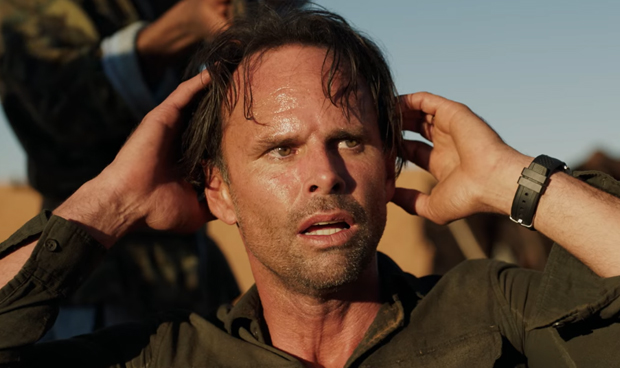 Deep State made its U.S. debut back in June 2018 on cable channel Epix, showcasing a slick small screen spy thriller headlined by the ever-capable (Shazam! villain) Mark Strong, who played Max Eaton, an ex-spy who becomes thrust into a covert intelligence war. The series, an internationally distributed product of Fox Networks Group, received a quick Season 2 renewal, but the status of its domestic deal was left uncertain for months until Epix's renewal announcement arrived that August.
Not only would fears over the show's status prove unwarranted, but the renewal would come with the reveal of a brand-new star in Walton Goggins. Moreover, it appears that Season 2 will see the show live up to its titular term, "deep state," which has become a potent concept in the increasingly partisan political arena, manifesting as a take on traditional shadow government conspiracy theories.
Deep State Season 2 Trailer
The first trailer for Epix's Deep State Season 2 is here!
Deep State Season 2 Release Date
Deep State Season 2 premieres on Epix in the U.S. on Sunday, April 28 at 9/8c.
Deep State Season 2 Cast
Walton Goggins replaces Mark Strong as series headliner on Deep State Season 2, as first reported by THR. Goggins will play Nathan Miller, who returning showrunner Matthew Parkhill describes as "an ex-CIA agent, who now acts on behalf of the deep state."
Goggins, a veteran actor, has been riding a wave of momentum in recent years off acclaim garnered from his FX television runs on The Shield and Justified. He recently appeared in a string of blockbusters such as Ant-Man and the Wasp, Tomb Raider, Maze Runner: The Death Cure and The Hateful Eight, as well as prominent TV runs on History's Navy SEAL action series, Six, and made comedic magic opposite Danny McBride on HBO's Vice Principals.
He'll be joined on Deep State Season 2 by a gaggle of newcomers:
Victoria Hamilton (The Crown, Doctor Foster) will reportedly play Meaghan Sullivan, who Deadline describes as "a Republican U.S. senator who is determined to bring the illicit activities of the deep state to light."
Lily Banda (The Boy Who Harnessed the Wind), a just-breaking actress, will play Aicha Konaté, who's described as "a Malian aid worker intent on improving things for her country."
Shelley Conn (Liar, Heartbeat) will plays Miller's ex-wife.
Additionally, Season 2 will see the return of Season 1 cast members such as Joe Dempsie (Game of Thrones), Karima McAdams (Fearless), Alistair Petrie (The Night Manager) and Anastasia Griffith (Once Upon a Time). 
Deep State Season 2 Story
Showrunner Matthew Parkhill resumes his duties, rejoined by co-creator and executive producer Simon Maxwell. As Parkhill first teased of Season 2's approach:
"Our aim for the show is to move beyond the first season, expanding the shadowy world of the deep state and encourage viewers to delve deeper into how it goes about ruthlessly achieving its goals."
In more recent comments, via Deadline, Parkhill elaborates on the Season 2 story, stating:
"My ambition for Deep State was to create an intelligent, cinematic and political thriller; a modern-day story that reflects the turbulent times we are all living in. This year, we build on the established worlds of London and Washington from season one, and take our audience further behind the curtain of the deep state, introducing new characters and new territories – notably Mali and the epic landscape of the Sahara Desert, the land of the Tuareg people."
Joseph Baxter is a contributor for Den of Geek and Syfy Wire. You can find his work here. Follow him on Twitter @josbaxter.