News
Deep State: Mark Strong Espionage Series Heads to Epix
Spy series Deep State, starring Kingsman's Mark Strong and Game of Thrones' Joe Dempsie, will air on Epix.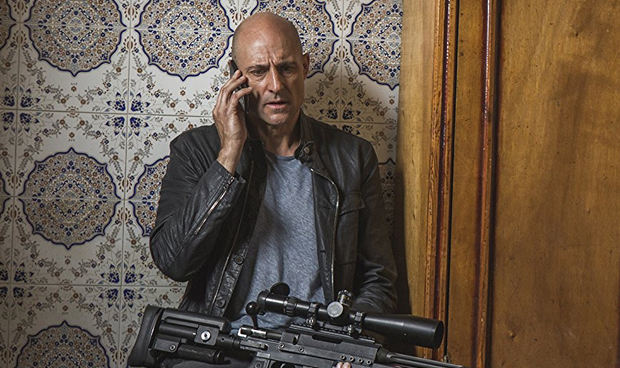 Deep State, an espionage event television series starring Mark Strong, represents the first regional scripted commission from Fox Networks in Europe and Africa. While the series will premiere on Fox International, it has found a home in the U.S. with premium cable channel Epix.
Deep State will manifest as an eight-episode, hour-long drama. Mark Strong will star as ex-spy Max Easton, who, after the tragic death of his son, jumps back into the espionage game seeking vengeance.
Deep State Release Date
Deep State will be exposed to U.S. audiences on Sunday, June 17 at 9 p.m. on Epix.
The series will premiere on Fox in the U.K. on April 5.
Deep State Trailer
Here's an international version of the Deep State trailer.
Deep State Story
Per the official synopsis:
DEEP STATE centers around Max Easton (Mark Strong, Tinker Tailor Soldier Spy, Zero Dark Thirty, Kingsman-The Golden Circle), an ex-spy whose past comes back to haunt him when he's summoned away from his new life in the Pyrenees by George White (Alistair Petrie, The Night Manager, Rogue One), head of covert MI6/CIA team "The Section." White convinces Max to return to the field to avenge the death of his estranged son Harry (Joe Dempsie,Game of Thrones, Skins). But the stakes are soon raised when Max finds himself at the heart of a covert intelligence war, immersed in a widespread conspiracy to profit from the spread of chaos in the Middle East. Max enters into a dangerous game, as powerful corporations demonstrate that they are willing to go to great lengths to protect their reputation and bury their secrets. With such a strong undercurrent of corruption, who can Max trust? Who is telling the truth? And what must be done to uncover it? To find out, Max is going to have to throw himself back into the dangerous and brutal life he so desperately tried to leave behind.
Deep State Cast
Mark Strong stars as Max Easton.
Strong, an Olivier Award-winning and BAFTA-nominated actor, has appeared in films such as 2014's The Imitation Game and 2011's Tinker Tailor Soldier Spy and took a stab at action-comedy in 2016's The Brothers Grimsby. He's tackled comic book movie roles in 2010's Kick-Ass and his portrayal of would-be big bad Sinestro in 2011's notorious Ryan Reynolds-starring Green Lantern is widely seen as the lone highlight of the film. He also appeared in the 2014 dark horse hit, Kingsman: The Secret Service, and its 2017 sequel, Kingsman: The Golden Circle. Moreover, he's no stranger to television, having starred in AMC's 2013 police drama Low Winter Sun.
Upon last year's series announcement, Strong lauded the Deep State script, stating:
"Every now and again a script comes along that you just can't put down and Deep State is exactly that — a great example of the best kind of writing."
Joe Dempsie will co-star in Deep State as Harry Clarke, a secret agent described as "gifted," who seems to be set back in the pragmatic profession by his rigid moral compass. The actor is best known from his role on Game of Thrones as Gendry, the on-the-run royal bastard to the late king Robert Baratheon and friend to Arya Stark. Dempsie reprised the Gendry role on Season 7 last year, after being MIA since the end of Season 3. Dempsie, previously a veteran of the U.K. teen drama Skins, has since been seen in miniseries such as Southcliffe, New Worlds, One of Us and the 2016 U.K. dramedy film Burn Burn Burn.
The cast also consists of:
Alistair Petrie (Rogue One: A Star Wars Story, The Night Manager), Anastasia Griffith (Once Upon a Time, Copper), Karima McAdams (Vikings, Fearless), Lyne Renée (Split, Mercy Street), Pip Torrens (Preacher, The Crown), Kingsley Ben-Adir (King Arthur: Legend of the Sword, Vera), Amelia Bullmore (Happy Valley, Scott & Bailey) and Fares Fares (Tyrant, Zero Dark Thirty).
Deep State Details
Deep State, written showrunner Mathew Parkhill (Rogue) along with Steve Thompson (Doctor Who, Sherlock) and Simon Maxwell (American Odyssey), will come to the table with a duo of directors spread across its eight-episode run. Episodes 1-4 will be directed by Robert Connolly (The Slap, Paper Planes), at which point writer/showrunner Parkhill himself assumes the director's chair for Episodes 5-8. Fox Networks Group Europe & Africa senior vice-president Jeff Ford conveys the breadth of the project and its reach to over 50 countries, stating, "The sheer scale and ambition of this project is a testament of things to come, as we strive to produce quality, premium programming for a global audience."