News
Death Note: SDCC Panel, New Clip Features Creepy Ryuk
Netflix's Death Note came to Comic-Con for its own panel and unleashed a new and very creepy clip...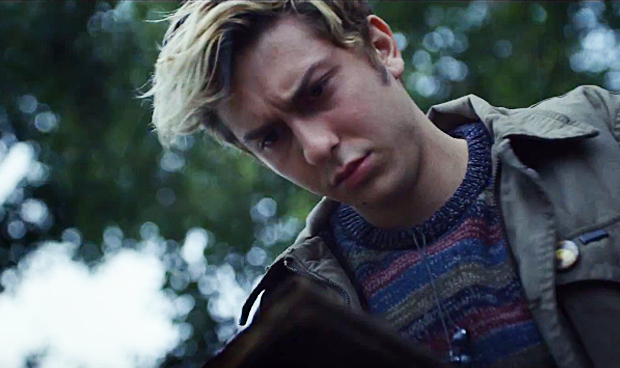 There have likely been moments in your life (or even this week) where in a minute of flared anger you wished someone was dead. It might've been after being cutoff in rush hour traffic on the highway, or it could be due to office politics at work. Luckily, you can't just write their name down in a book and make it so… but what if you could? That is the fascinating hook in Death Note, a new original film being released by Netflix in August.
Here's everything we know:
Death Note Panel at Comic-Con
Netflix scored its very first Hall H berth on Thursday afternoon (July 20) to showcase two of its upcoming genre movies: Death Note and Bright. First up was Death Note, with host Terry Crews introducing director Adam Wingard (Blair Witch) along with cast members Nat Wolff, Margaret Qualley, Keith Stanfield and Masi Oka. 
The first order of business was showing off the new trailer before getting into some discussion and Q&A with fans from the audience. Wingard described the film as having horror elements while essentially being a cat-and-mouse game between Light (Wolff) and detective L. (Stanfield) as L. tries to stop Light's reign of terror through the supernatural notebook that he possesses.
Asked what attracted him to remaking the popular Japanese manga for Western viewers, Wingard explained, "It was an opportunity to take something that had a great premise and breath life into it," adding that while the premise was "outlandish," there were "cool themes here and embedded in that was good and evil."
Wolff chimed in that the story is about "wish fulfillment and (how) it can get out of hand," while Oka offered that Japanese fans were pleased about the remake (there had been some controversy about Westernizing the story and characters).
But Wingard also brought the house down when, asked by a fan which supervillain scares him the most, he replied, "The President of the United States."
Before the panel ended, a new clip from the movie was rolled out in which Light meets the demon Ryuk (voiced by Willem Dafoe and sounding a lot like his Green Goblin from Spider-Man 15 years ago), who explains how the notebook works and prepares a demonstration. You can watch both that and the new trailer below!
Death Note Trailer
Here's a new, very creepy clip featuring death god Ryuk, played by Willem Dafoe:
The full Death Note trailer has arrived. The teaser trailer a few months back gave us a taste of the chaos that our enraptured protagonist Light Turner (Nat Wolff) will unleash after coming into possession of the titular Death Note and meeting the seething Shinigami (God of Death) himself, Ryuk (Willem Dafoe). However, the full trailer properly showcases Light's descent into madness and corrupted power as his habit of utilizing the Death Note to dish out punishment to the guilty has escalated well beyond a simple justice kick.
Netflix also released a featurette in which the cast and crew of Death Note discuss the nuances of the project.
And here is the teaser trailer, which hit back in March.
Read and download the full Den of Geek SDCC Special Edition magazine here!
Death Note Poster
Along with the Death Note trailer, Netflix released a poster featuring the creepy countenance of Willem Dafoe's Ryuk, who has been hidden in shadows in the film's trailers.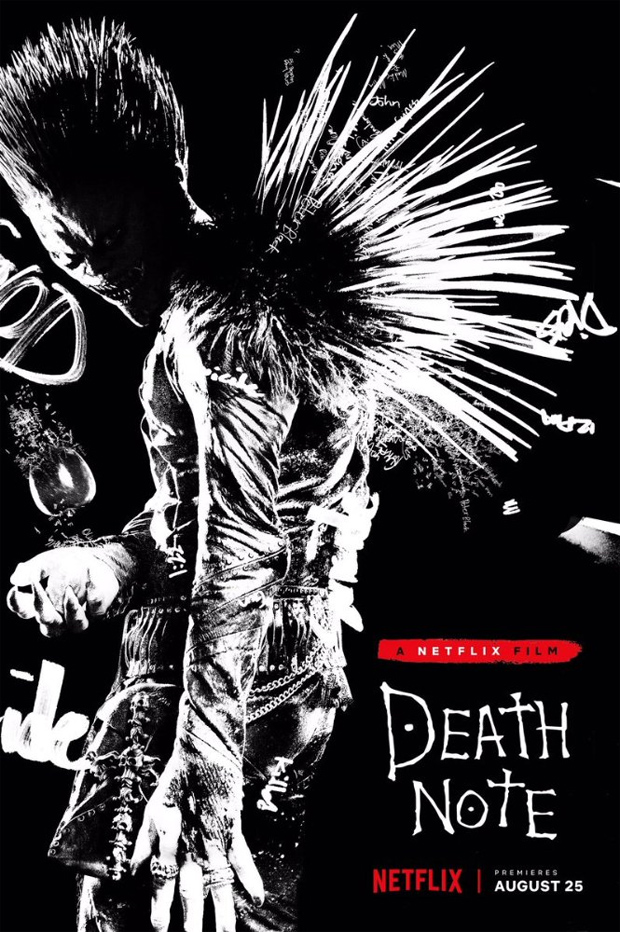 Death Note Details
Nat Wolff (The Fault in Our Stars) stars as Light Turner, a young man who comes to accidentally possess a supernatural notebook he dubs the "Death Note." If and when he writes a name down in its pages, that person—wherever they are in the world—will drop dead. And not always in the most peaceful of circumstances either. He'll eventually decide to use the book to rid the world of criminals, as well as anyone else who might stand in the way of making this planet a better, safer place.
However, Ryuk (Willem Dafoe), a demonic-looking Shinigami, or, God of Death, is steering Light down the primrose path for his own sadistic amusement. As Light's Death Note victims start piling up, a detective, simply known as L (Lakieth Stanfield) starts to put the pieces together about the cause of the supernatural death spree. Clearly, things are destined to get out of hand.
The film also stars Margaret Qualley, and Shea Wingham. The picture is based on a popular manga series by Tsugumi Ohba and Takeshi Obata and is directed by Adam Wingard. This is of special note for horror fans since Wingard has helmed some of the best genre films of the last few years, including 2011's You're Next and 2014's The Guest. He also directed last year's Blair Witch sequel, but we won't hold that against him.
Death Note Release Date
Netflix is releasing Death Note on Aug. 25, 2017.