News
Deadwood Movie Update: Ian McShane "Would Love" to Be Involved
The British actor says he's ready to return to Deadwood one last time.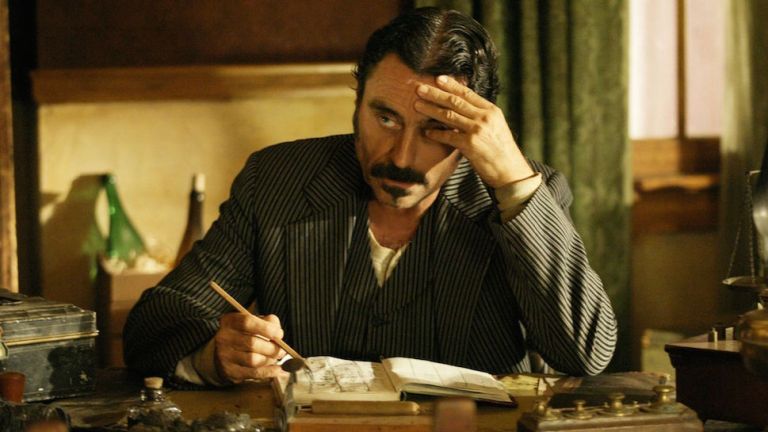 It was just a few weeks ago that HBO programming exec Casey Bloys said that Deadwood creator David Milch was still working on the script for a movie based on the beloved Western series, but with the project first announced a year ago Milch certainly seems to be taking his time. Yet the movie is still in the works, and series star Ian McShane says he's ready to return as well to the role of Al Swearengen.
Den of Geek spoke with McShane at the recent press day for John Wick: Chapter 2 (in which he reprises his role as assassin society chieftain Winston) and naturally Deadwood came up. "I am going to have lunch with David next week," revealed McShane. "He is writing the script. I think they are doing rewrites. I would love to do that again, be reunited with David and Tim (Olyphant) and everybody concerned with it. But they better make a deal sooner or later because we're all getting on a bit."
Mcshane added, "It would be great to work with David Milch again, which was maybe the best experience I ever had."
The plan is to make a two-hour movie for HBO that would in theory wrap up the story, although McShane says he's satisfied with the way the show ended narratively. "People say it ended messily, but recently I was in some hotel room and it was on and I was watching the end and I thought, 'Well, it ended perfectly.'"
Apparently some of the old Deadwood sets at the Gene Autry Ranch in Santa Clarita, California were used on Westworld, which means they could be reset for a Deadwood movie as well. "That was one of the great reasons of why that show was such a pleasure to make," said McShane. "We didn't have to worry about locations. Everything was there. It was three great years."
You can catch McShane in John Wick: Chapter 2 starting on February 10, but meanwhile, would you like to see the Deadwood movie finally come to life?