News
Deadwood Movie Trailer, Release Date, Story, Cast and Everything to Know
The almost mythical Deadwood movie is very real, set to arrive very soon on HBO.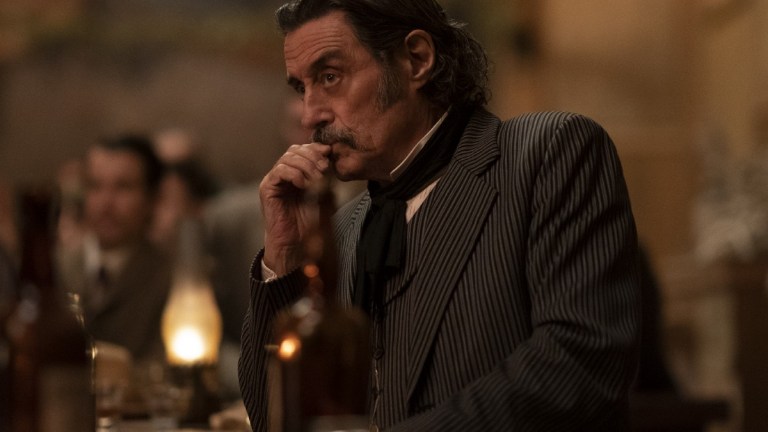 Ever since Deadwood went off the air on HBO in August 2006 after three acclaimed and now almost legendary seasons, there has been talk about doing a movie to wrap up the story and give both fans and characters closure. At long last, it appears that those talks will finally bear fruit!
At the Summer TCAs on Wednesday, HBO programming president Casey Bloys said the words that Deadwood fans have been longing to hear, "I can finally-finally confirm we are greenlit on Deadwood movie … it will shoot in October." Indeed, the film has been in production.
Deadwood Movie Trailer
Here comes the beautiful, profane first full trailer for the Deadwood movie. 
The first teaser trailer for HBO's Deadwood movie is finally here, catching us up with old friends in a changed world.
Also, for what it's worth, there's a good five seconds of actual Deadwood movie footage in this HBO 2019 sizzle reel.
Deadwood Movie Release Date
The Deadwood movie is set to arrive on HBO on Friday, May 31 at 8 p.m.!
That date will just make the mark to line up with what Ian McShane teased earlier this month about a May release.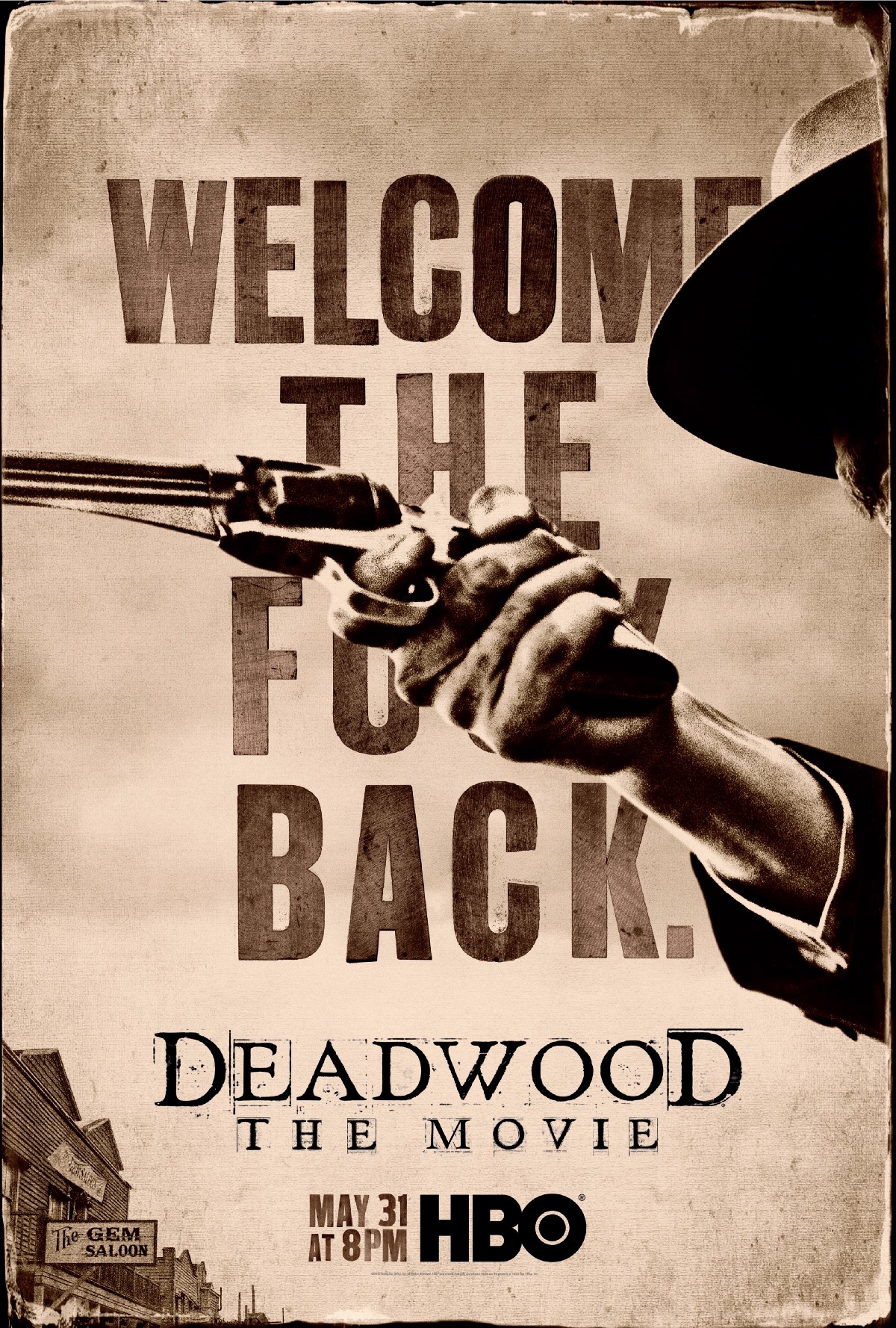 Deadwood Movie Story
Ian McShane dropped some interesting details about the Deadwood movie's plot to Deadline at the TCAs. While we already knew that the story would center around the celebration of South Dakota's statehood, it appears that the idea of transition and the taming of the Wild West will be a prevalent theme, instigated by the show's historically-based character, George Hearst (played by a returning Gerald McRaney), who, after building a fortune from westward mineral mining (as we saw in Season 3), would lay the foundation for what would become the Hearst media empire. With that context set, McShane explains:
"Deadwood is celebrating South Dakota as a state, and Hearst has come back and Alma has come back in town, so you have all the main characters converging and how they changed in ten years. Now Hearst wants to put telegraphs in town, which isn't going too well. Al has had a little bit too much of that over the years. There's a surprise for Trixie and Star."
Indeed, the Hearst publishing legacy began when George acquired the San Francisco Chronicle, which his son, William Randolph Hearst – himself the media magnate on which Orson Wells would base Citizen Kane – would take to the next level. However, as it so happens, a would-be westward publishing empire needs continent-spanning telegraph lines.
McShane also reveals that the moviemaking process forced creator David Milch to abandon his known strategy of on-the-fly script revisions, leaving much of the story in stone. Pertinently, regarding the movie's climax, he teases:
"It ends leaving you wondering." He adds, "If it makes $115M, HBO will somehow find a way to do another one."
Deadwood Movie Photos
The first official images from the Deadwood movie have arrived, courtesy of EW. The duo of photos update the status of the show's characters after over a decade. We see Ian McShane's Al Swearengen at his Gem Theater bar, likely plotting his next monstrous machinations. Additionally, we have a photo of Timothy Olyphant's Seth Bullock, looking dapper in his duster, standing outside his new workplace, a U.S. Marshal office.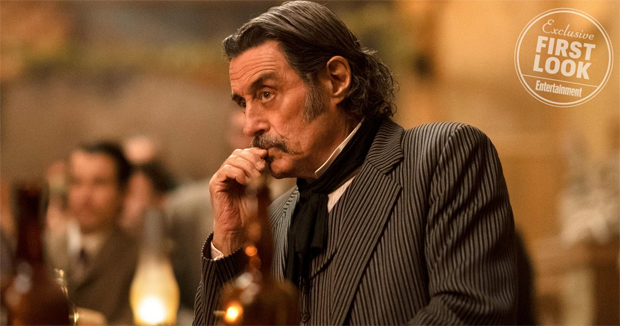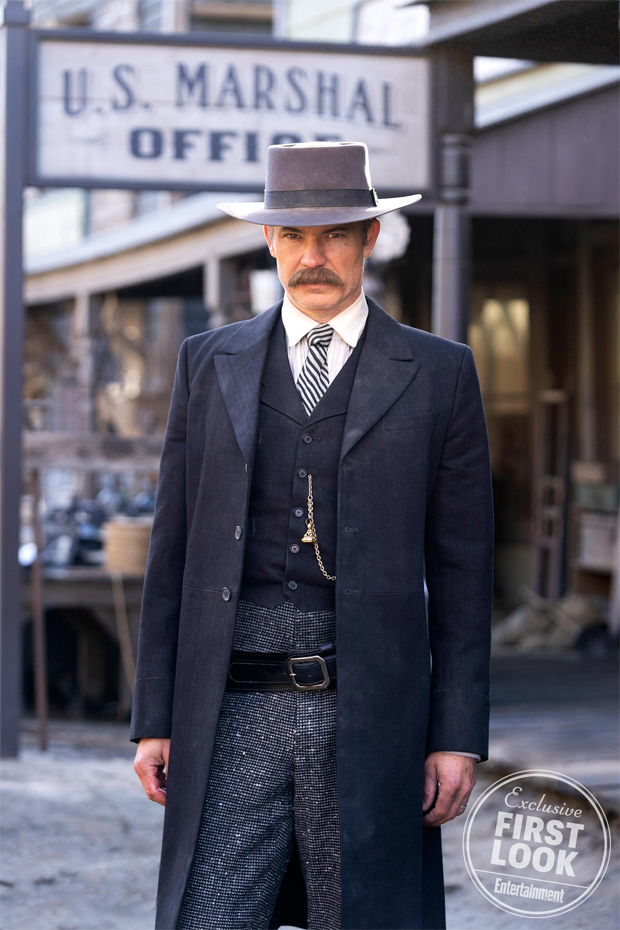 Now regarded as one of the greatest modern TV dramas of all time, Deadwood came along just before the real explosion of top-shelf scripted television and the massively accelerated growth of online fan communities, which might have helped keep the show going or get a movie to the screen quicker.
12 years after it was initially teased, a Deadwood movie script by creator/showrunner David Milch will see the light of day. As Bloys, confirms, "I wanted a script that would stand on its own … I'm happy to say that David totally delivered on that. It's a terrific script."
Additionally, Daniel Minahan will occupy the director's chair for the movie. No stranger to the premium cabler, Minahan helmed four episodes of the Deadwood series, along with episodes of other HBO shows, Game of Thrones, The Newsroom, Six Feet Under, Big Love and True Blood.
Deadwood Movie Cast
The dream project was no easy feat to achieve. As Bloys explained in the July announcement, "All of these people worked hard to get this together." Adding, "It's been a logistics nightmare getting all the cast members' schedules together but we are there. It is greenlit."
Indeed, as production prepared to commence, the task at hand involved locking down the schedules of the returning cast members; a logistical nightmare of a task that represented the greatest obstacle to the project.
Thankfully, the Deadwood movie will serve as a major reunion, with stars Timothy Olyphant and Ian McShane joined by returning faces such as Brad Dourif, Molly Parker, Anna Gunn Kim Dickens, Paula Malcomson, Sean Bridgers, Robin Weigert, Gerald McRaney, W. Earl Brown, Jeffrey Jones, William Sanderson and John Hawkes.
Additionally, the movie will feature a notable franchise newcomer in Tony Curran, who, on November 29, revealed that he'd already wrapped his mystery role.
It's quite impressive that HBO was able to wrangle what can be considered a reunion in more ways than one, since the movie's events will be set against the backdrop of a celebration for the statehood of South Dakota (which historically occurred on November 2, 1889,) that brings the show's characters back together after about a decade apart. In fact, before the movie's confirmation, we asked famed character actor Brad Dourif – who played Doc Cochran on the show – what, if anything, he'd heard about the now-confirmed Deadwood reunion movie.
"I've heard about that," he said. "I hear fall, maybe. But I've been hearing fall every year. I think it'd be very difficult for them to get that cast together. I think it would be very hard. I know that David's written some things and he likes what he's written, but whether it will happen or not I don't know."
We will most definitely keep you updated here on the Deadwood movie developments as they occur!
Joseph Baxter is a contributor for Den of Geek and Syfy Wire. You can find his work here. Follow him on Twitter @josbaxter.