News
Deadwood Movie to Be a Valentine to Al and Trixie the Whore
Trixie and Whore and Al will keep it hot on HBO's upcoming Deadwood reunion movie.
Tread lightly who lives in hope of pussy, Al Swearengen's favorite girl at the Gem cathouse is also screenwriter David Milch's top muse. After ten years away, Trixie the Whore hasn't lost any of her allure. The upcoming Deadwood revival movie will be a virtual love letter to the enticing entrepreneurial couple.
"It's a big Valentine to Trixie and Al," Paula Malcomson (Ray Donovan) told TVLine.
Malcomson, who plays Trixie the Whore on the frontier drama, says she read the script and it is a big kiss on the neck to the character.
"The thing that makes Trixie so fun to play is she's so loved by David," Malcomson said. "David loves her so much. I can't believe her voice is still so present. It's just right there. It's really beautiful when you play a character that the writer [adores]. It just goes so deep for him. And I love her [too]. It's 10 years [later], so it's going to be really interesting." 
HBO confirmed that the Deadwood reunion movie is moving forward, but fans were disappointed after they saw plans for two two-hour wrap-up movies fall through. Should we shake hands or something, relieve the atmosphere?
"I really think it will happen [this time]," Malcomson told TVline. "And I would never say that. I'm usually the most cynical about these things."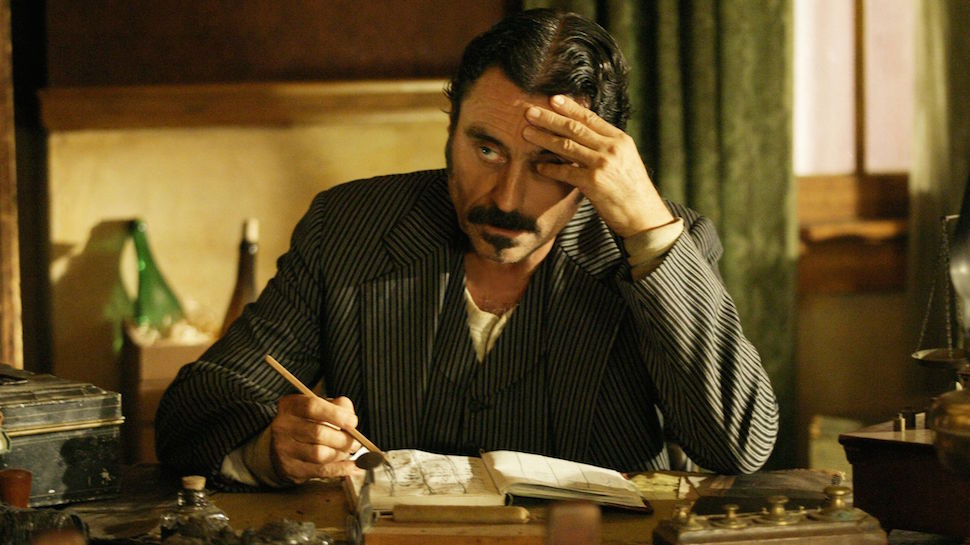 Welcome to fucking Deadwood, a several-horse town in 1870s South Dakota where the language was as colorful as the sunsets and blood. Milch used diaries and newspapers from 1870s Deadwood residents to help write the series. The series features historical figures Seth Bullock, Al Swearengen, Wild Bill Hickok, Sol Star, Calamity Jane, Wyatt Earp, George Crook, E. B. Farnum, Charlie Utter, Jack McCall, and George Hearst.
Deadwood also starred Timothy Olyphant as Seth Bullock, a former sheriff who is comes to town and brings some kind of order, Molly Parker, Jim Beaver, and John Hawkes.
The Deadwood movie was first announced in January by HBO's former president Michael Lombardo, who said he felt Milch "has left something unsaid" with the series. "I've known him for a while and it feels like it's something he's not done talking about."
Deadwood won eight Emmy Awards out of 28 nominations and one Golden Globe. Deadwood only lasted three seasons before it was run out of town in 2006. It came in at number eight on TV Guide's 2013 list of 60 shows that were "Cancelled Too Soon."
There is no word yet on when the Deadwood movie will be in production.