News
Deadwood Movie Starts Filming
The sweariest saloon in the Wild West is finally reopening its doors, as HBO's Deadwood movie is finally underway.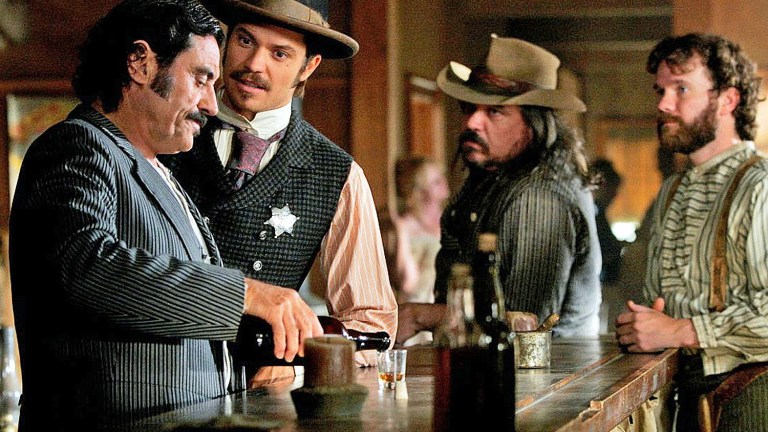 If you're a fan of Deadwood, this is the news you never thought you'd actually read. Ever since the show was abruptly cancelled in 2006 HBO has been teasing plans for a Deadwood movie (even two movies, at one point).  
Proving almost impossible to finance, it looked like it was never going to happen. Now, finally, the cameras have started rolling and the Deadwood movie is officially underway. 
Showrunner David Milch has written the script (which will probably be about 50% Shakespearian poetry and 50% swearing) and long-time series director Daniel Minahan is directing.
The series arguably had a great ending but it was definitely a bit abrupt – and there were still plenty of loose ends to tie up. The film will pick things up 10 years later, with anyone who left the town coming back for a party to celebrate South Dakota's statehood. 
According to HBO's official release, "Former rivalries are reignited, alliances are tested and old wounds are reopened, as all are left to navigate the inevitable changes that modernity and time have wrought."
While that tells us literally nothing about the actual plot of the film, if you read it again in Al Swearengen voice, putting a few "fucks" between every other word, it's just about enough to make it sound exciting. 
Here's the returning cast, courtesy of that press release:
Returning cast members for the Deadwood movie include: Ian McShane (Al Swearengen), Timothy Olyphant (Seth Bullock), Molly Parker (Alma Ellsworth), Paula Malcomson (Trixie), John Hawkes (Sol Star), Anna Gunn (Martha Bullock), Dayton Callie (Charlie Utter), Brad Dourif (Doc Cochran), Robin Weigert ("Calamity" Jane Canary), William Sanderson (E.B. Farnum), Kim Dickens (Joanie Stubbs) and Gerald McRaney (George Hearst). The film will also feature new cast member Jade Pettyjohn (Caroline).
There's no word yet on when the Deadwood movie will arrive on HBO, but we can probably expect it sometime next summer. As long as it's not another 12 years, we'll be happy.