News
Deadwood Movie: Kim Dickens Promises Nod to Powers Boothe
Kim Dickens talks the new Deadwood movie, including how there will be a nod to Powers Boothe's Cy Tolliver.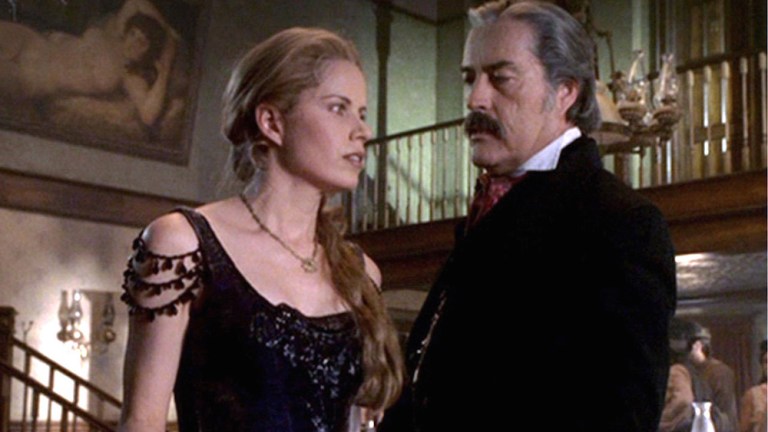 Deadwood was cut down before its time. The Emmy and Golden Globe winning Western was beloved by critics and its passionate audience that devoured David Milch's deconstructionist and nihilistic vision of the Old West. Still, HBO cancelled the series after its third season despite the fact that creator Milch was planning a fourth and final year. While we are at last about to get our Deadwood conclusion with a TV movie taking us back to 19th century South Dakota, it's still 13 years after season 3 ended, and some threads cannot be rewoven—including one of the most intriguing between Kim Dickens' Joanie Stubbs and Powers Boothe's Cy Tolliver.
When last we saw Joanie, her dream of owning her own establishment named Chez Amis lay in tatters after the violent cruelty of a parasitic investor. Nonetheless, Joanie had hopes to turn it into a school and, for better and worse, a complicated relationship with Cy Tolliver, the violent and mercurial proprietor of the Bella Union—as well as something akin to Joanie's friend. The two's connection had unfinished business that will remain so as Boothe sadly passed away in 2017.
But now we know thanks to Dickens that the actor and Cy's shadow over the town of Deadwood will be acknowledged in this year's upcoming Deadwood TV movie.
"Yeah," Dickens says with a thoughtful pause before adding another affirmative when I ask her at SXSW of whether there will be some type of nod or tribute to Boothe in the film. "It's hard to go back with some we have lost, and especially for me. He was my dance partner, and it was bittersweet going in there, stepping back into the Bella Union."
Yet it is a return she's long anticipated, even when she thought the odds of it ever happening were long gone.
"They sort of teased the idea ever since we were prematurely cancelled," Dickens says. "It's been talked about and dangled, and then all of a sudden you would hear, 'Absolutely not, it's absolutely not happening.' But then you'd hear 'Well, so and so, David went and met with.' But I think it should've happened a while ago, but there again, it just may be its right time."
read more: SXSW 2019 Film Festival Movies Round-Up
For Dickens, the joy of returning to the Bella Union and its history, as well as its future, is what's most important.
"Just to be able to read the script again and read those voices and the dialogue, and to be with David Milch again, it's just remarkable."
Deadwood continues its remarkable Lazarus project when its movie debuts on May 31.
David Crow is the Film Section Editor at Den of Geek. He's also a member of the Online Film Critics Society. Read more of his work here. You can follow him on Twitter @DCrowsNest.