News
DCTV Earth-X Crossover: 50 Things to Know
We visited the sets of Supergirl, Arrow, The Flash, and Legends of Tomorrow and talked to the cast about the big crossover event.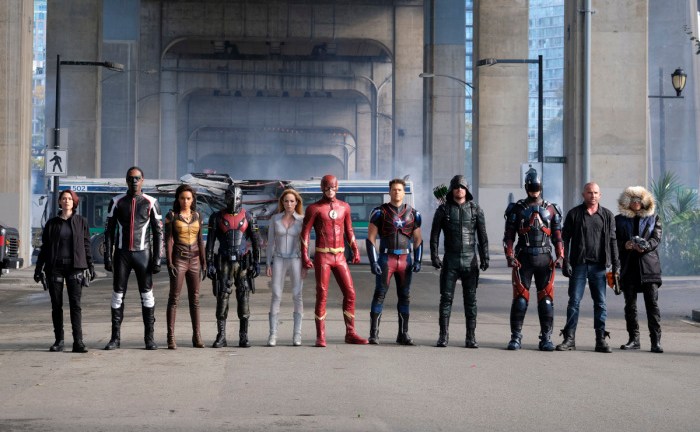 The CW will air its most ambitious superhero crossover ever next week, crossing over its Arrow-verse across two night, four hours, and four different shows: Arrow, Supergirl, The Flash, and Legends of Tomorrow.
Den of Geek was part of a group of reporters who visited the superhero show's Vancouver sets earlier this month and had a chance to talk to the casts about what to expect from the big crossover event. Here's what we learned…
Kara and Alex will be side-by-side in the crossover.
Melissa Benoist (Kara) and Chyler Leigh (Alex) will be side-by-side during the crossover when the sisters head to Central City for the big Barry/Iris wedding.
"I always wished that she had been by my side for every crossover that I've done, which I guess are just the two last year," said Benoist, "because they are always so massive and such undertakings workload wise."
Speaking of the experience, Leigh teased:
With Alex and Kara, it is very much a duke-it-out, like, 'We're here together. We're in this.' At certain moments, we're fighting for each other, fighting to get to each other, and fighting together. You really get to see a lot of sides of everybody, and sides that you wouldn't expect. It was a lot of fun.
It's going to be bigger than ever… no, seriously.
Every year, The CW casts talk about how the crossover event has grown in size and ambition and, every year, that has been true. I guess we have to trust them at this point, no?
"You think you're preparing yourself, knowing that the crossover is coming, but it's a big thing," teased Grant Gustin (Barry). "It's a really challenging feat. But I think, this year, every year we top it. Again, we top it. There's more people than ever included, some of the biggest sequences you'll see with the most superheroes we've ever seen together at any given time."
Talking about the sheer size of the crossover Benoist told us: "They wrote something massive that was overwhelming to read, in an exciting way of course, but also at the same time like I had to brace myself. I think we all did."
Echo Kellum (Curtis) teased: "We really just put on everyone in the crossovers, and it certainly will be a cool experience to see like 35 amazing people, talented, awesome actors and superheroes just thrust together, in these different scenes, all coming together for the common good."
Melissa Benoist will play two characters.
As you've probably already seen from the crossover promo, Benoist will be playing both our universe's version of Kara Danvers/Supergirl and the version of Kara from Earth-X. Speaking about the difficulty of playing two characters, Benoist teased:
I did play two characters. I did wear a very different outfit. There's still a cape and my face is covered and she's not so nice. It was pretty challenging. I thought it was going to be– I've done here and there, I've had moments like that on this show with Bizarro and when Martian Manhunter takes over Kara's body, but this was entirely different. This was not even Red Kryptonite-isque. This was way worse.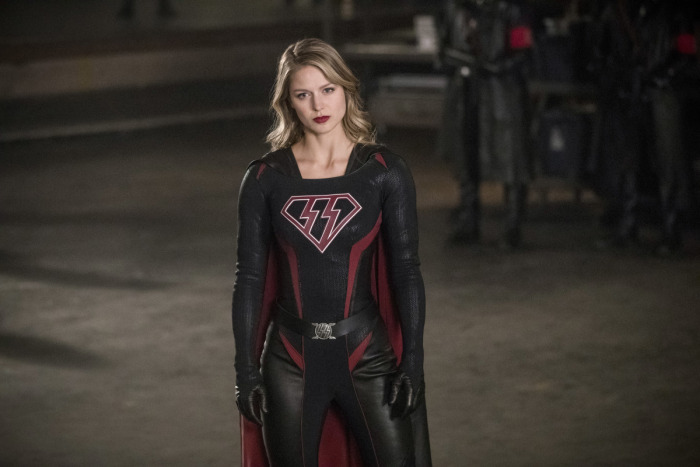 Yes, it is annoying to act against yourself.
The CW crossover is already a massive time and energy commitment for its cast members, and that's before they are cast as two separate characters, which, in theory, can mean twice the amount of work.
Benoist spoke about the logistic challenges of playing two versions of Supergirl and, specifically, filming against herself.
Yeah, [it's difficult,] especially when we do motion control shots where I have to be in the scene with myself and it's more tedious than a traditional split screen. And essentially, you're memorizing a whole scene, every line, every bit of dialogue and I didn't anticipate how hard the transition would be to go from lightness to darkness. A fun challenge.
I would imagine this kind of production experience probably makes all actors appreciate the work of Tatiana Maslany even more.
Chyler Leigh is really glad she doesn't have a superhero costume.
"You have all these minds in one place, and all these superpowers in one place, all these costumes in one place," said Leigh of the experience of filming the crossover. "I was like, 'I'm really glad that I have a DEO outfit. Like I'm super stoked about this.'"
Filming the crossover felt like a high school reunion.
Filming the crossover was not unlike attending a high school reunion, said Leigh. (Now, I want all of the Arrow-verse characters to get superlatives, like, "Best Smile."
"We joked a lot about it because there are a few scenes where you see everybody together," said Leigh. "It looked like a high school reunion, where it's like we're all standing, just like, 'This is really funny. What do we do for a living?'"
Who else does Alex interact with in the episodes?
Judging by the promo, it looks like Kara might get kidnapped by Evil Supergirl relatively early on in the event, which means Alex is going to have to find other characters to hang out with. Who might they be?
"A lot of the moments that [Alex] had are with Oliver and Barry and Sara and a lot of the Legends cast," teased Leigh. 
The Flash episode will keep the comedy.
We talked to Gustin about the relative light-heartedness of The Flash Season 4, a tonal element Gustin teased will stay in place for the crossover. 
"At least [on] The Flash side of things, we stick with the comedy we've had all year," said Gustin. "That still exists within the crossover."
We will get some classic Barry/Kara interactions.
Some of the aforementioned comedy will come in the form of some delightful Barry/Kara interactions, teased Gustin, calling them "classic Barry and Kara interactions." You can't keep these superfriends apart!
Barry will meet characters he's never met before.
Gustin teased that Barry will "meet a couple of new characters," which made me wrack my brain to think about who he has and hasn't met. All I can think of conclusively is Zari. Help me out here, people!
I'm not the only one having trouble remembering just who has met before in the Arrow-verse. Talking about this very issue, Jesse L. Martin (Joe) said:
What I had to figure out was does Joe know some of the other people or are there people that I just don't know? We were doing a scene for the rehearsal dinner for the wedding and suddenly there were all these characters there from Legends, from Arrow, from Supergirl and I was like, 'Do I know these people?'
Danielle Panabaker (Caitlin) also commented on the surreality of realizing some characters had never met on screen before.
We were on our stages, we were on Flash stages, but we were on a different show. I think I was on Legends, and so there's actors from Legends, Flash, I think Supergirl, and people from Arrow were coming in. And people from Arrow were meeting people from Legends for the first time and it was very surreal for me to be like, 'Wait, you guys don't already know each other?' It was very odd to me.
Iris and Barry's wedding will not go smoothly.
As you might have guessed (and as you've seen in the promo), the WestAllen wedding will not go off without a hitch. Before the Nazis show up, however, it sounds like Iris and Barry had a pretty nice event going. Gustin teased:
It's a comic book wedding, so it's classic. It's beautiful. But obviously, things aren't going to be perfect. Something's going to happen. But it's classical, it's classic beautiful wedding. It's cool.
Jesse L. Martin (Joe) teased:
I can tell you that it's a giant, giant, giant wedding. Everybody from every show is at the heart of this wedding, so it seems to be the biggest wedding of the century.
Speaking about the wedding, Benoist added:
Everyone goes to Central City to Iris and Barry's wedding, but of course it's the comic book world so not every wedding goes as planned. You'll have to see, it's pretty crazy. They get some really evil visitors from Earth-X.
The wedding will take place on a different show.
Gustin noted that, for such an important The Flash event, the Barry/Iris wedding does not even take place on the show, but rather on a different one of the Arrow-verse series.
"I'm interested to see how some viewers feel about that," said Gustin. "But it's also how this show started, this show started on Arrow. We've consistently had these crossovers and we're bringing so many characters together for this wedding, it's kind of fitting that it happens somewhere else."
From Stephen Amell's comments on the crossover event, it sounds like the wedding will indeed happen in Supergirl, in the event's first hour. Amell teased:
The first episode, it centers on everyone coming together in Episode 1 for Barry and Iris' wedding. So you're collecting everyone from all over the place, and then it's really, effectively, their story throughout the first hour, which would indicate that it's a Flash episode, except it's not.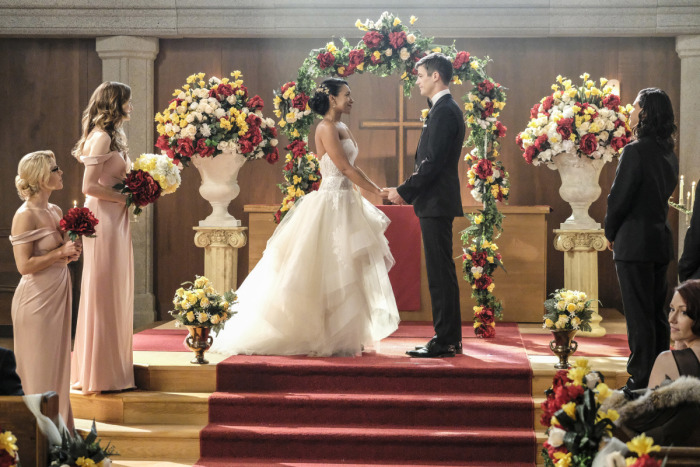 The church set was very expensive.
"They told me how much they spent to build it, but I'm not going to repeat that," said Gustin of the set where they filmed the WestAllen wedding. "It was in a warehouse soundstage, it wasn't a real soundstage. It was in this warehouse that they built a church. It was insane. You thought you were in a real church and it was beautiful. I'm excited for everyone to see it."
Mr. Terrific has a bigger role than ever in the crossover.
"Mr. Terrific definitely has a bigger footprint in this crossover than last year," teased Echo Kellum (Curtis), "and I think he really helps figure out some stuff on what's going on with Crisis-X."
While Kellum was unable to give details on how Curtis might play a major role in the crossover, he did say: "I think the fans, audience, critics are gonna really have some cool things to say about him after it's all said and done."
Curtis will hang with the Legends crew.
In last year's crossover event, Curtis mostly hung with Cisco, Barry, and Kara. This year, he's getting a healthy dose of the Legends gang.
It sounds like Curtis and Alex might have at least one conversation, as well. Kellum teased of the experience: "I got to work with … some other people from Supergirl, and my daughter and I watch Supergirl together, so it's like really cool to send her pictures and whatnot."
Curtis and The Ray will meet.
When asked if Curtis and new superhero The Ray (Russell Tovey) will have any chemistry, Kellum said: "I think they have a little chemistry. We had some fun scenes that we shot together, and I would definitely be interested to see Curtis get out there in any capacity, especially with other superheroes."
Dinah will get a chance to show her action moves.
Speaking about her first crossover experience, Juliana Harkavy (Dinah) teased: :It was crazy! I mean, it was a whirlwind. The crossover has taught me a lot. It was really exciting and Dinah… you know, there's so much action, that there's a lot of sort of jumping around, but, because there's a lot of action, there's a lot of room for Dinah to work her magic."
Might the White Canary meet the Black Canary?
Might that mean a team-up with the White Canary?
"In the crossover? Maybe. I hope so!" said Harkavy. "White Canary is awesome. I did get to meet all those guys, Caity [Lotz] and all those girls, for the first time during the crossover, and it was great. They're amazing. I learned a lot from them."
Might Sara meet Black Siren?
As for the possibility White Canary/Black Siren interaction (which, come on, they have to do), Caity Lotz (Sara) said: "I have no idea. You have to ask the producers on that one. It would be interesting to see. I would definitely love to see them … It is hard when you do those crossovers because it affects so many other things, since everything is connected."
Is Lotz keeping a secret or has she really not filmed a scene between Sara and Earth-2's Laurel Lance?
The crossover will be highly-serialized.
Previous crossover events have featured relatively self-contained stories within the individual episodes. That's not the case with this year's crossover. Amell teased:
What I can tell you about this year is you know the order of the episodes, as in Supergirl, Arrow, Flash, Legends? That doesn't mean shit. You can't tell what episode is what episode.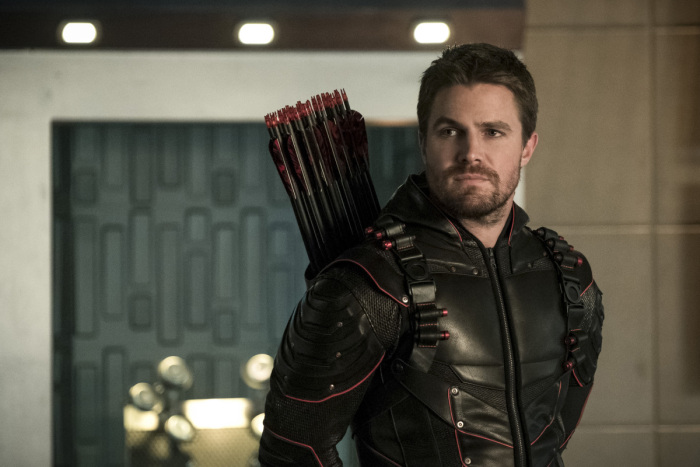 Amell probably has the most screen time.
Amell said he would "wager" that he has the most screen time across all four episodes, which feels fittig given the origin of this fictional universe.
It took six weeks to film these crossover episodes.
It sounds like Amell doesn't think the current model of filming these crossover events can sustain another "bigger than ever!" evolution.
Speaking about how the filming has changed from the crossovers between Arrow and The Flash to the current incarnation of crossover event, Amell said: "When we conceived of the crossovers back in Season 3 of Arrow and Season 1 of Flash, it was like, 'OK, I'm going to go, and I'm going to shoot on The Flash for four days. Fine.'"
According to Amell, this year's CW superhero crossover event took up six weeks of shooting.
"I think that in order for us to continue down this path, we, as productions, and The CW, as the network, and Warner Bros., as the studio, are going to have to fundamentally re-conceive how we execute these because this sort of broke the schedule mold."
Amell seems to think the trouble was worth it.
"The payoff [of the crazy production schedule] is that, I've seen one cut of one episode, and it's just… It's like a four-hour escape … It really is, for the first time, it's an event. It's not a crossover anymore. Call it the crossover if you want. But it's kind of like calling the Super Bowl just a football game. Yeah, sure, they play football, but there's so much other stuff that goes on with it. It's an event."
The crossover will address many ongoing stories.
Crossovers can fall anywhere on the spectrum between self-contained (in my mind, the laziest form of crossover) to fully intertwined.
We've already mentioned that this year's crossover event will be serialized, but here are just a few of the ongoing storylines from other shows that will get some narrative space in the crossover, according to Amell: "Oliver and Felicity's relationship, and Barry and Iris' relationship, and what's going on with Sara, what's going on with Victor and Franz. "
Amell liked the Oliver/Kara dynamic best.
"I really enjoyed Oliver and Kara's stuff – but not in the way that you might think," said Amell. Could he be referring to the stuff between the Earth-X versions of Oliver and Kara? Or is that what we would think? Amell is making me second-guess everything.
David Ramsey (Diggle) is a fan of the Oliver/Kara interaction, too, saying: "Stephen [Amell] and Melissa [Benoist] particularly shine, they really do a fantastic job. I think you guys will enjoy it, both of them, just what they do."
It's similar to Arrow's 100th episode.
Amell noted that there are some parallels between this year's crossover event and Arrow's 100th episode, which was part of last year's crossover event.
"I just got a chance to do some, much in the same way that last year during the crossover … we put ourselves in this alternate reality, and we got to have these exchanges you really shouldn't be able to have," teased Amell.
We get to do that in the crossover, which is great. Which is what you're supposed to do, right? You're supposed to think, 'OK, within the context of a story that people are going to enjoy, that makes sense, what people do fans want to see interact with one another?' That's a long list, but I feel like we got to execute it this year more than ever.
Diggle won't be in it much.
From David Ramsey's comments about the crossover, it seems like Diggle won't be getting a lot of screen time over the course of the four hours.
"It was very nice, and I had a nice vacation during that time," said Ramsey. "I didn't do a whole lot. But the wedding was great. And I got to sit in on our Episode 8, which is the best part of the crossover."
Rene will be in the crossover.
We talked to Rick Gonzalez (Rene), who confirmed that he will be in the crossover.
"I think a lot of us are all involved in the crossover in some capacity," teased Gonzalez. "I mean… Crisis X, it's gonna be pretty eventful. There's a lot happening in there. I was excited to be a part of it." 
There will be more character-driven moments.
Lotz said she liked this season's crossover event more than last season's because "there is a lot more human things in it." 
It is still pretty huge. It is still pretty fantastical. But it is more grounded in the characters a bit and then also kind of what comes out of the characters carries along a little bit more. It is not as open/shut … The lessons and things will carry on for the characters in the other seasons.
Felicity and Ray will be reunited.
When asked which character dynamic he liked the most for his character in the crossover, Brandon Routh (Ray) said: "It's always great to work with Emily. We never get enough to do together since our time in Arrow."
Ray's role in the crossover will be "limited."
"I have a limited adventure in the crossover," said Routh, "but I do get to work with a few people … We had a good time."
There will be a big superhero scene on the Waverider.
Throughout our Vancouver superhero interviews, there was mention of a major scene that sees all of the superheroes coming together in one space. It sounds like that space will be the Waverider. Here's what Routh teased about the scene:
The best thing that we got to do was the big gathering of everyone here in our world, on the Waverider, which was pretty awesome to have all of those superheroes together, and it was a really unique and fun thing which I think the audience will like as well.
The big scene takes place on the bridge, which proved quite a shooting challenge for a set that was built to accomodate roughly nine people versus two dozen.
"Greg Smith, who was our director for our episode, knew what he wanted pretty quick," said Routh. "You have to have your ducks in a row when doing a crossover because people are coming from four different shows, like, 'We have Melissa for two hours and we have Grant for an hour, and we have Stephen for 30 seconds, so gotta get the shot!'"
Ray was not invited to Barry and Iris' wedding.
Routh broke the bad news to us: Ray did not score an invite to the WestAllen wedding.
"Ray was not invited to the wedding," said Routh, "which I think has less to do with Ray and more to do with too many people at the wedding that they have to deal with and cover and give air time to. That's what I like to tell myself, anyway!"
Jesse L. Martin is a Melissa Benoist fan.
Frankly, who isn't? But, when asked which character dynamic he most liked exploring, Martin said:
I'm a huge fan of Melissa, Supergirl. I think she's just one of the best people ever. I love being around her. I really do. The Supergirl cast in general, they're all wonderful people.
Another general take-away from these set visits? Everyone has nice things to say about the Supergirl cast.
Jesse L. Martin also loves Victor Garber.
This isn't so much a crossover event teaser as a fact that should make all people happy.
"Victor Garber, he's one of my favorite people on the planet," said Martin, "so getting to spend any time with him is a joy." Hey, remember the time they played magical singing mobster husbands?
Joe will be his usual, competent self.
It can be hard to find a place for the non-superpowered characters in the big crossover events, but it sounds like Joe West will be holding his own.
"The only reaction I can have is just dealing with what I can do," said Martin of Joe's role in the Earth-X drama. "You're seeing like Supergirl and the other Supergirl and all of these doppelgangers, it's kind of overwhelming. So I'm just like, 'Well what can I do? I can help get people out of this building while they do all their superhero stuff.' You just have to keep it practical."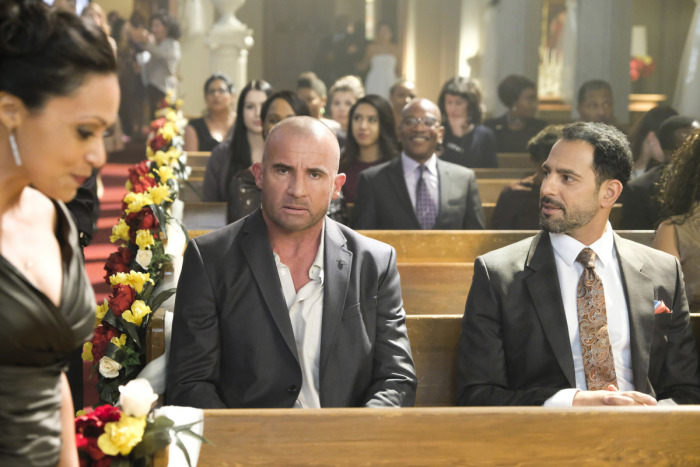 Rory will bring the comic relief.
Legends of Tomorrow has really figured out the best ways to use the Rory character in recent seasons. One of those roles is as comic relief. Rory is remarkably funny on Legends of Tomorrow, and it sounds like he will be bringing some of his signature humor to the crossover event.
"I mean, he's just taking the piss out of everyone, it seems, on the four shows," said Dominic Purcell (Rory) with a laugh. "He's just having a blast."
Rory is still crushing on Killer Frost.
"If there's one character Rory has the hots for Killer Frost," said Purcell. "He's had a crush on her for quite some time. Whether or not that will develop into anything, I doubt it, because I'm not sure if Rory can be tamed at this point."
"I have some really funny interactions with Dom, with his character," said Panabaker. "Heat Wave's really into Killer Frost."
Dibney is not in the crossover.
Dibney and Barry have gotten closer since Ralph joined Team Flash, but not close enough, apparently, for Dibney to be invited to Barry's wedding. Dibney will not be in the crossover.
Zari will be in the crossover.
Who will we see Zari interact with most in the crossover? Tala Ashe teased: "All of them? I mean, there's a big scene that a lot of us are in. I was in that. But then there was quite a bit with Juliana [Harkavy] and Rick [Gonzalez] from Arrow and then some with Killer Frost."
Will Barry and Iris actually get married?
With the interruption of the WestAllen nuptials, it's unclear if Barry and Iris will actually have a chance to tie the knot. Speaking about the potential marriage, Patton teased:
I think that you can expect on any DC TV show that wedding's don't usually go as planned. You've got some villains who come in and try to spoil that. You've got aliens from Earth-X. So, things don't go as planned. You'll have to wait and see if they can actually get married at some point. 
Candance Patton got to help pick out Iris' wedding dress.
The CW flew Patton to LA to find out a Monique Lhuillier dress for Iris, Patton told us.
"There's a line in the script about how Monique Lhuillier dresses are indestructible," continued Patton. "She really goes through it in this episode in this wedding dress and it's still pristine."
Patton's number one criteria for the dress? How comfortable is it…
We flew to LA and I tried on dresses at Monique and the first dress I tried on, we were like, 'Okay, this is it. This is great. Feels good. Comfortable.' The most important thing was like, 'Am I comfortable? Am I going to be able to like run away from aliens or whatever.'
Iris and Felicity will team up to fight aliens.
Patton said she did "a lot, a lot, a lot with Emily Bett [Rickards]." That's a lot of "a lots."
"We kind of team up in the crossovers and work together to kind of fighting things on our own accord," said Patton. "So it's really cool." I am very on board with this.
Past that, Iris will interact with "everyone at Legends," adding that we will see Iris and Rory interact for the first time. Past that, we will also see Iris interact with Sara, Kara, Alex, and Oliver.
J'onn is not in the crossover.
Sadly, J'onn Jonzz is not in the crossover event.
Killer Frost will suit up in the crossover.
Danielle Panabaker teased her first proper crossover as Killer Frost, saying:
Obviously, last year I had my powers sort of, but didn't cross over to as many of the other shows, really just went to Legends, and this year was nice because I finally got the chance to sort of suit up, as it were, and get out there and fight with everyone.
Killer Frost will hang with the Legends ladies.
Panabaker said she got to work with "some of the ladies on Legends," adding that: "It was a real treat to get to work with them because I don't know them as well."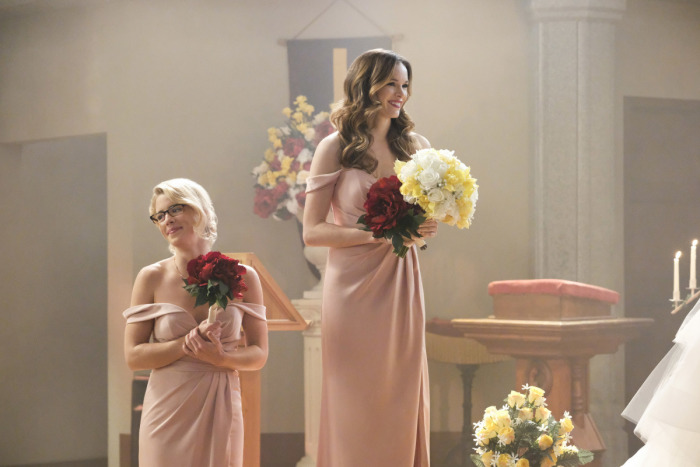 Caitlin will be Iris' maid of honor.
We know from The Flash's "Girl's Night Out" that Caitlin agreed to be Iris' maid of honor. Here's what Panabaker teased about her part in Barry and Iris' wedding:
Yes, Caitlin is the maid of honor. She gets to stand up at Iris and Barry's wedding, which is a real honor for her. It's pretty exciting.
Carlos Valdes sees Cisco as the audience surrogate.
Cisco is one of the characters who holds the entire Arrow-verse together, making supersuits across shows and generally being referenced as a major help (along with Felicity) by many of the fictional universe's characters.
For Carlos Valdes (Cisco), Cisco is "sort of a window for the primary demographic of the show." He gives fans a chance to see themselves in the narrative, as Cisco nerds out about all of the awesome powers, tech, and moments in this superhero world.
"This year's crossover is no exception," said Valdes. "I try to bring that degree of relatability and almost fourth-walledness to the interactions in this year's crossover. Cisco will never betray himself in that way. He will always just be Cisco. And I think fans can always trust that."
Cisco will be Barry's best man.
As you may have suspected, Cisco will indeed be Barry's best man for his wedding.
Joe will deliver a "beautiful" speech.
While Cisco never gets around to delivering a best man speech, Joe does get a chance to get one of his signature inspiring speeches in.
"We get a speech from Joe in the crossover, and it's a beautiful speech," said Valdes. "That's the thing about Jesse that kills me. No matter how like ambiguous it looks on the page, he gets up there, and he just gives it heart and commits to it, whatever the line is, whatever the action is, and everybody just melts. That's his superpower."
Crisis on Earth-X Part 1 airs on November 27 at 8 p.m. ET. Part 2 concludes with another two-hour episode on November 28 at 8 p.m. ET.