News
DC TV Podcasts Plans Marathon for Make-A-Wish
What are you up to this Saturday, June 30th? If you're into DC TV, then we have an activity for you...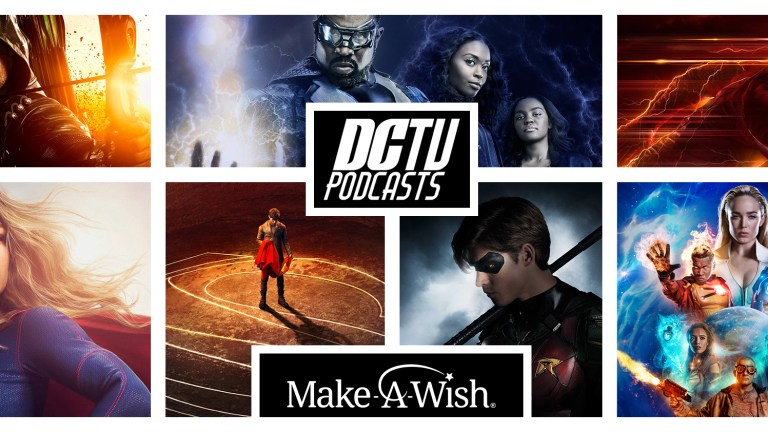 Do you love DC TV? Do you also love giving back? Well, then you're going to want to pay attention to DC TV Podcast Network's upcoming fundraiser. The network of eight different DC TV-centric podcasts is about to launch their fourth fundraiser. This year, they are raising money for Make-A-Wish.
Ther fundraiser will launch Saturday, June 30, 2018, with a series of nine podcasts from the following shows: Quiver: The Green Arrow Podcast, The Flash Podcast, Supergirl Radio, Legends of Tomorrow Podcast, DC TV Classics, Black Lightning Podcast, Krypton Podcast, and the Titans Podcast. Each of the eight podcasts will have a chance to do their own show, followed by an "Assemble Show" featuring hosts from all of the podcasts.
Here is the impressively full schedule, which satisfies pretty much every fan's DC TV interests:
Quiver: The Green Arrow Podcast at 10:00 AM PT (1:00 PM ET)Titans Podcast at 11:00 AM PT (2:00 PM ET)Krypton Podcast at 12:00 PM PT (3:00 PM ET)The Flash Podcast at 1:00 PM PT (4:00 PM ET)DC TV Classics at 2:00 PM PT (5:00 PM ET)Black Lightning Podcast at 3:00 PM PT (6:00 PM ET)Supergirl Radio at 4:00 PM PT (7:00 PM ET)Legends of Tomorrow Podcast at 5:00 PM PT (8:00 PM ET)DC TV Podcasts: Assemble Show at 6:00 PM PT (9:00 PM ET)
The Make-A-Wish foundation is a group of tens of thousands of volunteers, donors and supporters who work to grant "wishes" to every child diagnosed with a critical illness. The foundation grants an average of one wish every 34 minutes in the United States and its territories, which is pretty damn impressive.
"At DC TV Podcasts, we couldn't be prouder to be partnering up with Make-A-Wish for our fourth fundraising event to support this important cause for the sake of the children around the world that Make-A-Wish helps inspire," wrote the DC TV Podcasts team in a press release. "Nothing would make us happier than our listeners donating to this significant cause and joining DC TV Podcasts in helping Make-A-Wish to aid countless sick children around the world."
You can already head over to the DC TV Podcasts website to make a donation to the fundraiser. The fundraising event begins Saturday at 1 p.m. ET, and will be hosted via Mixlr. See you there?