News
DC TV Podcasts to Hold Fundraiser for a Good Cause
The DC TV Podcasts Network is calling on listeners for a fundraising marathon for nonprofit organization Magic Wheelchair.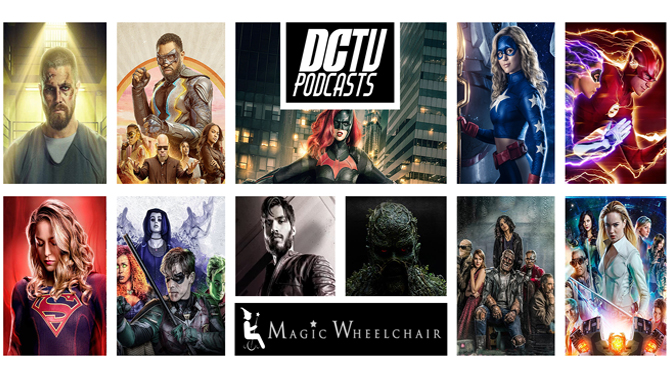 DC TV Podcasts have super-heroic plans set for late-June. The home of fan-driven podcasts for the array of DC-based television shows across platforms – from The CW's Arrowverse shows to DC Universe's Titans and Doom Patrol and Syfy's imminently returning Krypton – will raise money for Magic Wheelchair, a non-profit organization that inspires by creating costumes for children in wheelchairs.
The fundraising drive, hosted via Mixlr, is the fifth annual event, set to manifest on Saturday, June 29 starting at 7 a.m. PST/10 a.m. EST, at which point a marathon will commence featuring hosts from Quiver: The Green Arrow Podcast, The Flash Podcast, Supergirl Radio, Legends of Tomorrow Podcast, DC TV Classics, Black Lightning Podcast, Krypton Podcast, Titans Podcast, Batwoman Podcast, Swamp Thing Radio, and Stargirl Podcast. However, the event won't be restricted to the length of all eleven individual shows, since said marathon will be extended with two additional hours, calling upon listeners to donate to the heartwarmingly geeky cause of Magic Wheelchair.
As the marathon's official appeal states:
"From all of us, at DC TV Podcasts: we hope to see you in the live chat and enjoy all the exciting programming we have lined up for you!" Adding, "Nothing would make us happier than our listeners donating to this significant cause and joining DC TV Podcasts in helping Magic Wheelchair create cosplay opportunities for children in wheelchairs around the world."
Of course, should you be so inclined, you need not wait for the marathon to back the cause, and can donate to DCTV Podcast's fundraiser page right now. Indeed, Magic Wheelchair is injecting the creativity-fueled joy of cosplay culture into the lives of wheelchair-bound children around the world; an effort that perfectly aligns with the ever-expanding presence of DC Comics-based television, and their accompanied fan-driven podcasts. Moreover, it serves as a testament to the power of fandom, at least when it comes to endeavors that don't involve complaining on the Internet.
Pertinent to the marathon's prevailing theme, the next major DC Television offering will be Swamp Thing, a live-action update of the classic, formerly-film-adapted, dark DC property, which premieres on streaming service DC Universe on May 31. After that, the second season of Syfy's Krypton arrives on June 12.
Joseph Baxter is a contributor for Den of Geek and Syfy Wire. You can find his work here. Follow him on Twitter @josbaxter.