News
Daybreak Season 2: What To Expect
Daybreak season 2 is not yet assured, but thanks to some insights from the show's producers we have some ideas of what might happen.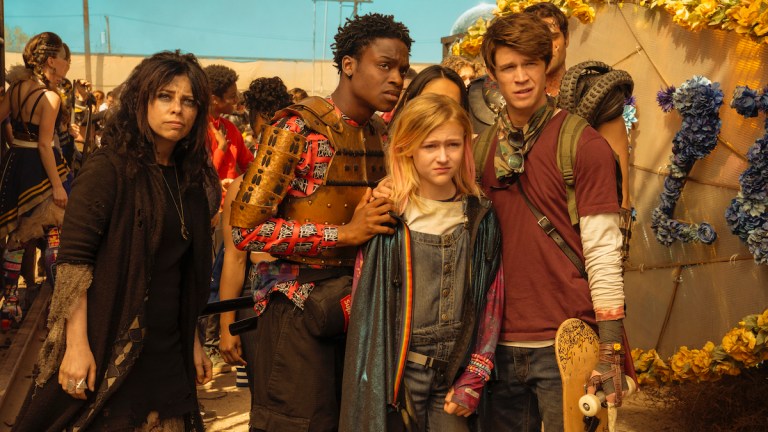 Daybreak has taken Netflix subscribers by storm with its unique mix of fourth-wall breaking storytelling, over-the-top conflicts, and well-crafted story arcs for its characters, and the show seems destined for renewal. But until we get news of a Daybreak season 2, we can only speculate on what might be next for the post-apocalyptic teen dramedy. Fortunately, executive producers Aron Eli Coliete and Jeff Fierson helped us make some predictions about what could happen.
In season one, Daybreak explored a number of characters' perspectives on life in the Mad Max future, especially Josh Wheeler's. But as the finale came into sight, one important point of view was missing: Sam Dean's. The bombshell final episode not only reveals Sam's fate, but gives us more clarity about why her relationship with Josh fell apart. The producers confirmed we'll get far more of Sam's perspective if the show is renewed for a second season.
"What we do in season one is we have a really great balance between all of our characters, and it is mostly Josh's point of view," Coliete admits. "She takes the reins in season two. We do get to shift to [Sam's] point of view, and she gets to take more power. It's still Josh's story. Josh is still a major character. We're still balancing all of our characters in our ensemble fashion. But now she gets to tell the story herself."
Fierson agrees that many different viewpoints are needed to tell the full story, and more will be represented in Daybreak season 2. "If you look at the full cast, which kind of took the top 10, I think what we have is one and two and nine and 10 are kind of Josh, right? That leaves six," Fierson figures. "That means there's four people that didn't get their own episode, and we just want to keep this thing going, where it's like everyone gets their shot having it. As long as their characters earn that place."
That being said, Coliete doesn't want to plan out Daybreak season 2 too much since spontaneity was what made the first season so great.
"As a producer on the show, and also just a fan of the show, it's like, you get to episode five you're like, 'This is so unique!'" says Coliete. "It's unpredictable, it's irreverant, it's fun! You just never know where it's going to go. We don't want to abandon that; we want to keep outdoing ourselves at that. Yeah, I think the unpredictability is the reason why I'm excited to keep going."
One thing's for certain: whatever the Daybreak writers come up with, it's sure to be funny, gruesome mayhem with the former students of Glendale High School.
read more: Daybreak's Creator on Making The Jump From Graphic Novel To Netflix