News
Daybreak Netflix Release Date, Trailer, Cast, Story, News and More
Netflix is adapting post-apocalyptic high school comedy (yes) Daybreak into a TV series. Here is everything you need to know.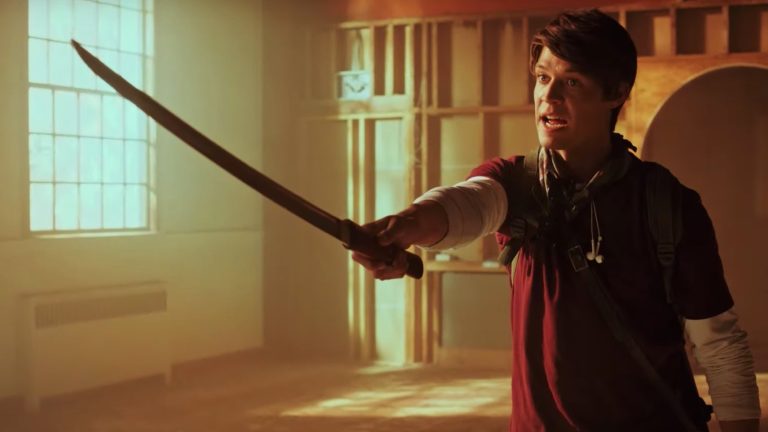 High school can be a rough time in any young person's life. Last thing they need is the apocalypse to complicate things.
Well that's exactly what's going to happen to the students of Glendale High School is Netflix's new apocalyptic action-comedy-drama (an ApActComDram if you will), Daybreak. Deadline was the first to report that Netflix has ordered Daybreak, a live-action series based on a comic by the same name from Brian Ralph
Daybreak will tell the story of high school outcast Josh searching for his missing girlfriend amidst a post-apocalyptic world. He will have to navigate through various factions of Mad Max-ified high school castes and zombie-like creatures known as "ghoulies."
Aron Eli Coilete (Star Trek: Discovery) and Brad Payton (Rampage) will produce the series. 
Here is everything we know about Daybreak.
Daybreak Release Date
Netflix's Daybreak will premiere all episodes on Thursday, October 24. Episodes are usually made available for Netflix series at 12:01 a.m. PT but maybe they'll time this one for sunrise.
Daybreak Trailer
The full trailer for Netflix's Daybreak is finally here! Check it out below. 
The first trailer for Daybreak is here (fittingly released right at sunrise for Glendale, California). "Some say you're a lost generation. But with a winning attitude, you can conquer the world," Matthew Broderick's Principal Burr says.
Daybreak Plot Details
Netflix's official synopsis for Daybreak makes clear that this isn't your usual high school dramedy, or post-apocalyptic thriller for that matter. It reads:
High school isn't the end of the world… until it is. In this post-apocalyptic, genre-bending series, the city of Glendale, California is populated by marauding gangs of jocks, gamers, the 4-H Club, and other fearsome tribes who are kicking ass as they fight to survive in the wake of a nuclear blast (on the night of Homecoming…ugh). Following an eclectic group of survivors as they navigate this strange and treacherous world, DAYBREAK is part samurai saga, part endearing coming-of-age story, and part Battle Royale. This Generation A series (A for Apocalypse! Get it?) is rated TV MA.
Daybreak Cast
Leading the cast of Daybreak is erstwhile popular teenager Matthew Broderick (Ferris Bueller's Day Off) as Glendale High School's Principal Michael Burr. Krysta Rodriguez plays a biology teacher. The rest of the cast is made up of Glendale High School's youthful post-apocalyptic survivors. Colin Ford (Supernatural) stars as the heroic 17-year-old Joseph Wheeler. Sophie Simnett plays Sam Dean, the most widely admired girl at Glendale High. Austin Crute plays peaceful samurai Wesley Fists. Alyvia Alyn Lind will portray the genius Angelica Green. Cody Kearsley is Turbo Bro Jock, the Immortan Joe-esque leader of the jocks with Jeanté Godlock as Mona Lisa, his right-hand woman. Gregory Kasyan plays Eli Cardashyan (not to be confused with a Kardashian, Netflix notes).
Alec Bojalad is TV Editor at Den of Geek and TCA member. Read more of his stuff here. Follow him at his creatively-named Twitter handle @alecbojalad