News
David Letterman Netflix Series Releases Barack Obama Clip
My Next Guest Needs No Introduction With David Letterman drops on Jan. 12, but we have a clip of its Barack Obama premiere right now!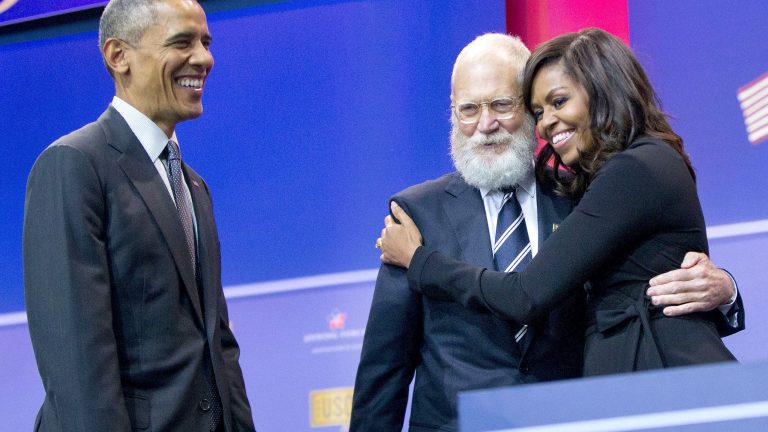 David Letterman is finally getting out of the damned house following retirement. And his first guest on streaming also just so happened to recently vacate his previous position… in the White House. The icon of late night TV will launch his Netflix series My Next Guest Needs No Introduction With David Letterman with the first post-presidency on-camera interview with President Barack Obama. It doesn't look like Letterman will be shaving for the occasion, maybe he's constructing an ingenius comb-over. This will be the first time Obama will be talking directly about the Trump presidency on-camera. My Next Guest Needs No Introduction With David Letterman release date is Friday, Jan. 12 according to Variety.
The first clip, focused on one of the likely more jovial moments of the interview, has also now been released. Below you can see President Obama muse about the time his daughter got him to break "dad" dance moves with the late-great Prince in the White House.
"These are people that I admire," Letterman said, describing his guests, including George Clooney, Malala Yousafzai, Jay-Z, Tina Fey, and Howard Stern.
The interviews will "take place both inside and outside a studio setting," Netflix said in a statement. "The conversations are intimate, in-depth and far-reaching, with the levity and humor Dave's fans know and love. Field segments will bring Dave to locations far and wide, expressing his curiosity and desire to dig deeper on a specific topic related to the iconic guest featured in the episode."
You can watch the trailer here:
My Next Guest Needs No Introduction With David Letterman is the first show for Letterman, who inducted Pearl Jam into the Rock and Roll Hall of Fame, since he stepped down as the host of CBS's Late Show in 2015.
Letterman is the longest-running late-night broadcaster in American history. He hosted late night TV for 33 years. Before CBS's The Late Show, he hosted NBC's Late Night from 1982-1993. Letterman hosted 6,028 episodes of Late Night. Last year, National Geographic Channel's Years of Living Dangerously sent Letterman to India in an episode examining the real-world impact of climate change. Letterman's last appearance on The Late Show on May 20, 2015 drew an audience of 13.76 million people. Letterman was nominated for 52 Emmy Awards and won 10. He is a two-time Peabody-Award winner. He was honored at the Kennedy Center. He will receive The Mark Twain Prize in October.
Netflix is moving fast in the comedy world. They recently poached Jerry Seinfeld's Emmy-winning series Comedians In Cars with Coffee from Sony's Crackle. Seinfeld will also perform two stand-up specials for the streaming network. Dave Chappelle, Amy Schumer and Chris Rock are also performing stand-up specials on Netflix.