News
Dark Matter: What to Expect From Syfy's New Space Opera
The newest entry in space-based science fiction seeks to bring humor, action, and political intrigue to Syfy's Friday lineup.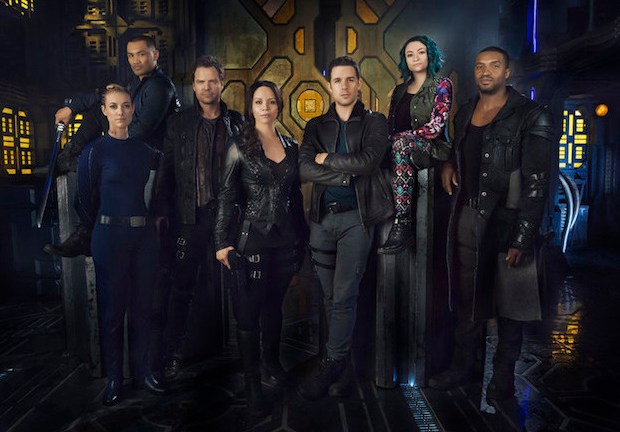 Earlier this year, we spoke with executive producers Joe Mallozzi and Paul Mullie on the set of their new science fiction show, Dark Matter, about what viewers can expect from their latest offering.
Syfy will begin airing the series on June 12, and it's perhaps surprising that it has taken the network this long to return to a story set onboard a spaceship considering the success of shows like Battlestar Galactica and the Stargate franchise, both of which have maintained devoted followings over the years even after going off the air.
The good news is that Mallozzi and Mullie were a big part of the driving force behind Stargate Atlantis and several other Stargate spinoffs. Although Dark Matter is quite a different show, there are certain aspects of the subject matter that Stargate fans, comic book fans, and science fiction fans in general will appreciate, starting with its origins.
"Dark Matter has been in development since way back when we were working on Atlantis," says Mallozzi. "I knew from working in development that what everyone really loved was established properties… material that has essentially proven itself. And I knew that comic books were hot, so we decided rather than basically go the typical route, we would actually publish a comic book first." 
Mallozzi notes that the comic did not exist as a separate entity but rather as a vehicle to pitch the show, saying it "turned out to be a great visual selling tool." The following video shares more of our chat with Mallozzi and Mullie, and outlines Dark Matter's journey from comic to television series.
Dark Matter is centered on the concept that six members of a spacefaring crew awaken from stasis with no memories of who they are or what their mission is. An interesting premise, to be sure, but does it have staying power? Fans of genre television in general appreciate when showrunners have a clear plan for the show several seasons in advance, and Mallozzi assures potential viewers that because the show's been in development for so long, he and the writers have had time to take the long view.
"We have a five-year game plan," Mallozzi explains. "One of the things I think audiences will love is the fact that because we've been able to plan so well; we're able to drop hints to various character reveals and various twists and turns that will pay off later down the line either near the end of season one or beyond it."
That being said, there's a payoff even at the end of this first season, according to its creators. "One of them was responsible for the mind wipe, and ultimately we do find out. We will get answers," Mallozzi says. "There's a revelation in episode 12, sort of like the end of Sixth Sense where the penny drops and you realize, 'Oh, right…' And it's rewarding, and it's fun for the audiences and a great show to just sit down and watch six-and-a-half hours one day if we showed a marathon."
Fans of space-based sci-fi will enjoy the galactic scale and political scope of the show as well. "We're imagining a future where multi-planetaries rule," Mallozzi says. "Essentially corporations have gone out and ceded planets; they've colonized in order to exploit planetary resources. And they're the main players in colonized space."
"We figure there's probably like a dozen in this reality," Mullie, Dark Matter's co-creator says. "There's sort of a two-tiered system; there is a Galactic Authority, which is essentially the political authority and the police, but really they answer to the corporations." Mullie laughs. "Kind of not that far off from reality!"
The crew of six finds itself battling and working within this corrupt political climate, which is difficult given their lack of memories. "There's a lot of political manipulation going on," Mullie says. "There's a lot of corruption, and our characters are kind of stuck in that world. They're on the wrong side of the tracks. This is kind of the darker underbelly that exists below the shiny, happy future when you realize it's really not that shiny and happy at all."
But it's not all "dark matter." Stargate fans will remember the light-heartedness and humor that made the various spin-offs enjoyable to watch without being too heavy. "That's the way we like to write; we like to write humor," Mullie says. "The subject matter is a little bit darker, but the characters themselves bring the humor. It humanizes the characters; it makes them more relatable; it makes them seem smart and fun, and it makes people like them more."
"Humor is key," Mallozzi agrees, "and all of our characters are funny in very different ways, and that was one of the things we looked for in the audition. There was always that instant of humor that we wanted to see how they delivered it, and they all did."
Among the actors chosen were some interesting casting decisions, including one Stargate veteran. "Jodelle Ferland, who plays the kid character of Five, played the part of Harmony in Stargate Atlantis eight years ago," Mallozzi explains. "She's twenty now; she was twelve at the time. I remember I was on set for that episode, and I just remember that she always knew all her lines and she knew all of David Hewlett and Joe Flanagan's lines. And so essentially, whenever they would forget their lines, she would prompt them, and I just thought wow, she's incredible."
Dark Matter also boasts a television novice but veteran of the stage, Melissa O'Neill, who plays the female lead. "We looked at close to 250 different people for the role of Two, which I knew was going to be very, very tough," Mallozzi says. "She's the crew's de facto leader, and on the one hand, she has to be very tough. But on the other hand she also has to be somewhat empathetic to members of the crew. Play her too tough, and she's unlikable; play her too empathetic, and she's weak. So it was very hard to walk that fine line. [Melissa has] never done television before, so she's very raw, but the audition was unbelievable, and we thought wow, this is a star in the making."
Dark Matter promises lots of action for many of its actors as evidenced by the preview below, but the fight scenes are far from gratuitous. "They don't just fight for the sake of fighting," Mullie reassures viewers. "It is revelatory of character. We feel it's essentially a character-driven show rather than a plot-driven or action-driven show or a visual effects driven show. It has all of those things, but for us, it's really about the characters. And we believe that that's really what people wind up relating to in the end anyway. They come for the visuals and all that, but they stay for the characters ultimately. And any really successful show that will last for a long time, that's the reality."
Let's hope that's the case for Dark Matter! The series has its premiere episode on June 12 at 10 p.m. with a two-hour Defiance premiere as its lead-in. Syfy will then continue its block of science fiction by adding Killjoys to the line-up the following week. Friday nights should be a sci-fi fans dream this summer!