News
Dark Matter Season 2 Announces New Cast as Premiere Nears
Syfy has plenty in store for Dark Matter season 2 when it returns this summer, including a few new cast members..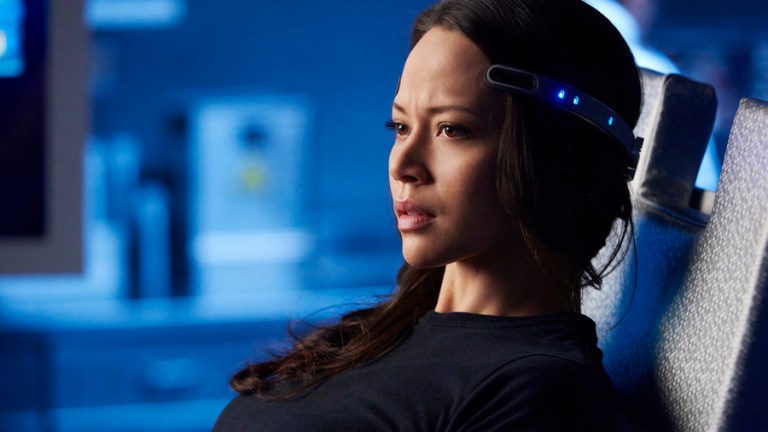 Great news for Dark Matter fans! Syfy's summer hit is returning in just under a month, and there are plenty of announcements and promos to enjoy to whet viewers' appetites.
Dark Matter Season 2 Casting News
Syfy already announced that Melanie Liburd (Game of Thrones) has joined the season 2 cast, and now joining her as a series regular will be Shaun Sipos (Melrose Place), who will play a former surgeon named Devon whose troubled past may pose a danger to the Raza crew. 
Franka Potente (Run Lola Run, The Bourne Identity) will also guest star as Galactic Authority Commander Shaddick, who is described as "cool, calculated, and determined to prove the crew of the Raza were involved in the destruction of Iriden 3." Also guesting will be Mike Dopud (Continuum), who will portray the leader of a powerful prison gang, and Ellen Wong (Scott Pilgrim vs. the World), who will play a close childhood friend of Four.
The series will continue to feature Marc Bendavid as the milquetoast One; Melissa O'Neil, who turned in the season's standout performance as Two; Anthony Lemke as the a-hole with a heart, Three; Alex Mallari Jr., as the powerful but quiet Four, Jodelle Ferland as the lovable techie and conscience of the crew, Five; Roger Cross as the giant teddy bear pilot, Six; and Zoie Palmer as The Android, whose mystery has yet to unfold.
Dark Matter Season 2 Premiere Date
Dark Matter season 2 will premiere on Syfy on July 1st at 10 p.m. ET, following the season 2 premiere of Syfy's other space adventure series Killjoys.
"With its mysterious premise and fascinating characters, Dark Matter has built an incredibly loyal, passionate and engaged fan base," said Chris Regina, Senior Vice President, Program Strategy, Syfy. "We look forward to another out-of-the-world season from this talented creative team."
Joseph Mallozzi and Paul Mullie, co-creators of Dark Matter, were also executive producers and writers of the Stargate franchise. The show is based on Mallozzi and Mullie's graphic novel of the same name, published by Dark Horse Comics. Having written the source material far ahead of time, the series was able to unfold in a careful, calculated manner, which came across on-screen. Season 2 will likely enter new territory established by its stellar opening season.
Dark Matter Season 2 Extended Trailer
When season 1 ended, there was a shocking betrayal which will lead Dark Matter in an entirely different direction. The recently released extended trailer gives a revealing glimpse into what happened to the crew after the events of the season 1 finale. Although the below promo may be considered to contain mild spoilers, it's really more of a teaser for what's about to come.
And here's another Dark Matter season 2 trailer that might induce a double take when Zoie Palmer comes on-screen saying, "You don't think I can handle myself?" and looking very un-Android like!
Dark Matter Season 2 Story
For those who are a little rusty on what happened in Dark Matterseason 1, the series — produced by Prodigy Pictures — followed six people who wake up on a derelict spaceship with no memories of who they are or how they got on board. It averaged 1.8 million viewers in its first season on Syfy.
The first season left viewers to discover, along with the characters themselves, the identity and back story of each crew member. By the time the season finale rolled around, the shipmates on the Raza had become a family, and this group of likable characters has become a sci-fi fan favorite ensemble.
Several story arcs were left up in the air at the end of season one, including why Six was suddenly accompanied by the Galactic Authority, and we never did get a clear answer on The Android's anomalous feelings or Five's motivations for allegedly perpetrating the mind wipe. With a season two now assured, perhaps fans will get a chance to have resolution to some of these mysteries.
According to TV Insider, season 2's story will follow the crew of Raza as it "gets involved in an intergalactic conspiracy [and] search for a device that could prove vital in the upcoming war."