News
Veteran Actor Danny Aiello Dies at 86
Danny Aiello recorded big band music and was a favorite of directors Spike Lee and Woody Allen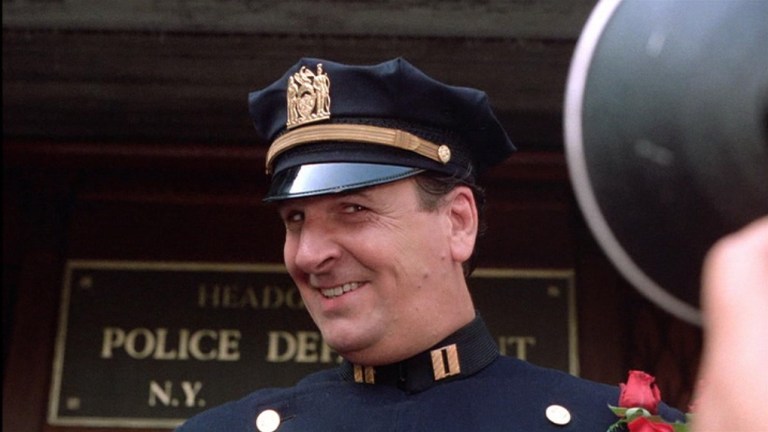 Veteran film actor Danny Aiello, best known for his roles in Do The Right Thing, and Moonstruck, died at the age of 86, according to Variety. Aiello was being treated for a sudden illness at a medical facility in New Jersey.  
Aiello's work as the jilted lover in Norman Jewison's hit comedy Moonstruck supported Cher's Best Actress and Olympia Dukakis's Best Supporting Actress Oscar wins. Aiello was nominated for the Best Supporting Actor Oscar for his role as Sal, the pizza joint owner, in Spike Lee's 1989 film Do the Right Thing. Lee first offered the role to Robert De Niro.
Daniel Louis Aiello Jr. was born June 20, 1933, in Manhattan. Aiello's family moved to the South Bronx when he was seven after his father deserted his wife, who lost her eyesight, and children. Daniel started working at age 9, shining shoes, selling newspapers, and loading trucks. He dropped out of James Monroe High School before graduating. Aiello joined a street gang when he was a teenager and claimed he engaged in burglary and safe-cracking. Aiello got married in 1955 and joined the Army.
Aiello began acting in the 1970s, with a small role opposite De Niro in Bang the Drum Slowly, the 1973 tear-jerker about a dying baseball player. He played hitman Tony Rosato, who attempts to kill mobster Frank Pentangeli in The Godfather Part II. Originally, Aiello's character had no dialogue, but he improvised the line "Michael Corleone says hello," which director Francis Ford Coppola kept in the final film.
Aiello had a co-lead role with Jan Michael Vincent in the 1980 film Defiance. He played a racist cop who threw a boy from a building in Fort Apache, the Bronx, which starred Paul Newman. He played a cop whose baby was switched by gangsters played by De Niro and James Woods in Serio Leone's gangster epic Once Upon a Time in America in 1981. That same year Aiello won a Daytime Emmy Award for his role in A Family of Strangers, an ABC Afterschool Special. He also appeared in the TV miniseries The Last Don and A Woman Named Jackie. He starred in the police series Lady Blue from 1985 to 1986.
Aiello starred in Woody Allen's Broadway play The Floating Light Globe, and his films Broadway Danny Rose, The Purple Rose of Cairo and Radio Days. He played a crooked cop in Eddie Murphy's Harlem Nights, which co-starred Richard Pryor and Redd Foxx. He appeared in drag for his performance in Robert Altman's Prêt-à-Porter (1994). He played in the 1990 horror thriller Jacob's Ladder, and the street vengeance film 29th Street (1991).
Aiello played the title role of Jack Ruby, the nightclub owner who shot Lee Harvey Oswald in the 1992 biopic Ruby. He played a politician with mob ties in City Hall (1996), which starred Al Pacino. Aiello starred in the director Kevin Jordan's independent features Dolly Baby (2012) and Brooklyn Lobster (2005).
The actor also had a musical side. He sang in the films Hudson Hawk (1991), Once Around (1991), and Remedy (2005). He recorded music with a big band sound including the 2008 album Live from Atlantic City. He published his memoir, I Only Know Who I Am When I Am Somebody Else: My Life on the Street, on the Stage, and in the Movies, in 2014.
Aiello is survived by his wife Sandy and three children. His son Danny Aiello III, a stuntman and stunt coordinator, died of pancreatic cancer in May 2010.
Culture Editor Tony Sokol cut his teeth on the wire services and also wrote and produced New York City's Vampyr Theatre and the rock opera AssassiNation: We Killed JFK. Read more of his work here or find him on Twitter @tsokol.
Read and download the Den of Geek Lost in Space Special Edition Magazine right here!