News
Daniel Bryan Delivers Emotional Speech on Raw
Bryan expressed gratitude in a message to the WWE audience ...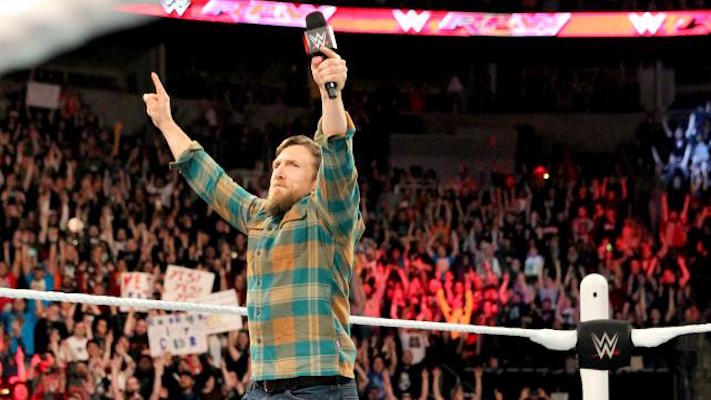 There aren't many real things in professional wrestling. That's just the nature of the business. The whole concept of the business, at least in its original form, was to trick people into thinking they were seeing a real fight.
But through the years there are some very real moments that leak through and end up splashed on millions of television screens across the world.
There are the bad, such as Bret Hart getting screwed out of the WWF Title in 1997.
There are the good, such as everything the WWE did for Connor Michalek.
And there's also the sad.
Last night on Raw,Daniel Bryan announced his retirement at 34 years old. Not because he wanted to be done wrestling, but because multiple head injuries resulted in dozens of concussions throughout the course of his 16-year career, and doctors felt it was too much of a risk for Bryan to continuing doing what he's loved to do since he was a kid.
Bryan admitted that he fought those orders at first, but more recently took some tests that resulted in him believing that his, "brain wasn't in as good of shape as he thought it was."
Again, Daniel Bryan is 34 years old.
As Bryan delivered his emotional speech on Raw,there were very real tears not only from him, but from the audience in his hometown of Seattle. I'm sure there were real tears shed backstage as well, and even in front of a few of those millions of televisions. 
There are a lot of good people in professional wrestling, and like any other sport or business, there are a lot of jerks. Bryan was one of the best.
Last year, for this very website, i had the chance to interview Bryan and the questions were supposed to be kept on a Flintstones animated movie WWE produced, and Bryan was featured in. As it was PR for the movie, my first few questions were pertaining to the project and Bryan answered with the type of stock answer you would expect, about how he was excited to be a part of the project and how he grew up a fan of the Flintstones franchise.
Then I got to my first wrestling question. Bryan was just returning to the ring and was getting set to take on Roman Reigns at Fastlanelast February. My first question was really simple: how did you get through the past 10 months? Missing that time, and missing what would have probably been the biggest run of his career?
Honestly, it wasn't an easy question to ask, beacuse I knew the answer. It sucked. Of course it sucked. How could it not? But it was the elephant in the room and if you are interviewing someone like Daniel Bryan, and there's a question there, sometimes as a journalist you have to ask it, even if it's not easy.
As soon as he began to answer, I remember his voice kicking up a few notches. Not in an angry tone, but he was excited. We were talking about wrestling! He admitted that it was hard, but he immediately turned to the positive, talking about the first time he was out in front of the crowd again after returning from the injury.
"My main passion is wrestling," he told Den of Geek. "Some of the guys love to go make movies even though it might take them away from wrestling for three or four months. I was injured, so I just had to be away for 10 months. I don't want to be away from wrestling even a little."
Now he's away from wrestling forever, at least in the ring.
There are plenty of lessons that aspiring wrestlers can learn from Daniel Bryan. There's even some lessons that just people can learn from him. Do what you love. 
Do what you love, and you might just become great at it.
As Bryan said last night, things happened to him in WWE that aren't supposed to happen to a guy who is 5-foot-8 and 190 pounds. He seemed bewildered by the people getting behind him.
People got behind Daniel Bryan because he gave them something to believe in. Everyone has been told at some point in their life that they weren't good enough, whether you didn't get the job you wanted, were cut from your baseball team, or were told you were only a "B-plus player" by the head of a huge wrestling company.
In the scripted world of professional wrestling, Daniel Bryan gave millions of people a real reason to believe in themselves, which might be the hardest thing to do. 
He's inspiring. He's heartfelt. He's real.
Yes! Thank you. 
Match Results
There were also matches on Rawlast night. Here are the results:
1. Dolph Ziggler beat Kevin Owens
2. Charlotte beat Alicia Fox
3. Bray Wyatt beat Ryback
4. Adam Rose beat Titus O'Neil
5. Alberto Del Rio & Rusev beat The Lucha Dragons
6. Tamina beat Becky Lynch
7. The Dudleys & The Usos beat New Day & Mark Henry