News
Dan Harmon: Rick and Morty Season 3 Has Been Harder To Make
The pressure is on the shoulders of the Rick and Morty staff to produce a great season three, dawg!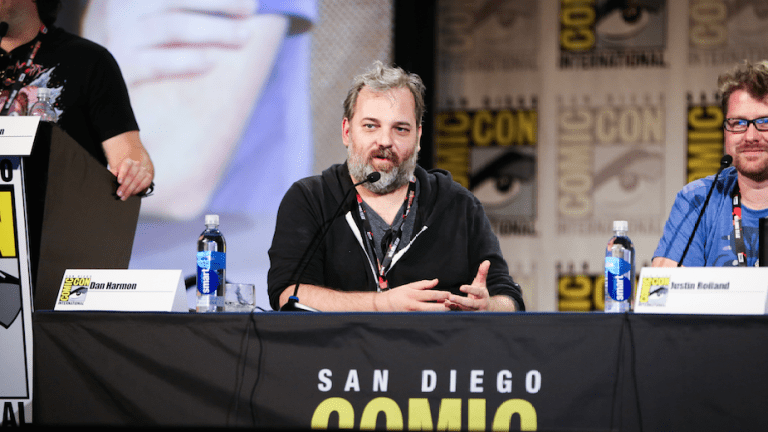 For a show like Rick and Morty, one seemingly built on riffs, stutters, and scatterbrain gags, crafting episodes is a long and tedious process for animators and a labor of love for the creative staff. Most things we tend to love in life can be a pain in the ass sometimes, and making a television show and doing it to the best of your abilities is no different.
Even when that hard work pays off to big ratings, season renewals, and merch for secondary characters (ok, fan favorites), it doesn't ease the mind of the creative staff when the only thing that really matters is making the next episode great.
When asked before Rick and Morty's SDCC panel if the success of the show has brought more pressure to the production team, Dan Harmon admitted: "It's been harder this season."  
Harmon knows a thing or two about expectations from his previous show, Community, where he had plenty of spars with the network and the intense scrutiny of a small, but passionate fan base that could probably run off a list of callbacks from the series like their trivia nights depend on it. Over at Adult Swim, Harmon and co-creator Justin Roiland have all the freedom (staff writer Ryan Ridley's take: "the network lets us do anything we want"), but with that comes a self-made responsibility to elevate the material.
That has come at a cost during production for season three. Already behind schedule, Harmon told the assembled Comic-Con press that they nearly started over on an entire episode.
"I watched the thumbnail animatic of episode 304 and I was ready to move forward with it and Ryan [Ridley] said 'we're not satisfied with it and we were already behind schedule,'" Harmon said. "[The animators] have to bear the brunt of the schedule, they have to work weekends. They are the ones that wanted to do it. There's a weird higher calling there and it's not an endless perfectionism because you know when something finally clicks and you go 'this is a good episode of TV.' But it's not just me and I was very happy to find that out."
Roiland added that while the internal bar is high, it's a good thing: "Ultimately, that's going to result in really good episodes across the board. We just don't want one that universally is a stinker. I don't think that will ever happen."
Not to let Roiland get a big head or anything, Harmon had to bring him back down to earth: "I do. I think this season has a stinker." To be fair, Harmon was very clearly heard saying the same thing to press at Comic-Con last year, and both co-creators had kind words to say about season two after taking a step back from it.
Still, Roiland had to defend the process: "We're not going to let it out of the gate, man!"