News
CW Announces MADtv Premiere Date and Cast
Skit comedy show MADtv ready for prime time on the CW.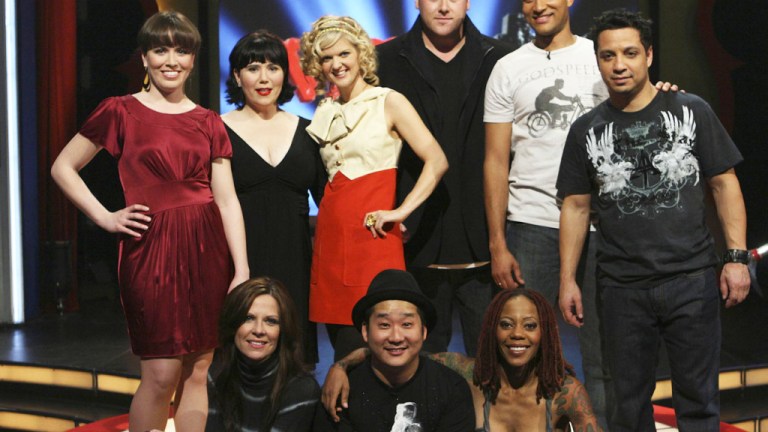 The CW announced that new episodes of MADtv will premiere Tuesday, July 26 at 9/8c. The cast features eight new performers.
The new members of late-night sketch comedy ensemble are Carlie Craig (Todrick), Chelsea Davison (@Midnight writer), Jeremy D. Howard, Amir K (Argo), Lyric Lewis (Brooklyn Nine-Nine), Piotr Michael (Disney Channel's Wander Over Yonder, The Howard Stern Show), Michelle Ortiz (Life in Pieces, Marvel's Agents of S.H.I.E.L.D) and Adam Ray (The Heat).
The new comedians will perform with members of the original show, which ran on Fox from 1995 to 2009. The original cast included Ike Barinholtz, Alex Borstein, Orlando Jones, Keegan-Michael Key, Phil LaMarr, Artie Lange, Michael McDonald, Jordan Peele, Will Sasso, and Nicole Sullivan.
David E. Salzman, who executive produced the original series, and Telepictures, will air eight all-new one-hour episodes on prime time.
"The MADtv franchise is as vibrant as ever thanks largely to social and digital media appealing to a fan base numbering in the millions that relates to the show's brand of authentic and irreverent cross-cultural comedy," Salzman said in a press release. "We will continue to present the hard-hitting, laugh-out-loud, wall-to-wall pop culture parody our fans expect, but in a fresh, new way."
The MADtv revival series will feature special appearances from returning cast members of the original series as hosts of each episode. CW will announce the names of the former cast members that are set to return as well as the date and time for the series at a later date.
"I was extraordinarily proud to be in charge of MadTV during most of its run at Fox Broadcasting Company," Warner Bros. President of Unscripted and Alternative TV, Mike Darnell, who oversees Telepictures, said. "In my opinion, it was always an underrated show that rivaled the best sketch comedy on television. I am thrilled to see it come back to network TV — and in primetime — thanks to The CW, and I feel lucky to have David Salzman and his team back at the helm."
The CW aired a MadTV 20th anniversary special in January and pulled in 1.7 million viewers. Episodes from the 14 seasons of the show's original run are currently available to stream on The CW's digital network, CW Seed.
MADtv aired on Fox from 1995–2009. Alex Borstein (Family Guy), Ike Barinholtz (The Mindy Project), Keegan-Michael Key and Jordan Peele (Key & Peele), Simon Helberg (The Big Bang Theory) and Orlando Jones (Sleepy Hollow) all started on the show.
Stars who appeared as guests included Pamela Anderson, Kathy Bates, Warren Beatty, Halle Berry, Beyoncé, Jack Black, George Carlin, Jackie Chan, Don Cheadle, Kelly Clarkson, Rob Corddry, Seth Green, Green Day, Dustin Hoffman, Dennis Hopper, Jay Z, Dwayne "The Rock" Johnson, the Kardashians, Mila Kunis, LL Cool J, Avril Lavigne, Adam Levine, Ludacris, Marilyn Manson, Alanis Morissette, Nelly, No Doubt, Shaquille O'Neal, Queen Latifah, Mary Lynn Rajskub, Michael Rapaport, Leah Remini, Ryan Reynolds, Tim Robbins, Ray Romano, Susan Sarandon, Ryan Seacrest, Martin Short, Jessica Simpson, Gwen Stefani, Usher, Kate Walsh and Fred Willard.