News
Curb Your Enthusiasm Season 9 Trailer, Details, and Episode Guide
What we know about the Curb Your Enthusiasm season 9, including latest news, release date, and much more!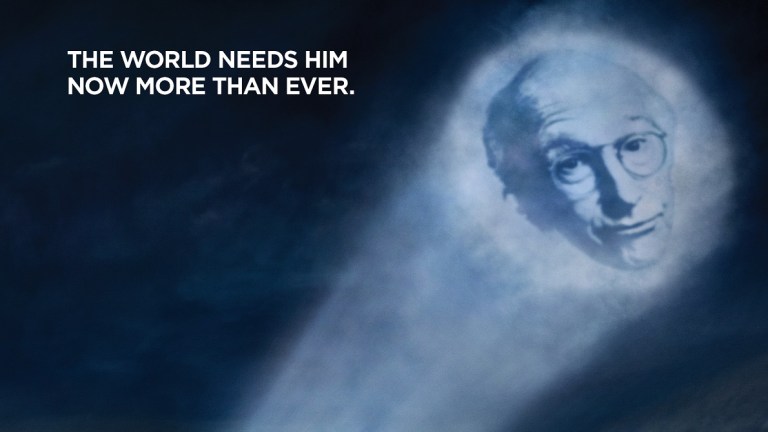 Exactly six years after the last season ended, HBO released the first extended look at Curb Your Enthusiasm season 9 in a new trailer. As you could have guessed, Larry David hasn't changed one bit in the last six years.
Curb Your Enthusiasm is HBO's longest-running scripted comedy or drama series. It debuted in 2000 and produced 80 episodes between 2000 and 2011. Here's everything we know about Curb Your Enthusiasm season 9.
Curb Your Enthusiasm Season 9 Release Date
Larry David and Co. finally came back to our televisions on Sunday, October 1st at 10:00 p.m. on HBO.
The announcement was made in a teaser trailer: 
Curb Your Enthusiasm Season 9 Episodes
Here's where we'll compile official synopses, and reviews as they become available. Click the titles to go to the full reviews.
Larry tries to rid himself of an inept assistant, offends Jeff's barber and gets into hot water over a new project.
Airdate: 10/1/17
Larry reaches out to a familiar face, gives a hotel guest sartorial advice and looks to create a diversion to help a friend's nephew.
Airdate: 10/8/17
Larry turns to a writer for advice; while searching for Susie's "little sister," Larry gets ticketed by an overzealous cop.
Airdate: 10/15/17
Larry's therapist accuses him of overstepping; Susie grows suspicious of Jeff; Larry bribes an usher at a funeral.
Airdate: 10/22/17
Larry commits a faux pas with Sammi's fiancé; Larry tries to start over with his mail carrier and a golf club security guard.
Airdate: 10/29/17
Larry invents an ingenious ploy for getting his friends out of relationship jams. Larry upsets Funkhouser's new girlfriend.
Airdate: 11/5/17
Larry angers a hot yoga teacher, has an auspicious first date and seethes over a run-in with an unfair Uber driver.
Airdate: 11/12/17
Bridget asks Larry for a favor on behalf of her son; Larry earns unexpected gratitude in a buffet line, and realizes that tips are better than favors.
Airdate: 11/19/17
Larry is blackmailed by an employee and tormented by someone from his past; Jeff and Larry pitch a new creative venture; Susie gets turned on by a surprising source.
Airdate: 11/26/17
Larry has a scheduling conflict, takes issue with work associates and hosts a pair of ungrateful house guests.
Airdate: 12/2/17
Curb Your Enthusiasm Season 9 Plot
Don't panic. Help is slowly on its way. HBO is promising to save the world from its doldrums, dilemmas and dramas with a little comedy. The premiere network put out the signal, calling for a hero to return to clean up this country, or at least make the bed. That call was answered. Excited? Well, Curb Your Enthusiasm. It was Larry David who answered the call and he really would have preferred to let it go to his voice mail.
What has Larry David been up to in the years since Curb Your Enthusiasm left HBO? Nothing. Come on. It's Larry David! 
"You're going to find out very quickly when the show starts what' he's been up to the for last five years and what everyone has been up to for the last five years," executive producer and director Jeff Schaffer told the Television Critics Association's summer press tour. "Once the show starts to air, it will be self-evident."
Larry David explained to the assembled critics why he is bringing the show back.
"I'm not a misser. I don't really miss things, people that much, but I was missing it and I was missing these idiots so I thought, 'Yeah, what the hell? And I got tired of people asking is the show coming back? I couldn't get asked that question anymore and I wasn't ready to say no, never."
So why did it take so long?
"We're doing a lot of different stuff," David told the assembled critics.
"It wasn't like you stopped with your little notebook," Schaffer told the press. "It was just a question of where those ideas were going to go. I think there's a ton, a ton of stories this year. You had a bit of a reservoir, " Schaffer said. "The shows are chock-full. They're dense. … Just a lot of stuff to get out. … The amount of uncomfortable situations he's been in these last six years… it's like we're sitting in the Fort Knox of awkward."
One of those awkward moments came when David tried to get back in character in front of the cameras after so long of a hiatus.
"I had trouble the first take and I thought, 'Jeez, I thought, 'I lost it. How am I going to do this?'" David told the assembled press.
The situation was made worse by the timing of the shoot: Nov. 9, the day Donald Trump won the presidency.
"The first day on the set, I could tell Larry had a little jitter. He's always white but he was more white that first day on set," actor JB Smoove told the summer tour press. "One take and this man was back to golden. It was like playing t-ball. He sets you up so well, you can't go wrong."
Curb Your Enthusiasm Season 9 Posters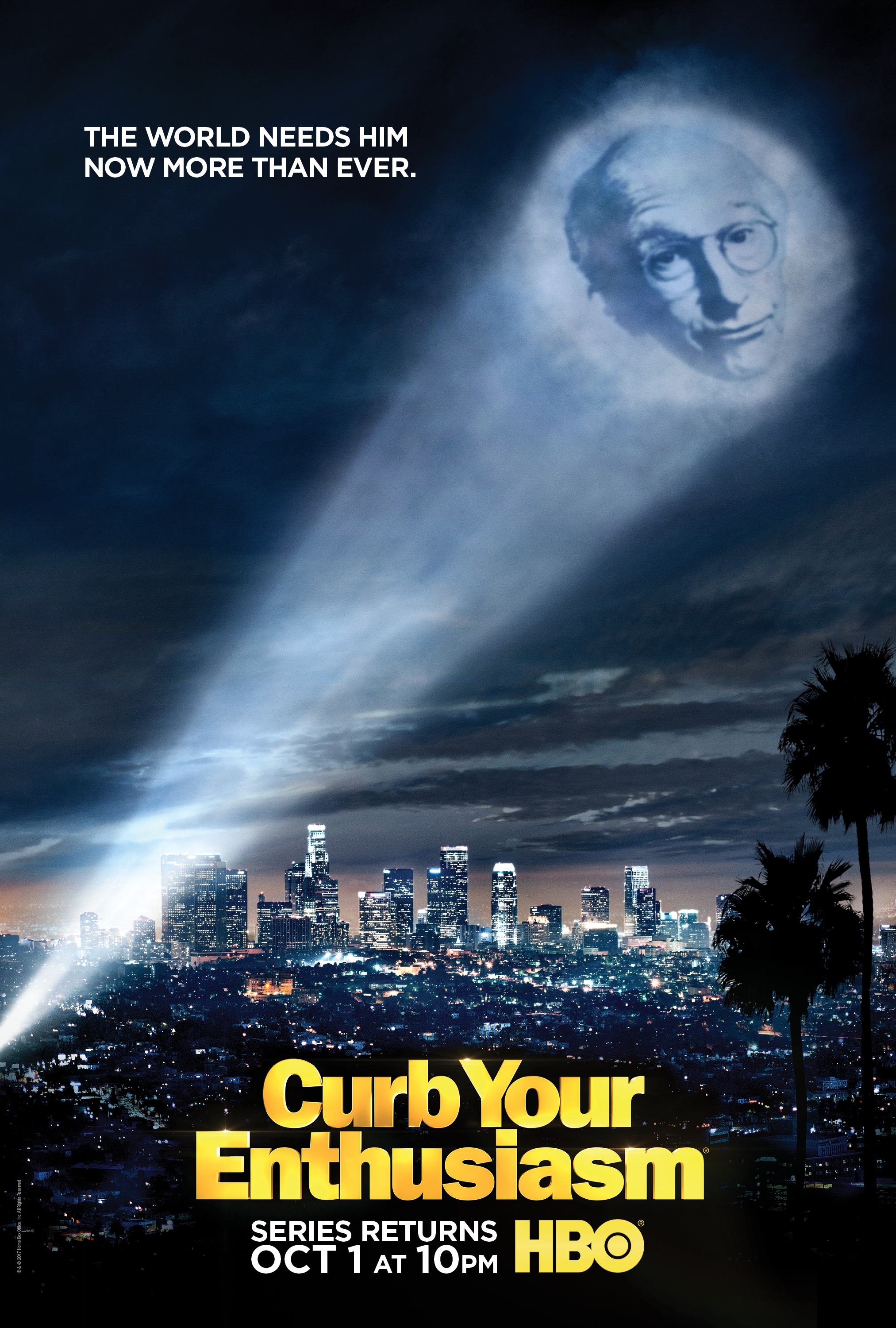 Curb Your Enthusiasm season 8 ended six years ago. David starred in and co-wrote the 2013 HBO Films presentation Clear History, but since then he's best known as the guy on Saturday Night Live who looks and sounds like Bernie Sanders. This isn't new to HBO, Uncle Junior on The Sopranos mistook David for himself while watching an early episode. I guess that was better than noticing how much he looked like the dancing Great Adventure spokesman.
"In the immortal words of Julius Caesar, 'I left, I did nothing, I returned,'" David explained in a statement.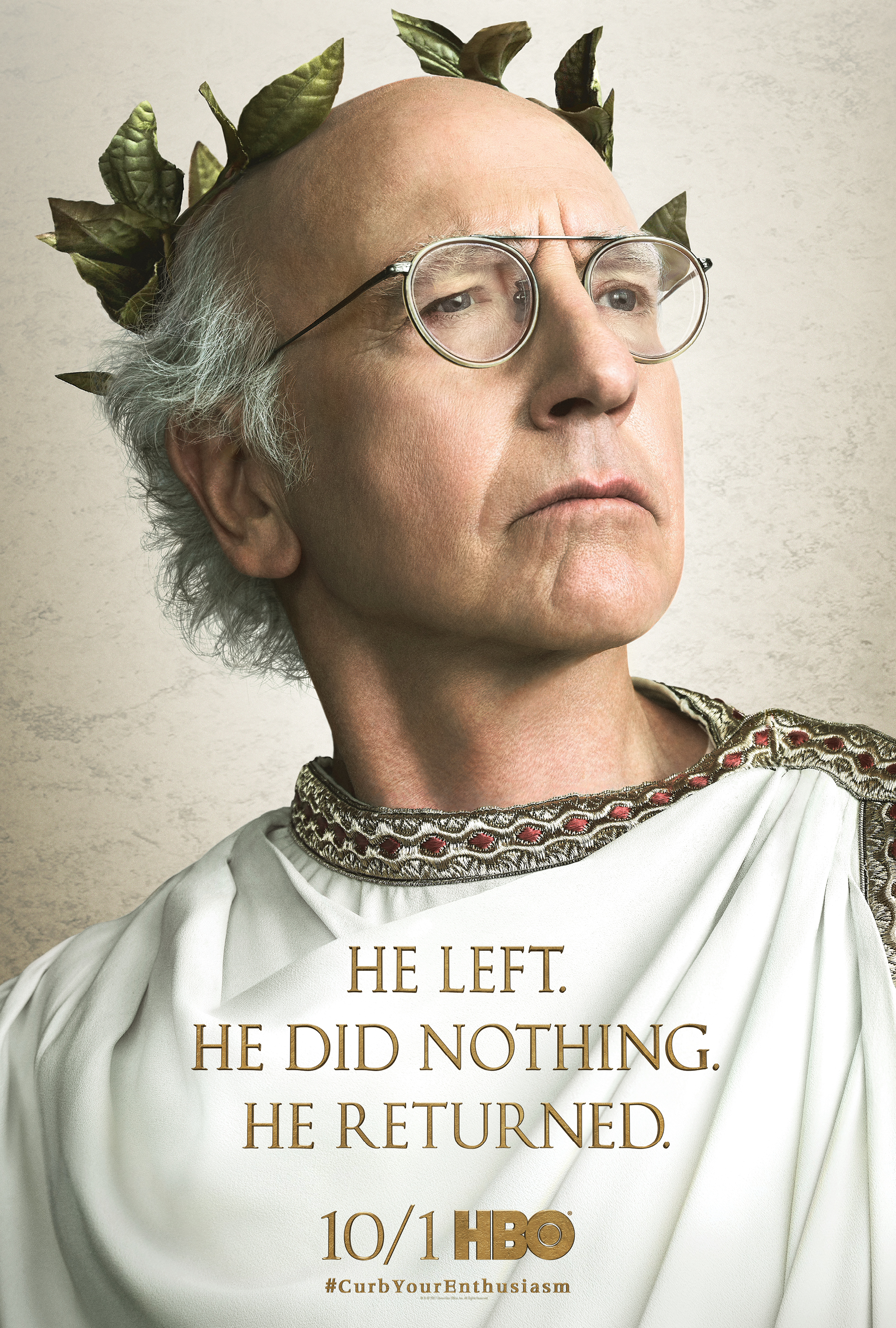 Curb Your Enthusiasm Season 9 Cast
Curb Your Enthusiasm season 9 is reuniting its classic cast. Ted Danson and Mary Steenburgen, who have been on the show since the very beginning and are still married in real life, signed deals to return to Larry David's HBO comedy series, according to Deadline. HBO told the Television Critics summer press tour that David, Jeff Garlin, Cheryl Hines, Richard Lewis, Bob Einstein, Susie Essman and Susie Essman were all confirmed to return.
Danson and Steenburgen play themselves on the show and have been doing it since the "Ted And Mary" episode, the first to run after the pilot. Danson appeared in 13 of 80 episodes over the first eight seasons. Steenburgen has appeared in five episodes. Danson currently stars on the comedy The Good Place at NBC. Steenburgen co-stars on Fox's post-apocalyptic comedy The Last Man on Earth. Danson and Steenburgen will work around the shows' schedules.
Season 9 will feature an almost-all-star cast of appearances.
"Everybody that we hoped for and that we wanted, we got," Schaffer said. "We had written some episodes that were really dependent on some very key people and we wrote them before we had them. … It ended up working out great."
HBO told the reviewers at the Television Critics Association's summer press tour Elizabeth Banks, Bryan Cranston, Jimmy Kimmel, Ed Begley, Jr., Carrie Brownstein, Lauren Graham, Nick Offerman, Nasim Pedrad and Elizabeth Perkins will all appear. Judith Sheindlin, best known as Judge Judy, will also appear.
"Judge Judy actually is in my ex-wife's family so I knew her," David told The Hollywood Reporter.