News
Cult Roots Singer Leon Redbone Dies at Unspecified Age
Leon Redbone showcased the music that led to rock and roll in the rock era and maintained his mystery throughout.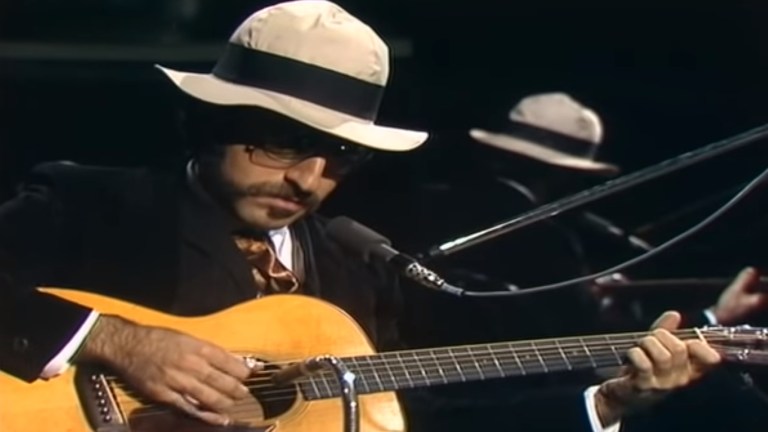 Cult singer Leon Redbone, best known for his Panama hat, dark sunglasses and Frank Zappa mustache and goatee, died on Thursday of causes as-yet unknown.  The guitar-playing singer's age was officially announced as 127, but according to Variety, was 69.
"He departed our world with his guitar, his trusty companion Rover and a simple tip of his hat," Redbone's family said in a statement. "He's interested to see what Blind Blake, Emmett and Jelly Roll have been up to in his absence, and has plans for a rousing singalong number with Sári Barabás. An eternity of pouring through texts in the Library of Ashurbanipal will be a welcome repose, perhaps followed by a shot or two of whiskey with Lee Morse, and some long overdue discussions with his favorite Uncle, Suppiluliuma I of the Hittites. To his fans, friends and loving family who have already been missing him so in this realm he says, 'Oh behave yourselves. Thank you… and good evening everybody.'"
Redbone never disclosed personal details about himself, but we know he was born Dickran Gobalian in Cyprus and raised mostly in Canada. He played in Toronto nightclubs before hitting the folk festival circuit. He was discovered at the 1972 Mariposa Folk Festival in 1972 by Bob Dylan who sang Redbone's praises in an interview with Rolling Stone.
Redbone took his material from rock and roll's earliest musical Tin Pan Alley era roots, from 1890s to 1910. Warner Bros. released his first album, On the Right Track, in 1975. The songs were written by Fats Waller, Hoagy Carmichael and Jimmie Rodgers.
Redbone was the featured musical performer twice during the first season of NBC's Saturday Night Live and was a frequent guest on The Tonight Show Starring Johnny Carson. He was also a guest on A Prairie Home Companion, and recorded commercials for Budweiser beer and Purina's Burger 'n' Bones dog food.
Redbone released sixteen albums. He sang the themes to the 1980s television series Mr. Belvedere and and Harry and the Hendersons.  Redbone voice Leon the Snowman in the 2013 Christmas film Elf, singing "Baby, It's Cold Outside" with Zooey Deschanel. He had an acting role on the ABC series Life Goes On.
Redbone retired from touring in 2015 but released Long Way Home, a collection of previously unreleased recordings from the early 1970s on Jack White's label, Third Man Records in 2016.
Redbone is survived by his wife Beryl Handler, daughters Blake and Ashley and three grandchildren.
Culture Editor Tony Sokol cut his teeth on the wire services and also wrote and produced New York City's Vampyr Theatre and the rock opera AssassiNation: We Killed JFK. Read more of his work here or find him on Twitter @tsokol.