News
Crisis on Infinite Earths Adds The Spectre
Supernatural vet Stephen Lobo joins the Crisis as potentially one of its pivotal characters: the Spectre.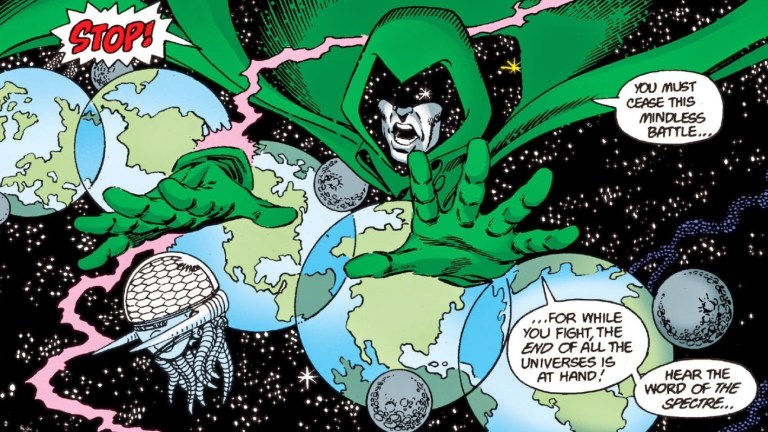 Big casting news out of the Crisis team, as it was announced today that Stephen Lobo of Supernatural fame would be joining the enormous CW DC crossover, Crisis on Infinite Earths. His character is a very interesting choice.
According to IGN, Lobo will be playing Jim Corrigan. Corrigan was introduced in 1942, in the aptly named More Fun Comics, where he was murdered on his way to his own engagement party, stuffed in a barrel of concrete, and tossed in a river. He was sent back to Earth to exact vengance on his murderers and…wait a second is he just Spawn? (we're joking, calm down)
Corrigan later became a conduit for John Ostrander, one of the co-creators of the modern incarnation of the Suicide Squad and one of the most underrated comic writers of the last 30 years, to examine complicated morality through a superhero lens. The Spectre was revealed as Christan God's wrath on Earth, and he would do things like "threaten the entire state of New York" or "raze a country." Spectre Corrigan is not to be confused with corrupt Gotham cop Jim Corrigan, who killed fellow detective Crispus Allen in Gotham Central before Allen himself became the Spectre.
The Spectre's role in Crisis on Infinite Earths is a big one: near the climax of the book, he unites the remaining heroes and villains on the last five Earths in an attempt to stop the Anti-Monitor. The heroes go with the Spectre to the dawn of time and fight, while the villains go to Oa to stop Krona from viewing the dawn of time and unleashing the Anti-Monitor on the multiverse. The villains fail, but the Spectre is powerful enough to hold off the Anti-Monitor and merge all of the remaining Earths down to one unified timeline.
Of course, Marc Guggenheim (Arrowverse lead producer) is being very coy about the whole thing. In a statement to IGN, Guggenheim never actually says that Lobo will be playing the Spectre, just that he'll be playing Corrigan and also that the Spectre plays a pivotal role. And since the other famous host of the Spectre in the comics was a retired hero with Green in his title, it would make sense that they're keeping that spot open for periodic check ins…
We have everything you need to know about the Crisis on Infinite Earths crossover right here.