News
Counterpart Season 2 Episode 4 Trailer, Release Date, and More
Counterpart season 2 has returned, and we've got the links to the latest trailer and reviews for each episode along the way.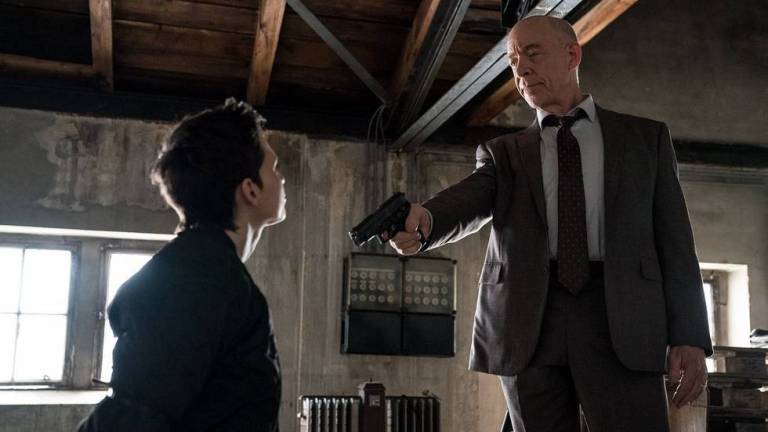 Counterpart season 2 was already a sure thing before Starz introduced this mind-bending, parallel worlds spy thriller to audiences, since the show began with a two season order. Counterpart is created, written, and produced by Justin Marks, who took over from Amy Berg as showrunner along with Jordan Horowitz. We spoke with him about season 2, and it looks like we have plenty of intrigue in store.
The show tells its story through the eyes of Howard Silk, played by J. K. Simmons, who discovers that the secretive UN-type organization he works for protects a passage between two very different versions of Earth, each trying to exploit the advantages of the other. In season one, he works to uncover a conspiracy with his sometimes recalcitrant alternate self from the other side, but in season 2, the Crossing is closed, and a blame game ensues.
Return here each week for the latest trailer and links to reviews cor Counterpart season 2, including the latest one.
Counterpart Season 2 Episode 4 Trailer and Release Date
Counterpart Season 2 returned to Starz on December 9, 2018 and airs on Sundays at 9/8c. The next episode is called "Point of Departure," and it airs on December 30, 2018. Here's a preview:
Counterpart Season 2 Reviews and Episode Guide
We've been review Counterpart since the very beginning, and our high opinion of the show continues to bring it 4-and-5-star reviews. Check the list below for episode descriptions and air dates, and follow the links to the reviews as they're written.
While hiding in Howard's life, Howard Prime must avoid detection at home and at the OI. Quayle and Clare struggle to adjust to their new arrangement. (air date: December 9, 2018)
Imprisoned on the Other Side, Howard's loyalties are tested. Emily Prime gets a promotion. (air date: December 16, 2018)
Howard is transferred to a mysterious prison called Echo. An unexpected visit gives Emily a connection to her old life. Emily Prime and Shaw's investigation is met with resistance. (air date: December 23, 2018)
Counterpart Season 2 Episode 4: "Point of Departure"
Howard Prime, Quayle and Clare must unite against a common enemy. Emily Prime turns her investigation towards her other. Yanek probes Howard's past. (air date: December 30, 2018)
Counterpart Season 2 Episode 5: "Shadow Puppets"
(air date: January 6, 2019)
Counterpart Season 2 Episode 6: "Twin Cities"
(air date: January 13, 2019)
Counterpart Season 2 Episode 7: "No Strings Attached"
(air date: January 20, 2019)
Counterpart Season 2 Episode 8: "In From the Cold"
(air date: January 27, 2019)
Counterpart Season 2 Cast
James Cromwell of American Horror Story is now part of the Counterpart season 2 cast. Cromwell will be in a major recurring role as Yanek, the enigmatic warden of Echo, an underground facility where Howard Silk finds himself fighting for his life.
Ramon de Ocampo of 12 Monkeys announced on Twitter that he will be joining the cast of Counterpart season 2. He is billed as Ambassador Sy, who is trapped on the other side of the Crossing from which he originates.
A previous bit of casting news for Counterpart season 2 brings Betty Gabriel of Get Out to the spy-versus-spy game. Gabriel will play Naya Temple, a former FBI agent newly hired by the Office of Interchange to clean house, and her character is described as "both intimidating and magnetic."
The above cast members will join Simmons as Howard Silk, Olivia Williams as Emily Burton Silk, Harry Lloyd as Peter Quayle, Nicholas Pinnock as Ian Shaw, Nazanin Boniadi as Clare, and Sara Serraiocco as Baldwin.
As for details about Counterpart season 2, Simmons told TVLine we can expect to see more doubles. "I'm certainly not the only one playing two versions of a character, and as we go on into Season 2 it's not too much of a spoiler to say that you'll see more of that with other cast as well," Simmons said. "So I'm glad for everybody's sake that we found some really good ways to make that work."
Michael Ahr is a writer, reviewer, and podcaster here at Den of Geek; you can check out his work here or follow him on Twitter.