News
Could Buffy return?
Joss Whedon has been talking about the possibility of bringing Buffy back to our TV screens. Is this really a good idea?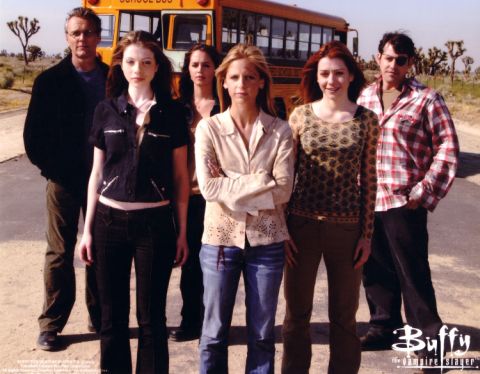 I'm not ashamed to admit that I am a massive fan of Buffy the Vampire Slayer. If I ever went on Mastermind, it would be my specialist subject. I lived and breathed that show for years – I actually became a fan of the movie first when I saw it on TV at an impressionable age, and then progressed to getting my next-door neighbour, who had Sky before me, to tape every new episode for me. For a really, really long time. (Thanks!) So if anyone should be jumping through hoops with joy right now, it's probably me, because Joss Whedon, speaking at the William S. Paley Television Festival, indicated that Buffy might be making a comeback.
Well, sort of. What he actually said was "There are so many stars that would have to align. But, you know, there's a reason I worked with all of these people for so long. They're enormously talented. And clearly, from the comic, it's a story that I can't let go of. I think it would be really cool."
He didn't exactly say anything was definitely happening. And I'm pretty sure that if you asked him the same thing about bringing back Firefly, he would say equally non-committal things about how great it would be for it to come back. That doesn't mean it's going to. There's no cause for celebration here, yet.
And, um. I hate to say this, but since I've already told you I really really loved the show, I think it's more or less safe to admit that I really, really didn't enjoy season 7. There's virtually nothing salvageable from that season; moments, one-liners, but only maybe one or two entire episodes. The Buffy magic had left the building, and I can't help but feel that bringing it back would just be beating an (un)dead horse. Plus there were all those rumours about infighting amongst the cast, and… really, can there be that many stories left to tell? I know the comic's still telling stories, but, hm. "Hmmm". Let's leave it at that.
Another of Whedon's comments at the same festival was more promising, though – "I would love to take Buffy to Broadway… you would have to start from scratch. I've spent some time daydreaming about it, because I'm me."
See, that would be cool. Two hours of Buffy, with singing and dancing and ideally a whole new cast? That could be fun. But the idea of a whole new TV season fills me with dread – it's over, dude. Let it be.