News
Constantine: Matt Ryan's message to fans
Constantine star Matt Ryan has reacted publicly to the cancellation of the show, via Twitter...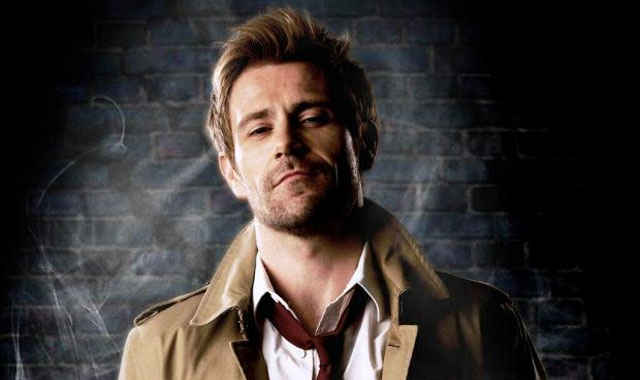 UPDATE: So, Constantine is officially 'over'  – NBC didn't want season 2, and neither did any other networks by the sounds of it. 
The show's star Matt Ryan has taken to Twitter to address the show's loyal fanbase. This is what he said:
"Sad news. Thank you #Hellblazers for your support u truly r the best, and thank you to everyone involved in the show. Memories made forever. Very disappointed that we are not continuing this journey,will miss playing john. You guys never gave up, I thank you all #Constantine."
. 
Here's our previous story…
We've been updating this article with the latest Constantine news for a while. Showrunner Daniel Cerone has been honest with fans non-stop over the last few months. When he was trying to pitch season 2 to NBC, he let us know when to expect an answer. When that answer was a bad one, he promised to try and find the show a new home. Now, it looks like it really is the end of the line for Constantine. 
Mr Cerone – whose enthusiasm for the show's future has been really infectious – said this via Twitter:
"I promised I'd share news when I had it — sadly, that news is not good. The cast and writers of Constantine are being released from their contracts. The studio tried to find a new home for the show, for which we're forever grateful, but those efforts didn't pan out. I'm sorry, I wasn't provided any information on the attempts to sell the show elsewhere. All I can report is that the show is over."
"Many ingredients went into this TV series. From the dedicated cast that breathed these characters to life, led by Matt Ryan as the comic-made-flesh embodiment of John Constantine, to the exceptionality talented crew that put unreal images on screen, to the original Hellblazer writers and artists who gifted us a universe."
"As a general principle, writers don't choose a writing career to achieve stardom. Whatever demons or insecurities drove them to find freedom of expression through written words generally keeps writers comfortably obscure behind their words. Nor do people choose writing as a means to financial freedom. I'd venture to guess that most who set out to write professionally never receive a paycheck for their hopeful scribbles or key strokes." 
"In fact, nobody I know ever chose a writing career — it chose them. You write because that's what you do. Like breathing, it just happens and you have to do it and you just hope that someday somebody out there notices what you're trying to say."
"If that's the dream of writers, then the writers of Constantine lived the dream, because we're leaving behind wild and passionate fans who believe in and were moved by what we tried to do. To leave such a significant, dedicated and active fan base on the table — that's the real sadness. You all deserve many years of the series we set out to make, and we're disappointed that we couldn't deliver that to you. The good news is that Constantine will live on for years in many more forms. But our time as caretakers has ended."
"Thank you for letting us in."
We hope Daniel Cerone finds a new project soon. Throughout this Constantine purgatory, he's impressed us with his candidness. 
Here's our previous update, from May…
Here's some sad news for Constantine fans that you may have seen over the weekend – the show has officially been cancelled by NBC. The pitch that showrunner Daniel Cerone gave in April can't have gone down as well as hoped, then. 
, he said: "NBC a "no" for Season 2. Warner Bros working hard to find #Constantine new home. Stay active. Stream. Tweet. #SaveConstantine #Hellblazers"
So all hope isn't lost yet, and – considering the age we live in – there are still plenty of networks and streaming services that could save Constantine from becoming the Dredd 2 of the comic book TV world. The hot tip to rescue Constantine is Syfy, a sister network to NBC. 
Stephen Ammell, star of Arrow on The CW, has already waded into the debate, too, saying this on Twitter: "Hey TV Networks / Netflix and the like… If you pick up the show, I'll guest star." He then added "Can't wait. Constantine & Queen want to get shit done. Let's make it happen."
When we hear any more about the matter, we'll let you know. In the meantime, if you want to do your bit, keep watching the show to boost those numbers. 
Here's our previous story…
You may have seen reports elsewhere on the web this week stating that Constantine was officially cancelled.
Well, that isn't the case. Showrunner Daniel Cerone has admitted that renewal is 'a long shot' in a clarifying statement to ComicBook.com, though.
Here's the full statement:
"I just received confirmation from the corporate offices at NBC. I was assured that Constantine has not been canceled and our pitch meeting to discuss a potential second season remains on the books. By the way, this is a pitch meeting involving the president of Warner Bros and and the entertainment heads of NBC. Nobody at this incredibly busy time of the development season has time to waste taking pointless meetings."
"Now, is it fair to say that Constantine is a long shot? Sure, that's fair to say. While we marginally improved a tough time slot for NBC, we're a very expensive show to produce. A lot of NBC's decision making will not doubt hinge on their new pilots and how they feel those new shows would fare as a companion piece to Grimm, versus a second season of Constantine."
There's still a glimmer of hope then, albeit a faint one. We'll let you know when we hear more.
Here's our previous Constantine-based update. Scroll to the bottom for details on how you could help the show (we've put that bit in bold)…
This isn't the 'Constantine is getting renewed!' news you might have been hoping for, but it's not a death knell either. 
 that showrunner Daniel Cerone has until an unspecified date in April to save the show. He will pitch to NBC soon, and they will have the final say on proceedings. Seeing as April kicks off tomorrow, we'll probably have news – good or bad – very soon. We'll let you know as soon as we hear.
We had previously heard that he had until May, as you can see in our original story (including our tips to help save the show, at the end) here…
When the hoped-for 'back nine' order didn't arrive for NBC's Constantine, which recently concluded its first thirteen-episode season, the writing seemed to be on the wall for the Hellblazer adaptation. Not so, says showrunner Daniel Cerone, there's still hope that the man in the mac might return to TV.
Asked on Twitter if the show could be considered "technically cancelled", Cerone replied:
"NBC made some early pickups but #Constantine not canceled. We'll pitch them our plans for 2nd season in May. Then they decide."
All is not lost then. Despite Constantine's ratings not quite hitting NBC's mark for such an effects (and therefore budget) heavy show, there's still hope for a season two renewal according to Cerone.
How can fans help the matter? Stream the available episodes and tell your friends, according to Cerone. "Anyone putting money in studio coffers by purchasing #Constantine in any form will motivate studio to find a home for show", he told another Twitter user. Foriegn sales are also likely to be highly influential here, "the more international viewers the better", advised Cerone, "foreign sales can drive a series. Keep it on air. Look at #Hannibal for proof."
Is it time to start sending cigarette butts and occult doodads to NBC? Not yet, the showrunner advises. "We'll let you know if time comes for letter writing campaign."
You heard the man. If season two of Constantine is something you want to see, then make your way to the nearest mountaintop and get shouting.
Follow our Twitter feed for faster news and bad jokes right here. And be our Facebook chum here.