News
Conan the Barbarian TV Series Coming
Amazon is developing a Conan the Barbarian TV series.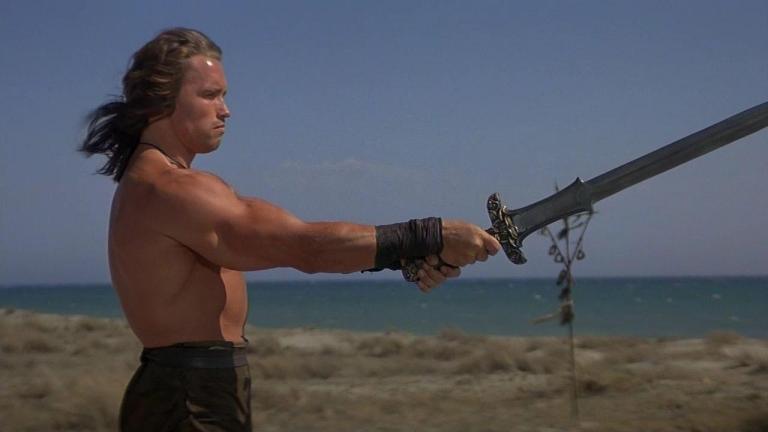 It might finally be time for the Conanaissance to begin in earnest. Everyone's favorite Cimmerian has been absent from screens since 2011, when Jason Momoa starred in a Conan the Barbarian reboot, which failed to get a new franchise of the ground. You have to go back to 1984, with Conan the Destroyer, the sadly inferior sequel to John Milius' masterful 1982 film, Conan the Barbarian, for more sword swinging action, and Arnold Schwarzenegger spent the next 30 years or so dropping hints that he'd complete the trilogy with King Conan one day.
Needless to say, King Conan continues to stall, and it doesn't look like it's going to happen. Especially now that Amazon is developing a new series, under the simple title of Conan, which will trace the character's origin from wandering barbarian to king of the realm. Conan has some impressive talent working for it, Ryan Condal (Colony), Miguel Sapochnik (known for directing episodes of Game of Thrones), and Warren Littlefield (who has worked on prestige dramas like The Handmaid's Tale and Fargo) are producing with Pathfinder Media and Endeavor Content.
Here's what we believe is the official synopsis, courtesy of Deadline: 
"Driven out of his tribal homelands, Conan wanders the mysterious and treacherous world of civilization where he searches for purpose in a place that rejects him as a mindless savage."
It looks like Ryan Condal will serve as showrunner, and he's writing at least the pilot episode, which Miguel Sapochnik will direct.
Conan is now the second big ticket fantasy series that Amazon has picked up, with the other being Lord of the Rings. With Game of Thrones airing its final season in 2019, it would seem that Amazon is banking on a sword-sized hole in audience's hearts once its gone. Lord of the Rings is likely to have a broader overall appeal, but Conan has the potential to offer all the brutal violence, gore, and gratuitous nudity that Game of Thrones fans have come to expect from their fantasy TV.
It's not clear when we'll see this one hit the streaming service, but don't expect it to arrive before 2019.