News
Comic-Con 2012: Steven Moffat, Matt Smith, and more talk Doctor Who
Doctor Who's showrunner, executive producer, and cast have shared a few words at Comic-Con about the new series, new companion, the mooted movie version, and the forthcoming fiftieth anniversary episode...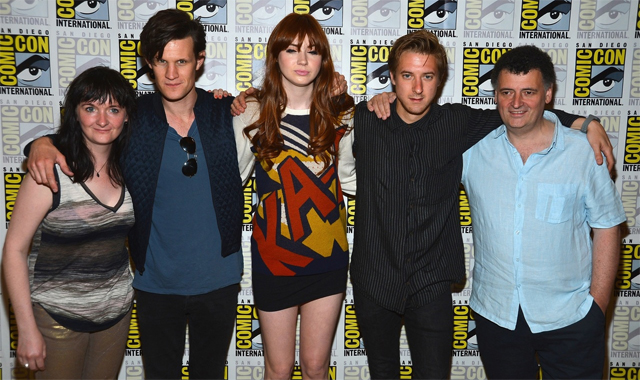 Spoiler warning: If you don't want to know anything about series 7 of Doctor Who, you'd best not read on.
After the Doctor Who panel at this year's San Diego Comic-Con, Steven Moffat, Caroline Skinner, Matt Smith and the Ponds were caught for a few chats with roving reporters, the interesting tidbits of which we've scooped up for you below.
As you can imagine, Moffat and co. were characteristically tight-lipped on a number of subjects, but one or two of these post-panel comments courtesy of SFX and Collider should give us something to chew over until Asylum of the Daleks arrives on the BBC next month, in particular Matt Smith's teasing instruction that those wanting to know more about Amy and Rory's departure should go back and study The Eleventh Hour closely…
On how much of a plot arc there will be in series 7:
Steven Moffat: "There'll be something going on, yes. Last time we went for a very big arc, this is a much more lightly sketched one this time, but there is something yeah, to reward the one who watches it every week."
Will the series 7 story arc continue between the two chunks of episodes?
SM: "There's obviously the story of the Doctor saying goodbye to the Ponds and there's obviously him saying hello to someone else, but wait and see, wait and see how we do that. I can't say something else without giving everything away."
On how Amy and Rory will re-join the show:
SM: "What you've seen is them leave the TARDIS. What you've seen is a decision, 'let's go and get on with our lives'. It's not that they then move back in as it were, it's a continued relationship with the Doctor. Something that's always intrigued me about the Doctor, certainly in the old series you know, someone would leave the TARDIS and he'd never see them again, I mean, who does that? You'd go and visit."
On Asylum of the Daleks:
SM: "You'll be seeing more generations of Daleks than you've ever seen before"
Matt Smith: "My favourite Dalek is one from, I think it was the Troughton era, the sort of blue and white one. We had to draw in every Dalek that had ever been made around the world so we could fill a room full of Daleks, and it was sort of incredible. I think we've made them scary again in a way that perhaps we didn't achieve in my first season, and that's really exciting."
Arthur Darvill: "They're really, really scary in this one. They're really, genuinely, brilliantly scary. That is such a great episode."
Karen Gillan: "Asylum of the Daleks is such a great episode. And then we have four more, we have five, epic, movie-style episodes and we're going to leave in the fifth one."
On how the new companion changes the show's dynamic:
SM: "It does, and in some ways having a new companion about is the biggest change, bigger than even changing the Doctor. It's always about how their life is changed because of that, so yes, it does give a new dynamic, it's brilliant and brings out a very new side to him, pretty much a different Doctor really."
MS: "The show remains the show. The Doctors come and go, the companions come and go, that's the nature of the beast, that is what happens. By its very nature it's a show that regenerates itself so you've got to move with that and you've got to go with the times. Of course we will miss Karen and Arthur, they're great friends of mine, but Jenna's doing a wonderful job, she's a wonderful actress, very dedicated and I think Steven's writing her in a very interesting way, in a very different way to Amy Pond."
On the thinking behind the Doctor's new costume:
SM: "Well that is plot-driven, so the reason is… he goes through stuff."
Caroline Skinner: "It kind of just works, you'll see next year."
MS: "Weirdly enough, when I started I always wanted a sort of purple-y coat, but they felt it was too much like the Joker, and I liked it being a bit longer to the leg. It's still tweed. I always thought that the costume would evolve year after year. I'm absolutely part of those conversations, we have a wonderful costume designer who comes in and does great work, you know, different hats every year, it's fun to keep it moving."
On plans for the 50th anniversary episode:
SM: "We know what we're doing, but we'll tell you when the time is right. Every time when you sit down in meetings about the next episode of Doctor Who, it's the same size of challenge, because they're always different, they're always huge. So we set ourselves the task of never making an ordinary episode, they all have to be exceptional."
On the rumoured big-screen Doctor Who movie:
MS: "I don't know. There's talk of it. I think David Yates was attached to do something. For my money, whoever is playing the Doctor should be in the movie. I don't think there should be two Doctors. I think it would take four or five years to get something like that off the ground, and I don't anticipate that I'll be playing the Doctor then. […] I think they should get Steven to write it because he's the best."
On the Ponds' farewell episode:
MS: […] If you go back and revisit The Eleventh Hour and study it closely, that's all I will say."
KG: "It's probably the most epic of all the episodes we've shot so far. The sheer scale of it. New York looks incredible for a start."