News
Colony Season 3: The Show's New Direction (EXCLUSIVE)
We finally get a glimpse at Colony's brave new world featured in Season 3...and boy, is it cloudy.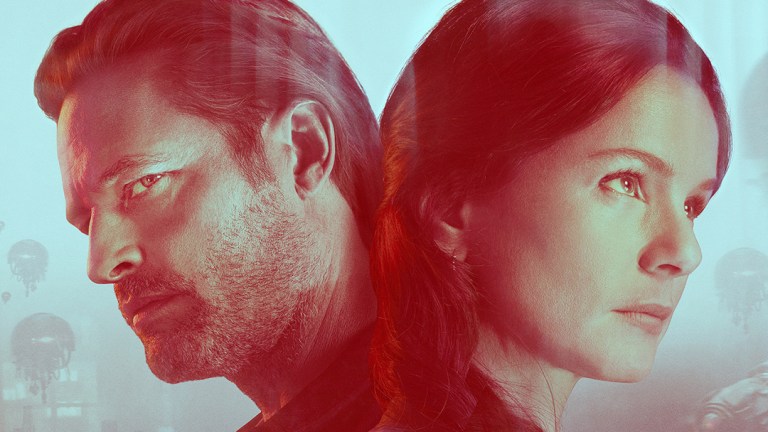 In my review for Colony's explosive second season finale, I speculated that its third year – which is moving the show's production up north to Vancouver – would take place in the Seattle Bloc. Little did I know I was right. 
Well, make that partially right. From the latest (and long-delayed) sneak peek behind the scenes of the series, it appears as though Seattle is just one stop on Colony's journey into the great Northwest quadrant of post-Occupation America. But it's clear that the Emerald City is a key location for the show now, one which the evil Wayne Brady holds dominion over. Check out the clip below featuring creator Ryan J Condal and other cast members talking about what's in store for season three which premieres May 2nd on USA. It's got robots in it! Alien robots, even.
Yes, folks. Looks like Wayne Brady will rule Seattle as official Proxy in Colony's new drab and dreary world, which means there will either be a noticeable boost in improvised musical outbursts peppered throughout the running time of each episode, or somebody's going to be making a deal  – presumably with aliens. (Alternatively, he could be exercising judgment on America for forgetting lyrics to popular songs and started with the state of Washington first.)
Okay, I have to get all these Wayne Brady jokes out of my system before they taint my reviews for this season. Otherwise, things could get silly – and Colony isn't what I'd call a silly show. It's more of a grim, unflinching look at the forms of violence, both visible and invisible, that humanity inflicts upon itself in the name of fear. It's also a meditation on how withholding knowledge can be the worst form of abuse in some cases. Then there are those weekly allusions to the Holocaust…
No, Colony isn't exactly a series I want to be trifling with. It's one of the most gripping dramas to ever air on television, if not one of the finest works of modern day science fiction out there. It evokes the sweeping sense of mystery Lost had and emulates the rich tension found in The X-Files's Byzantine golden age conspiracies. Colony captures lightning in a bottle, one the general public has yet to pop open. Hopefully this season, they will.
"Maquis", the first episode of the new 100% greyer and wetter third season of Colony, airs Wednesday, May 2. Be there, or be colonized. Er, again.