News
Colony Season 2 Episode Guide
Colony season 2 finished strong! Look back at our reviews and episode guide for this conspiracy thriller until season 3 arrives.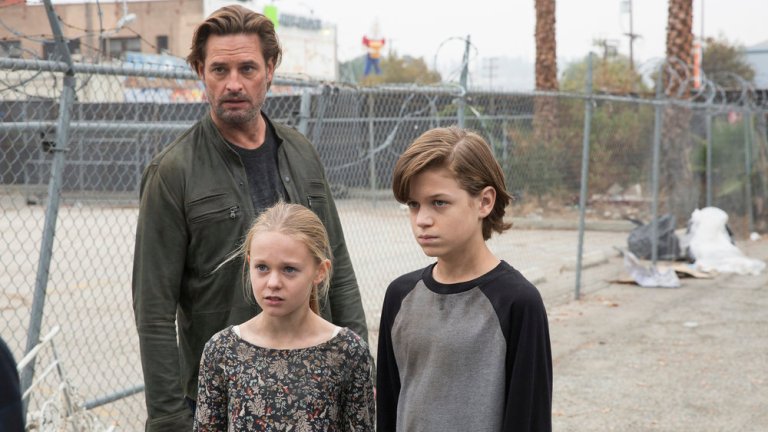 Colony season 2 has wrapped up on the USA Network and was received warmly by viewers and got high marks from us as well. Here is all the news we gathered during the season and an episode guide which includes links to our weekly reviews. Fortunately, season 3 is a go!
Colony Season 2 Episode Guide
Return to our Colony season 2 episode guide for episode descriptions, air dates, and links to reviews as they appear on Den of Geek. Browse through and find what you're interested in!
Will and Katie struggle to keep their family together in a changing city. Broussard returns home. Snyder gets an intriguing job offer from a mysterious organization. (air date: January 12, 2017)
Will decides to trust an old friend in the Santa Monica bloc. Jennifer pays Katie a visit. Bram meets the camp commandant. (air date: January 19, 2017)
Will, Devon, and Charlie attempt a daring journey home. Fearing the worst, Katie says goodbye to her daughter. Bram makes friends at camp. Maddie finds a new project in the Greatest Day. (air date: January 26, 2017)
Jennifer keeps an eye on the Bowman house. The family encounters unexpected challenges when Charlie returns home. (air date: February 2, 2017)
Will returns to an unfamiliar workplace. At home, Katie tries to stay on her best behavior. Broussard and his cell make a startling discovery about the Wall. (air date: February 9, 2017)
When the Resistance reaches out to Katie, Will chooses to help his wife bury her past. The labor camp gets a visit from Maddie and Nolan. (air date: February 16, 2017)
Bram joins his friends in a risky sabotage mission. Will comes face-to-face with the new Resistance. Katie uncovers a dark truth about the bloc. (air date: February 23, 2017)
Will and Katie must save a fugitive from the occupation. At the camp, Snyder hides evidence. Broussard's cell is threatened by one of their own. (air date: March 2, 2017)
Will and Katie attempt to make contact with a new arrival in the bloc. Bob has some questions for the Bowman family. (air date: March 9, 2017)
Will, Katie, and Broussard search for a way out of the colony. Maddie gets some visitors in the Green Zone. Bram looks for closure. (air date: March 16, 2017)
An attack on the Green Zone, told from five different points of view. (air date: March 23, 2017)
Will, Katie, and Broussard battle the Red Hand for control of the RAP gauntlet. Snyder helps Helena regain control over the Los Angeles bloc. (air date: March 30, 2017)
A revelation about the fate of the colony forces the Bowman family to make an impossible choice. (air date: April 6, 2017)
Colony Season 2 Trailer
Below is the trailer for Colony season 2, released just before the premiere.
Stick around all the way until the end of this earlier trailer for Colony season 2, as it teases a silhouetted glimpse of what could be one of the alien overlords. One of the show's trademarks has been keeping the intent and appearance of the invaders completely vague while focusing on the human drama when collaboration becomes a means of survival. What will be the "new way forward" mentioned in the trailer?
Colony Season 2 News
Colony season 2 returned at 10pm ET on Thursday, January 12, 2017 with the aliens still in control of a near-future Los Angeles. In an effort to get their son back, Will (Josh Holloway) has been cooperating with the Collaborators and now knows about his wife Katie's (Sarah Wayne Callies) alliance with the Resistance. With her secret out, and now finding themselves on opposite sides of the battle, they might have jeopardized any hope of reuniting their family.
From executive producers Carlton Cuse and Ryan Condal, the critically acclaimed drama co-produced by Legendary Television and Universal Cable Productions stars Holloway, Callies, Tory Kittles, Peter Jacobson, Amanda Righetti, Jacob Buster, Isabella Crovetti-Cramp, Alex Neustaedter and Adrian Pasdar in a recurring role. Colony season 2 also includes guest stars Tony Plana and Jessica Parker Kennedy.
Colony Season 2 Cast
The biggest shakeup in the Colony season 2 cast is the change from Thora Birch playing the role of computer expert Morgan to Bethany Joy Lenz of One Tree Hill taking over the character's portrayal. Reportedly, Birch had some schedule conflicts that caused her to have to step back from playing the character who appeared in the final two episodes of season 1.
Some new cast members will be joining Colony in season 2 as the show branches off into new areas of the resistance and the Collaborators. The most prominent new character will be William Russ (Girl Meets World) will play Hennessey, a seen-it-all ex-spy with more brains than brawn who now serves as a lateral bridge between the many Resistance cells. His character will help unravel one of the big mysteries surrounding the Los Angeles bloc's purpose.
Two other recurring roles deserve mention. One is Betsy, a co-worker of Holloway's Will Bowman at Homeland Security, who will be played by Keiko Agena (Gilmore Girls).  Her character is the one friendly face they can rely on, but as the politics of the Occupation take a dark turn, Betsy will find herself placed in a compromising position. The other is Howard, a Redhat whose loyalties will be tested when he meets Broussard; Howard will be played by Paolo Andino (The Last Ship).
____
Colony was a topic on the February 2017 episode of Sci Fi Fidelity. Listen below or subscribe! iTunes | Stitcher | Soundcloud